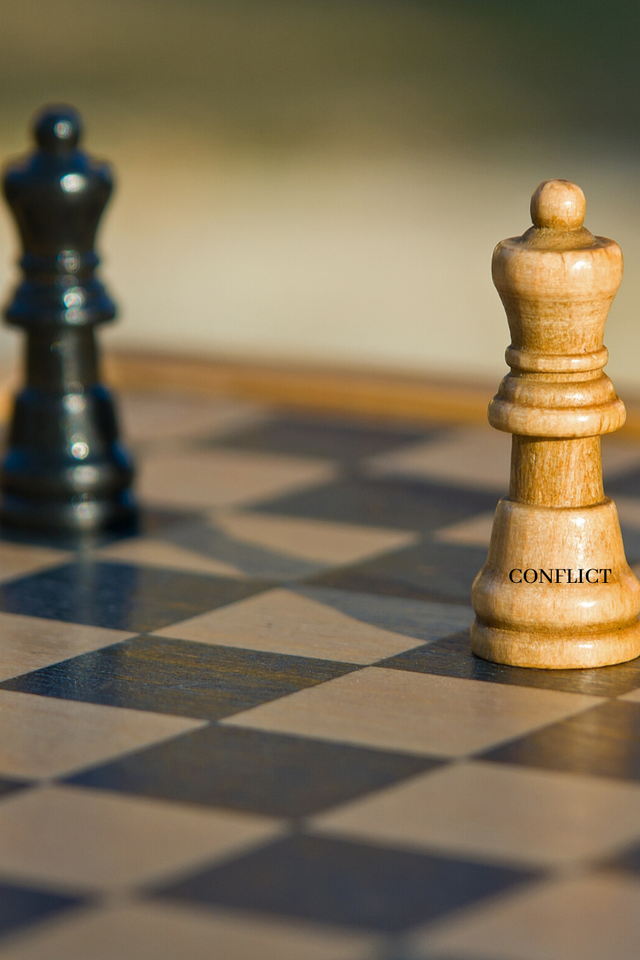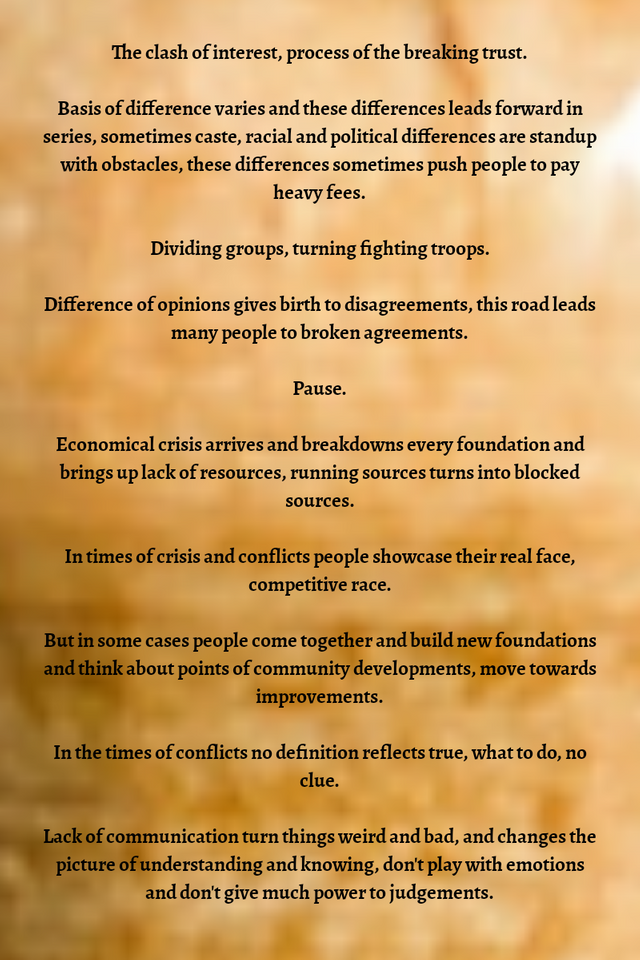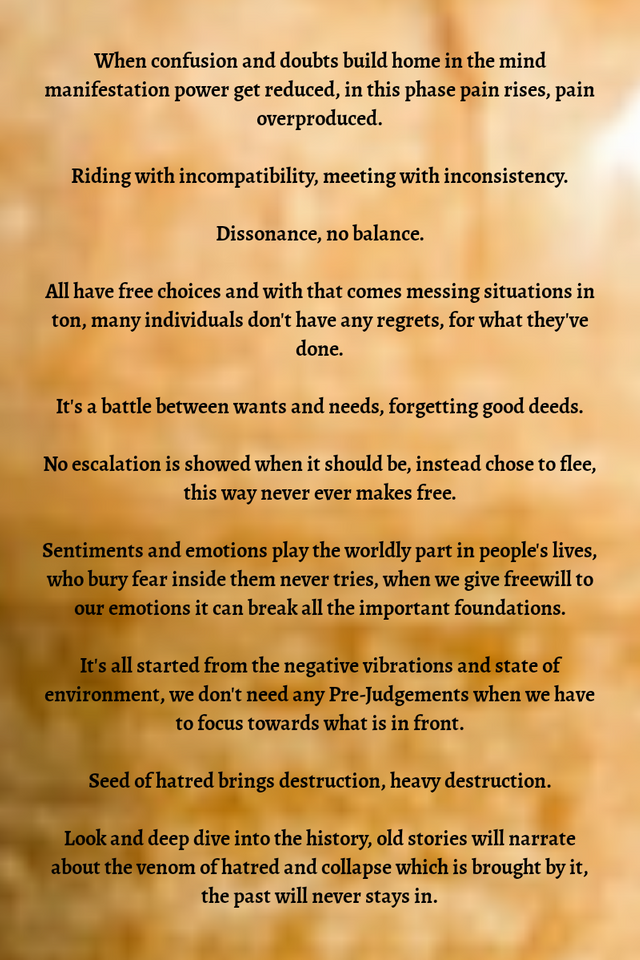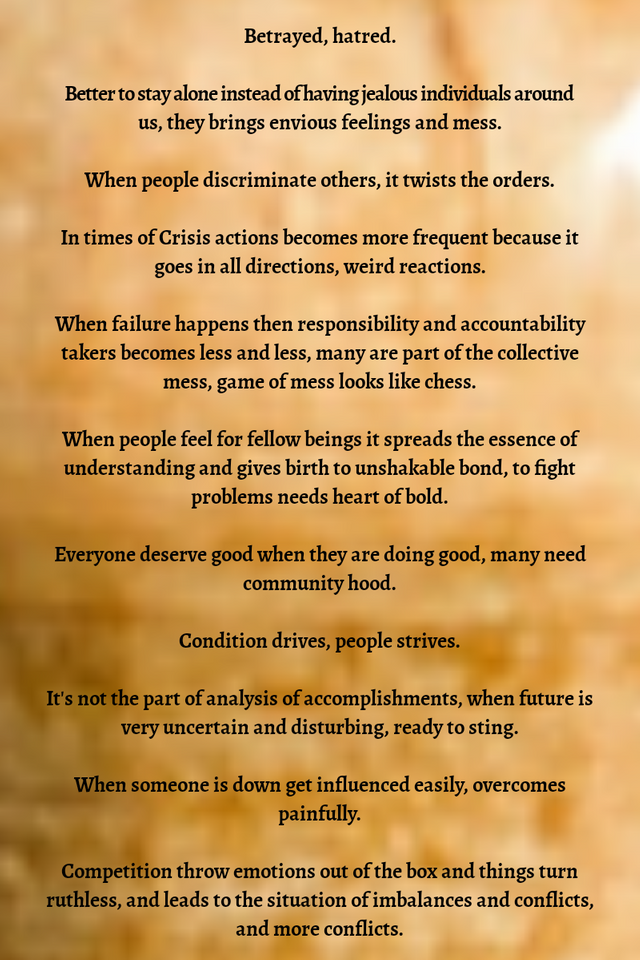 The clash of interest, process of the breaking trust.
Basis of difference varies and these differences leads forward in series, sometimes caste, racial and political differences are standup with obstacles, these differences sometimes push people to pay heavy fees.
Dividing groups, turning fighting troops.
Difference of opinions gives birth to disagreements, this road leads many people to broken agreements.
Pause.
Economical crisis arrives and breakdowns every foundation and brings up lack of resources, running sources turns into blocked sources.
In times of crisis and conflicts people showcase their real face, competitive race.
But in some cases people come together and build new foundations and think about points of community developments, move towards improvements.
In the times of conflicts no definition reflects true, what to do, no clue.
Lack of communication turn things weird and bad, and changes the picture of understanding and knowing, don't play with emotions and don't give much power to judgements.
When confusion and doubts build home in the mind manifestation power get reduced, in this phase pain rises, pain overproduced.
Riding with incompatibility, meeting with inconsistency.
Dissonance, no balance.
All have free choices and with that comes messing situations in ton, many individuals don't have any regrets, for what they've done.
It's a battle between wants and needs, forgetting good deeds.
No escalation is showed when it should be, instead chose to flee, this way never ever makes free.
Sentiments and emotions play the worldly part in people's lives, who bury fear inside them never tries, when we give freewill to our emotions it can break all the important foundations.
It's all started from the negative vibrations and state of environment, we don't need any Pre-Judgements when we have to focus towards what is in front.
Seed of hatred brings destruction, heavy destruction.
Look and deep dive into the history, old stories will narrate about the venom of hatred and collapse which is brought by it, the past will never stays in.
Betrayed, hatred.
Better to stay alone instead of having jealous individuals around us, they brings envious feelings and mess.
When people discriminate others, it twists the orders.
In times of Crisis actions becomes more frequent because it goes in all directions, weird reactions.
When failure happens then responsibility and accountability takers becomes less and less, many are part of the collective mess, game of mess looks like chess.
When people feel for fellow beings it spreads the essence of understanding and gives birth to unshakable bond, to fight problems needs heart of bold.
Everyone deserve good when they are doing good, many need community hood.
Condition drives, people strives.
It's not the part of analysis of accomplishments, when future is very uncertain and disturbing, ready to sting.
When someone is down get influenced easily, overcomes painfully.
Competition throw emotions out of the box and things turn ruthless, and leads to the situation of imbalances and conflicts, and more conflicts.

SOURCE
Steem On.

You can support my work through below mediums too.
BTC:
3GJCQPyxQMc5zQasc3EoW7vnV2fKpp9aY9
ETH:
0x514d948ead79d7f8db680173c266a39cd2677c98
LTC:
3DxFQhqaxetpGUciAT5axAdztVVr9QowEb
BAT:
0x193ce1410d4acefd0ee24577d575f087f164ed48
DASH:
7aNhxUxH8NbYDL9TciuGHHERwjL143NCUo

Discord Channel Links:
TEARDROPS: https://discord.gg/wC7H4Rt NATURALMEDICINE: https://discord.gg/wQnDNpv
(Pictures are edited with Canva).
"This is my original work."
Stay Blessed.
Spread love and spread kindness.
Thanks and regards, Chiranjeevi Sarikonda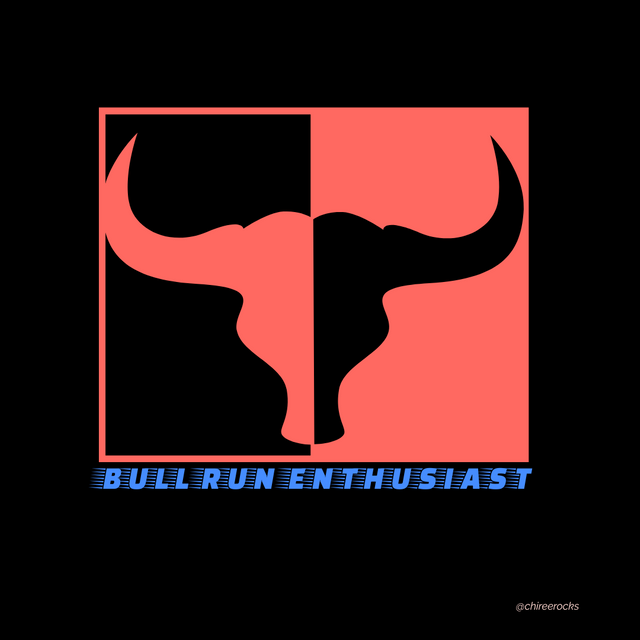 (If you want this logo, let me know in the comment section.)