​


Every year, Jimmy traveled to Japan for work and every year, he would look for a cool gadget for his son, Aaron.

This year was no different and before Jim made his way to Japan, he was already researching for what to buy.

Jim found a cool palm sized walkie talkie that doubles as a radio, was solar powered and was available in three main colours, black, blue and gold.

Aaron, a bright ten year old boy, has been fascinated with gadgets ever since Jim bought him his first gadget three years ago, a portable hand held game console.

"Lets see...."

"Where can we find this cool little fella in Tokyo?"

His research showed a few possible shops that sold this, all were located in Akihabara.

Akihabara district was known as THE place for electronics.

On the day Jim reached Tokyo, after checking in to his hotel, he immediately went searching for the cool WalkieDio.

Jim went to Akihabara and into a number of gadget shops, all said they were sold out.

Jim was feeling quite disappointed that day but he wasn't giving up and was determined to continue looking for it after his project work every evening until he finds the WalkieDio.

Days flew by.

Jim continued searching until the last day of his trip, just before boarding, when he found one stock left in gold colour, from a shop inside Narita Airport.

The airport wasn't the best place but it would have to do.

Airport prices are higher than shops outside and for this WalkieDio, Jim had to pay fifty percent higher but Jim was not complaining because most importantly was he found it.

Once Jim reached home, he passed the WalkieDio to Aaron and boy, was he a happy ten year old.

Aaron played with it everyday, everywhere he went.

"Dad!!!"

Aaron suddenly came home crying one day and he couldn't tell Jim what happened except that he had lost the WalkieDio while walking to school.

Jim tried to calm the boy down and followed Aaron to retrace his steps in an effort to hopefully find the WalkieDio again.

They walked from the house, passed the playground and to the shops nearby.

They looked to the left and right of every pathway the boy took to school while expanding the search area just a little more each time.

Aaron tried to remember every step he took walking to school.

They walked to and fro the path, looking on and around the ground, when suddenly, Aaron stopped walking.

And there it was.

The bright shiny gold WalkieDio, in the hands of a homeless man sitting by the walkway.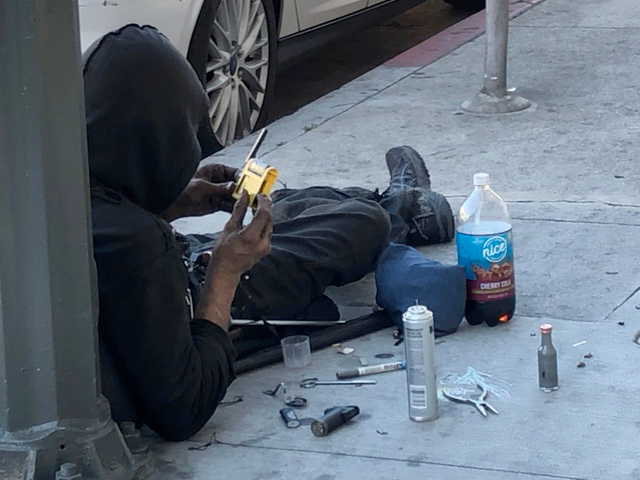 Image source from @tristancarax

Jim looked at the direction where Aaron was looking and just as Aaron was about to rush to the homeless man, Jim held him back and stopped him.

Aaron looked at him, puzzled.

"Hey boy, let him have it."

Jim explained to Aaron that the WalkieDio might be able to help the man.

Jim and Aaron then walked home together.
---
This is my entry to @tristancarax's The 31 Sentence Contest: Round 12.


Sentence order:

22, 21, 27, 29, 2, 10, 15, 9, 20, 17, 31, 3, 28, 12, 30, 19, 8, 1, 25, 23, 13, 26, 11, 18, 4, 16, 24, 5, 6, 14, 7
---

---
This is an Invitation to join #ccc for Guaranteed 👍 Daily Income 💵 and Payout 💸 for Newbies (2.0) 🐟 🐜 🐛 in #ccc 👣 and Follow 👣 the Honor Code 🏅 - the Creed (Conditions and Limits Inside)
AND
the latest update <<< please click to read.
---