It's our journal in Peru a few days so far. I have purchased this little 360° Cam, just right before we left the US and having fun using it to vlog and snap random pictures. If I'd known it would be this easy and fun, I would have done this a while back. I would even replace my vlogging gear with this simple set for how easy it is to use. No kidding! Now let's get into our first Peruvian experience. First impression (and not really impressed) of our first few days here.
FEELING UPDATE: I have been dying to blog and edit the footage since our few-days visit in Las Vegas before leaving to Lima, Peru. I got tons of tons of footage stackin' up slowly. Uh oh, that's not a good sign! Today I have a bit of time before heading out for some ceviche de pescado, Oooooh happy to write and looking forwards to some Peruvian most delicious(?) seafood dish!
Now, Let me show you...
My spherically trippy Peruvian journey shot with this 360° Cam
The heat eats us raw! Our first time at Huaca Pucllana
The hardest name yet to pronounce! The famous Huaca Pucllana, the pre-Incan ruins of the Great Pyramid built 1400+ years ago #whoa! Right in Mira Flores. It's quite pretty and we're amazed how well they did these a thousand year back all by hands!
Wait, did I tell you it's dang hot over here in Peru. We got sunburn since the very first day we got here and walk around a bit. Kev looks like a tomato atm... Would be so good in a Greek salad #yum! Wait? We're in Peru!!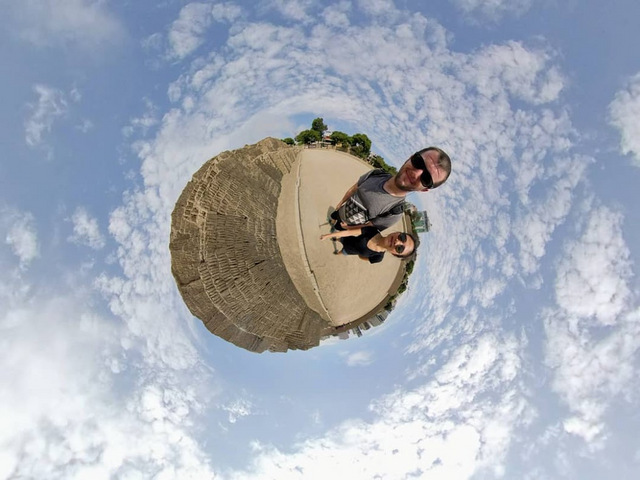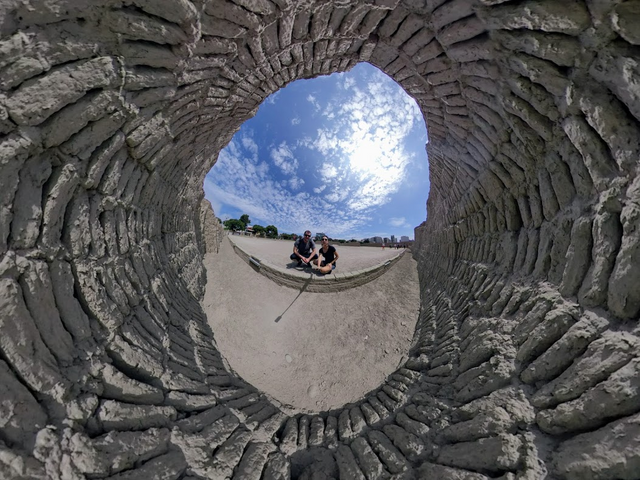 Our first time drinking Peruvian Cerveza #beer !
Now send me some beer tokens already #jk! #lol We just had this thing called 'Pilsen Callao' out of the 3 most popular ones beside Cusqueña, and Cristal. Quite light, to be honest but dang! I got so red (and it's not a sunburn believe me!) like, so so red after a few sips. 7.5 Soles or $2.25
'Amigo, una mas cerveza por favor!'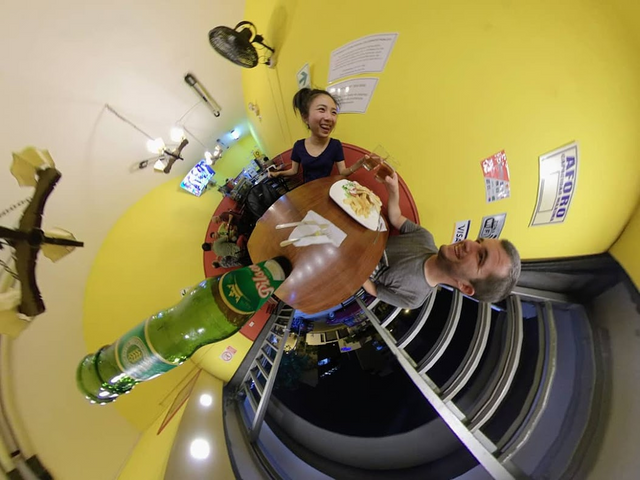 Our first REAL Peruvian meal!
You know when people say 'Oh, Peru is cheap to travel..' So far, I don't quite get it just yet. All the food and coffee and all that are almost the same price or a bit less than in the US. $3-5 Coffee, $10-15 a meal and so on. I'm like 'Dang! Will I really be able to live here for a few months.' I was planning to.
Wait for it... Don't judge too quickly. They say Cusco is a bit more affordable
Anyways! We found great local spots on some streets in Miraflores where they serve a set of food for 10 Soles ($3). Appy, Main dish, drink, and some places even offer dessert with the meal. Whatttt?? Que loco #cray cray!
This morning we asked a local and she told us there are some places like that. There are 2 streets in Lima Center and a few spots here and there. Keep your eyes open or seriously, just ask the Peruvian locals! We're going for some more tomorrow. Can't wait!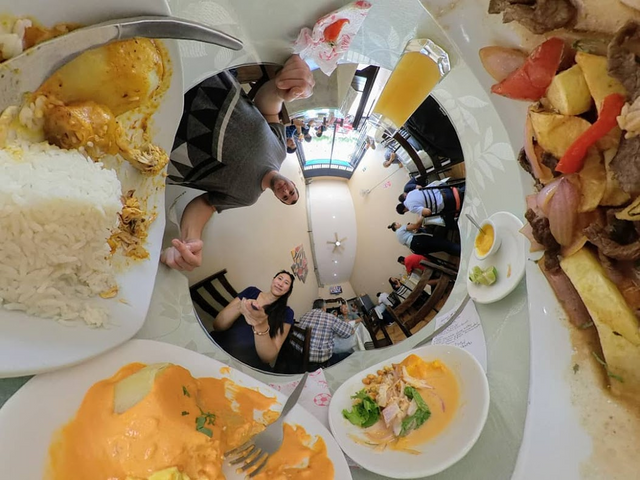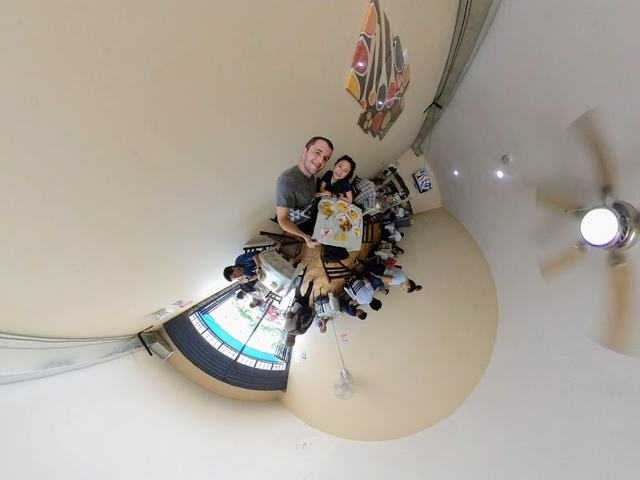 Our first cup of coffee in Peru!
Here come the place where I told you it a bit pricy.. $3-5 for a cup of coffee. That's straight USA to be honest. It was the first-ever cup we have had here so great lesson learned.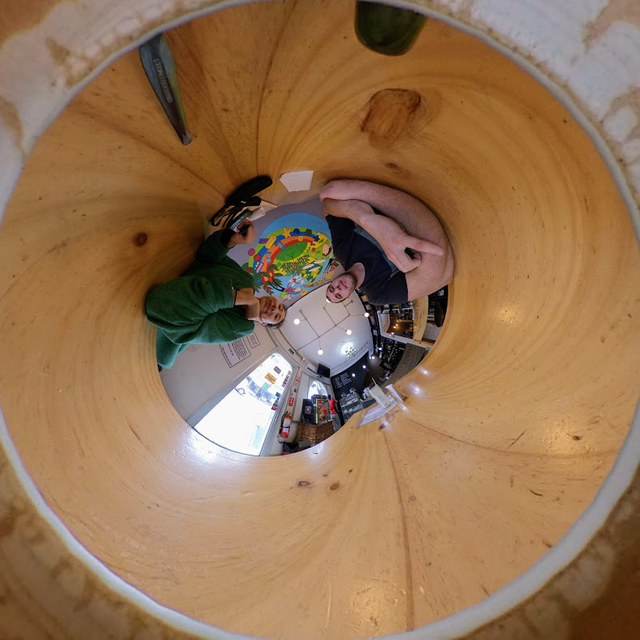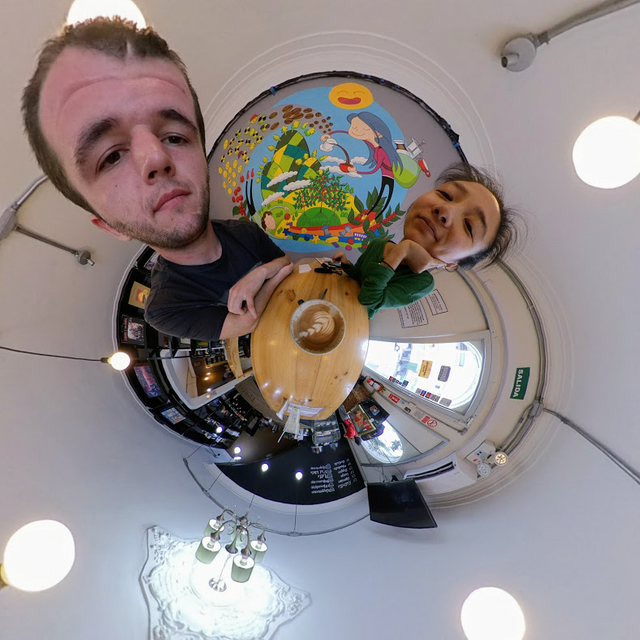 It's our first few days in Peru so excuse us! We don't know much about it places and cultures just yet but we're getting there. Kev will be with me for a few weeks then back to the States. I'm planning on staying for a few months so hopefully, load tons of Peruvian fun and surprises ahead!
What do you think about the 3TRIPPY° photos I have been having fun with. Check out this brand.
Honestly, I hated their communication and shipping bad but dang, compared to GoPro Max, this is quite good of quality and price so, I fell for it :) Loving it though!
By the way, just started the new Instagram feed WAYBE 3TRIPPY° with the SPIN! (very trippy) Check it out and Follow me here