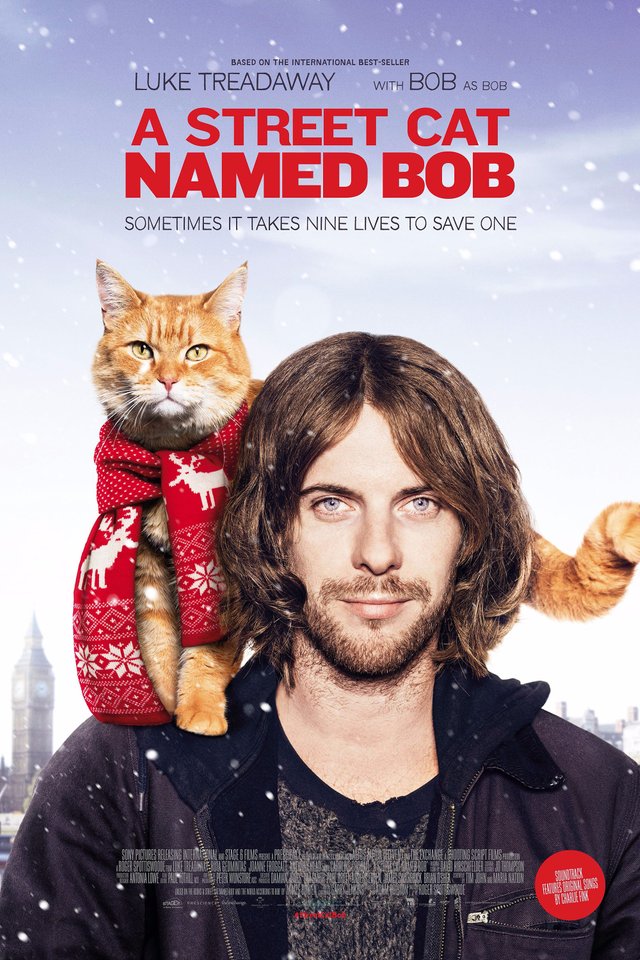 Poster
A Street Cat Named Bob tells the story of James Bowen (Luke Treadaway), a homeless methadone addict struggling to survive on the streets of London. After he is helped out with place to live, a cat called Bob (as himself) comes wondering in through an open window. After failing to find the owner James decides to keep Bob. As it turns out Bob is exactly what James needs at this time. He helps attract people while James is busking or selling The Big Issue. He also gives James a reason to act responsibly and try to give up his addiction.
This is a really sweet film with a true feel good factor. But it was the bond between James and Bob that was so touching. The movie touches on a number of issues that are all too real unfortunately.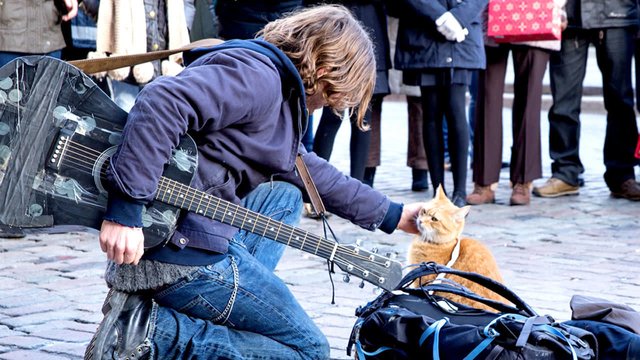 Source
For anyone who is homeless it's obviously got to be difficult, and in cases where drugs are involves it's so easy to just dismiss people as a waste of time or effort. I'll admit, when I pass beggars or buskers I sometimes look at them and wonder how they'd actually spend the money. This movie shows an example of one of these people who is determined to get clean and sort his life out. And it's not an easy process.
Even when he is helped with a flat he still needs to pay for food (and now a cat) and we see how he has to literally make every penny count. In addition, James also no longer has much of a relationship with his family. His mother lives in Australia and his father's new family won't have anything to do with him. With no family support, it's clear why Bob is so important to James' recovery.
Despite a few dark moments, the film is generally lovely and at its core a redemption story. There's good music, a number of funny moments and its clear there's a lot of heart been put in.
It's not purr-fect. The settings aren't always great but what it will do is make you leave the cinema feeling good.