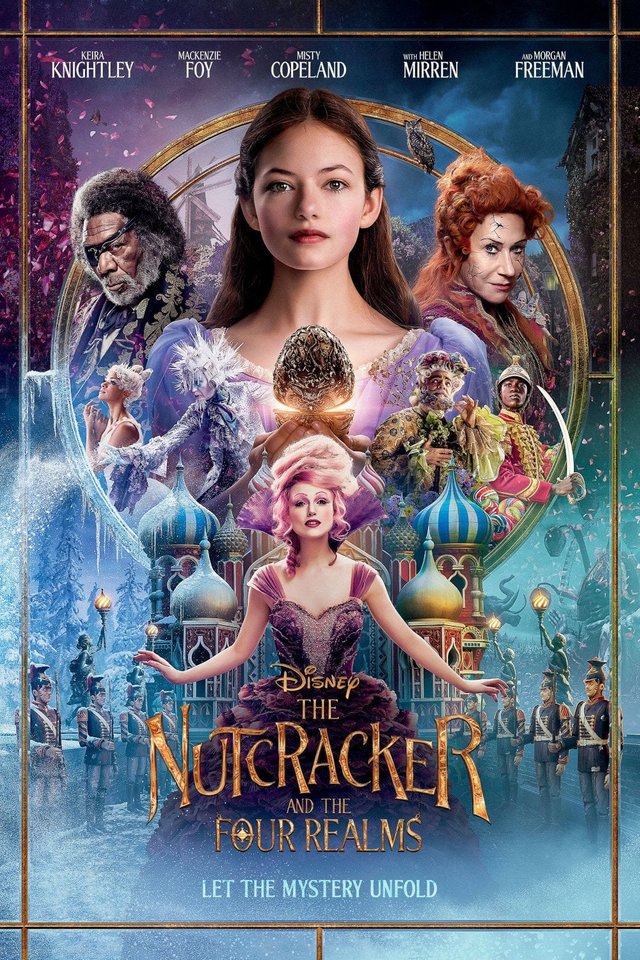 Poster
The Nutcracker and the Four Realms is about a girl named Clara (Mackenzie Foy), whose recently deceased mother leaves her an ornamental egg as a Christmas present. The egg can be opened; however missing is the required key. As Clara searches for a key to open the egg she finds herself venturing into a fantasy world – comparisons of which could be made to the similarly magical kingdoms of Narnia or Wonderland. On entering this mysterious place, she meets a nutcracker soldier called Phillip (Jayden Fowora-Knight), who assists her as she gets drawn into a conflict between the sickly sweet Sugar Plum (Keira Knightly) and the creepy Mother Ginger (Helen Mirren).
If I had to guess I'd say that the target audience for this film was probably girls below the age of 12 who still dream of becoming a ballerina princess.
Lasse Hallstrom directed the movie; however when 32 days of reshoots were required, Joe Johnston stepped in, before handing the reins back to Hallstrom for the post production. As a result, both Hallstrom and Johnston are credited as co-directors. I felt that there were some tonal imbalances at times; and perhaps the issues in production could partially explain these.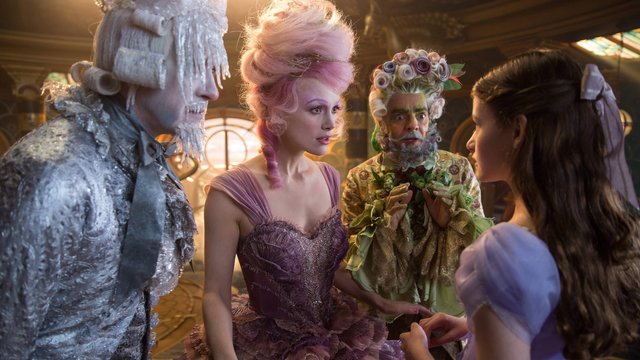 Source
I want to throw so much praise upon the production designer Guy Hendrix Dyas and the costume designer Jenny Beavan, who together with cinematographer Linus Sandgren created one of the best looking films of 2018.
I thought the music and dancing were very nice. As expected the film uses extracts of classic music from 'The Nutcracker' which makes for a lovely score. The fantastic pianist Lang Lang contributes with some incredible piano solos. I also want to highlight a song called 'Fall on Me', performed by classical music legend Andrea Bocelli with his son Matteo Bocelli. Now I know nothing about ballet, but even I could tell that she was incredible.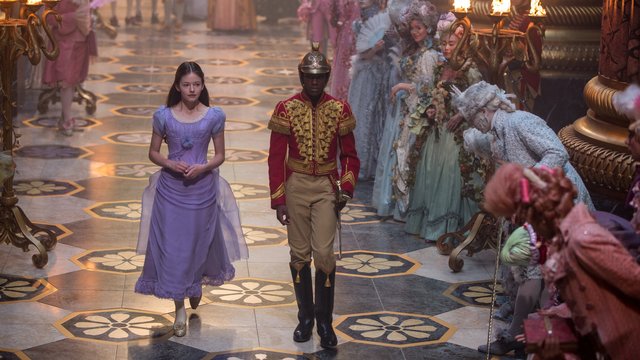 Source
Foy looked very assured in the lead role and I look forward to seeing more from her in the future. I thought Mirren was really good; as was Morgan Freeman who played Clara's godfather Drosselmeyer. I also have to say that I found a double act cameo role from Jack Whitehall and Omid Djalili unexpectedly funny. Fowora-Knight I thought was extremely charming as the titular nutcracker. Some might wonder why as the title character he only plays a supporting role, but that actually happens quite often. He got plenty of screen time and used it well. He's another young star I'll look forward to seeing more from.
My favourite performance however – controversially was Knightly as Sugar Plum. I know that some people have criticised her for being annoying. She puts on a squeaky voice and plays the role with so much sweetness. She also had a slightly saucy edge to her as well which was oddly attractive. That said, for exactly all of those reasons I thought she was fantastic.