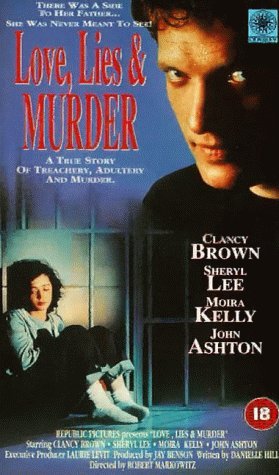 Before experiencing the wonderful world of Discovery Channel and its documentaries, the author of this review used to satisfy his hunger for true crime stories through American TV films. Through the years I learned to appreciate those films, despite all of their shortcomings, and for one simple reason - real life proved to be much more interesting source of stories than imagination of Hollywood screenwriters. Real life also proved to be a goldmine for Ann Rule, author of numerous true crime books. Love, Lies and Murder, 1991 docudrama directed by Robert Markowitz, was based on Ann Rule's book If You Really Loved Me.
The plot begins in 1985 when David Brown (played by Clancy Brown), charismatic computer entrepreneur from Orange County, California, calls police and tells them that his young wife has just been shot in their home. Police quickly arrives and finds David Brown's drugged-out 14-year old daughter Cinnamon (played by Moira Kelly). She quickly confesses crime and receives long prison sentence. But after some time investigators begin to doubt that the case was so simple, especially after they find out about grieving husband collecting his wife's hefty insurance policy and marrying her younger sister. But all that remains in the realm of speculation until Cinnamon in prison finally decides to tell the shocking truth.
Three hours of Love, Lies and Murder pass very quickly, partly because of a really interesting script by Danielle Hill, and partly because of the outstanding cast. Clancy Brown, one of 1980s most recognisable villains, is here very effective as a crippled but nevertheless very creepy and manipulative character. Moira Kelly stands out in a complex and somewhat risky role. It is also fun to see her again in company of Sheryl Lee, actress with whom she appeared in Twin Peaks: Fire Walk with Me. This TV film might not be the best representative of true crime genre, but it shows that such stories, when handled well, are not only stranger but better than fiction.
RATING: 5/10 (++)
(Note: The text in its original form was posted in Usenet newsgroup rec.arts.movies.reviews on April 29th 2003)