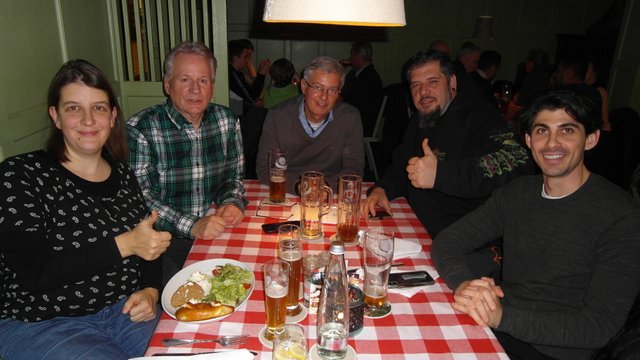 My Actifit Blog #496 | 11 December 2019 |
Since I came home very late after our Steem meeting in Munich, I have only little time left to write a few lines.
Present were, from left to right: @isarmoewe, @actifit-peter, @mpinvest, @backinblackdevil and Matthew @eosvibes as guest from Los Angeles!
I will write a more detailed report about the meeting tomorrow.
I can only tell you one thing: try to organize such meetings in your area. It is important to get to know steemians you believe to "know" online in Real Life.
Real life cannot be replaced by a virtual "experience"!

Da ich nach unserem Steem Treffen in München sehr spät nach Hause kam, verbleibt mir nur noch wenig Zeit einige Zeilen zu schreiben.
Anwesend waren, von links nach rechts: @isarmoewe, @actifit-peter, @mpinvest, @backinblackdevil und Matthes @eosvibes als Gast aus Los Angeles!
Ich werde morgen noch einen ausführlicheren Bericht über das Treffen schreiben.
Ich kann euch nur eines sagen: versucht in eurem Umkreis derartige Treffen zu organisieren. Es ist wichtig, steemians, die man glaubt online zu "kennen" auch im wirklichen Leben kennenzulernen.
Das echte Leben ist durch ein virtuelles "Erleben" nicht zu ersetzen!

Stats for Today
Walking: 4 km
Current Total 2019: 4 069 km
Activity Count: 10 761 steps

(counted by my Fitbit device synced with actifit fitness tracker)
Activity Type:
Walking, Daily Activities
Current Actifit User Rank: 61 (+11.00)*
*Holding 110.00 AFITX tokens
Rewarded Activity Reports: Level 7/10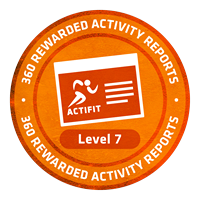 Next Badge: Level 8 needs to have 540 Rewarded Activity Reports!
The last 10K Run Contest in this year I have registered for, will be on 31.12.2019, the famous Silvester Run around the Olympic Area in Munich!
Who is joining me?

How to start your actifit/steem account:
• Buy some STEEM first!
• STEEM is an investment, not only a blogging platform!
• You can use Bitvavo or any other exchanges which trade STEEM
• Signup for an actifit/STEEM-account here
• Download the app for Android or IOS
• Join Actifit's community on Discord for discussions and help
• Follow @actifit for daily News and Statistics
• Read the Official White Paper for further information on the project!
• Please vote for @actifit as witness!! The team is doing an excellent job!
• Get upvotes from @actifit by posting your daily activities!
• Make at least 5K steps daily! Now you are ready to go to the Moon!
• Distance to the Moon is avg. 385K km! Enjoy your lifelong travel! 😄


This is the actifit posting account of @peter2017, an ambitious guy with a bunch of old bones. I'm trying to enhance my health and fitness mainly by walking, running, cycling and swimming.
Please support and follow my progress! Thanks so much!
Life is Motion! Live an active Lifestyle to stay healthy and fit!




Photos © by actifit-peter
Who-Am-I ?