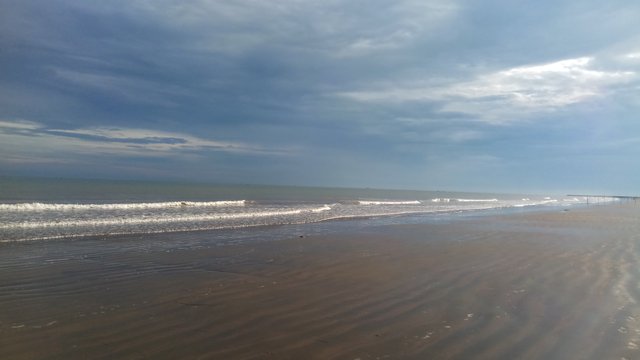 Not satisfied I went to the beach yesterday morning, this morning I returned to the beach. The first activity I did while at the beach was walking along the shoreline to the estuary. Then I walked back from the estuary to a crowded area.
Today is a Sunday which is a weekend, the beach is very crowded, especially visitors in the morning, some come with families for the purpose of bathing and swimming in the sea or there are also boarding children who come in groups, they usually play with traditional games by the beach . There are also teenagers who come to play football on the beach.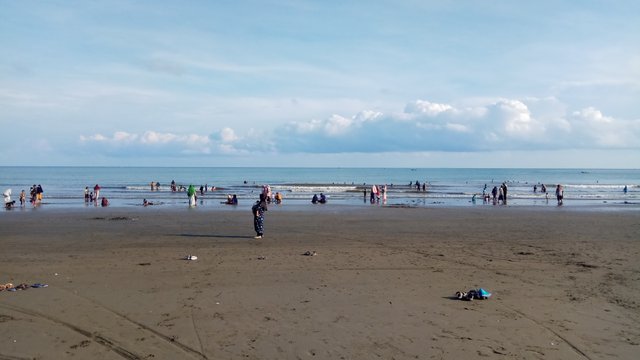 I myself to the beach besides walking is to enjoy the atmosphere of the beach, breathe fresh air and enjoy the morning sun. Playing with sand on the beach is also exciting. Once satisfied playing on the beach. I went to breakfast at a beachside cafe, this cafe is lined up along the beach by providing a variety of food and drinks. The owners of the cafes here also decorate the cafes in various forms to attract visitors.
In the cafe the atmosphere is very shady and cool, here I enjoy breakfast and a cup of coffee. I happened to meet an old friend when I was in school, so we were engrossed in conversation in memory of the past when we was a teenager and often went to this beach when we didn't go to school. My old friend is now a successful person and is a member of the board in the Regency. After that, I went home to my parents' house which is located not far from the beach. I spent the afternoon with my parents and in the afternoon I returned to my home in the city where I worked.



5540