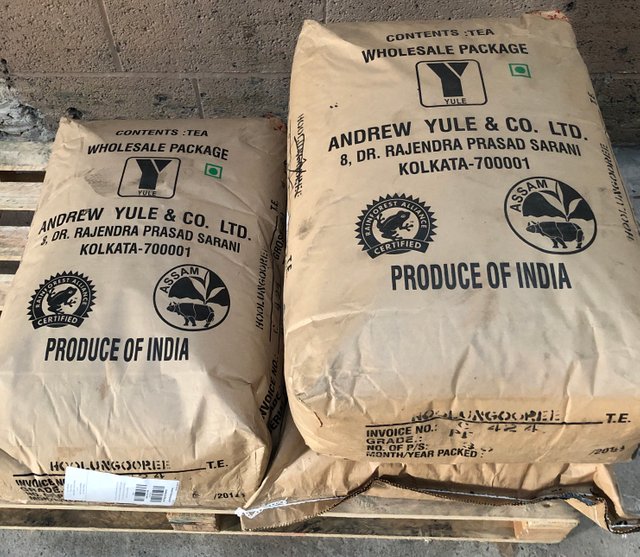 Another absolutely spiffing day, starting with a pallet of loose tea sacks waiting for me when I got to work. Then the usual dealing with customer enquiries, suppliers requesting payment and people trying to sell me stuff. Another good run of roasting coffee, an early start because in the afternoon I had deliveries.
In between I walked down to the post office with parcels, and called at the bank on the way back up to deposit cheques.
Then back to work to load up deliveries, 60 packs of 250g retail coffee bags for a customer, then a 60kg sack of Brazilian green coffee and 70kg sack of Colombian green coffee. I got to my customers who has loading bays in front of his shop for deliveries - both bays were occupied by cars with no sign of unloading things! So I parked right behind them - on double yellows but 130kg of coffee is a bit much to walk from the nearest legal parking spot.
So I carry the sacks in with my customer, and we are talking coffee roasting etc - then the traffic warden marches in demanding to know if it's my car on the double yellows!
"Yes I am loading but had to park on the double yellows because the two loading bays have cars parked in them that are obviously not loading - maybe you could sort that out?"
So basically he said how long will you be, which was a few minutes because the hard work was done. After a bit of muttering he toddled off, my customer said he was not the best traffic warden - people park where I did all the time and he does nothing to stop them - on this rare occasion I was parked there for good reason of delivering - he moves me on!
That done I had to deliver the retail packs, and the loading bay was free this time. Then I had to head back to work - only to find the carrier that collects our daily parcels for deliveries only took half of today's because his van was full ! And I got back late so by the time I rang the depot they could not send another van. Needless to say the carrier got it in the neck, just like I will tomorrow when customers expecting orders find out it will be a day late.



10845

Daily Activity,Moving Around Office,Walking
| | | | | | |
| --- | --- | --- | --- | --- | --- |
| | | | | | |
| 32 cm | | cm | | 34 cm | |