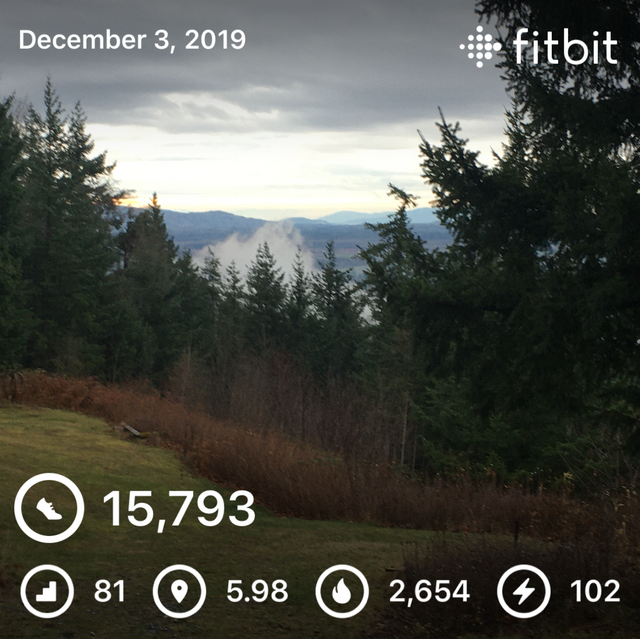 Hey everybody!
I attended a mugging! More on that in a minute………
Today was my Tuesday Bible study, and whereas I originally thought I might just go long enough to distribute my annual Christmas devotional to the ladies, I ended up staying and am very glad I did! I didn't get to do my Monday Bible study yesterday due to the amount of errands that needed tending.
When I got home, it had stopped raining, but the skies were getting darker and darker and I noticed the rain on the skylight in the living room. We didn't really think we'd get the opportunity to go, but headed out hoping for the best. We didn't get the entire hike done, but got two thirds of it done. I was able to capture an interesting cloud video that I will work on posting maybe tomorrow.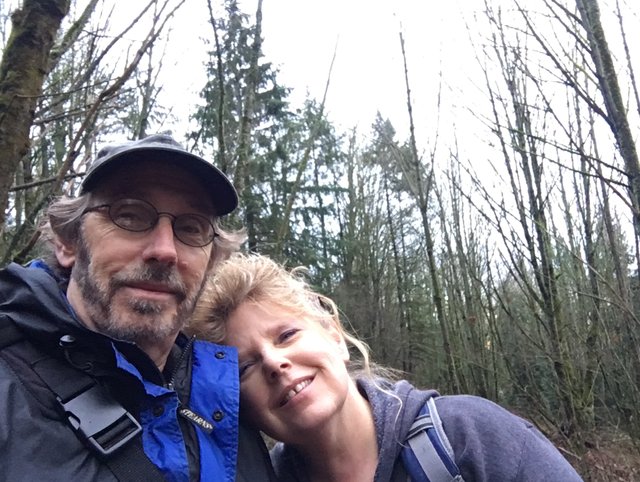 Me and @silvertop in Bear Hollow
Now, onto the mugging!!
So, apparently for the past 11 or so years, there has been an annual mugging that takes place at Sumas Advent Christian Church. A mugging, you say? Well, it turns out that this event involves quite a few churches - not just ours, and we had 41 ladies present tonight. Since I had not been before, I was told to purchase a mug and place it in a gift bag. When I arrived tonight, I placed my mug on the table along with everybody else's.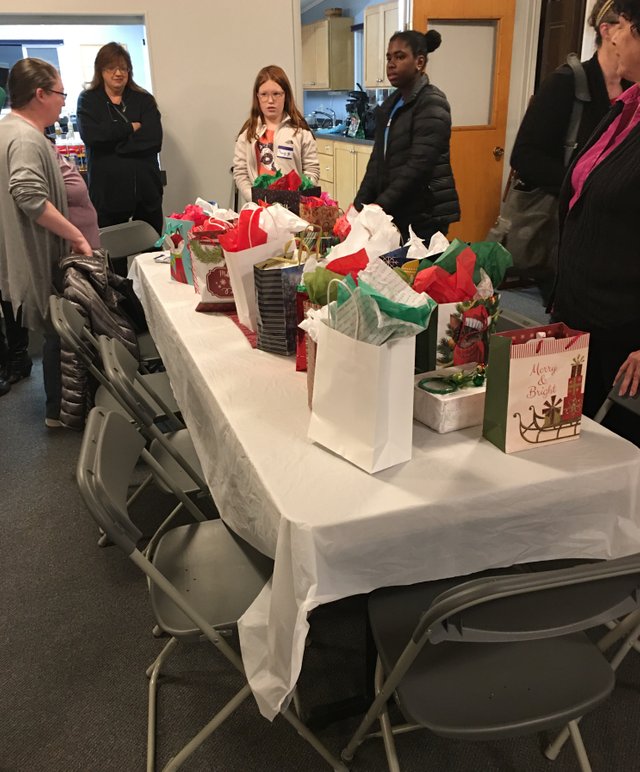 After a couple of songs and food and fellowship, the muggings began! Numbers 1-41 were passed out to everyone. Then, in pairs of twos, two numbers were randomly selected from the basket. You got your bag you came with as did the other person who was called up. You switched bags with each other and name tags, and then opened your mugs so everyone could see. The name tag thing was so that if you didn't remember who your mugger was, it would help you to remember so you could spend the year praying for that person until next year's mugging.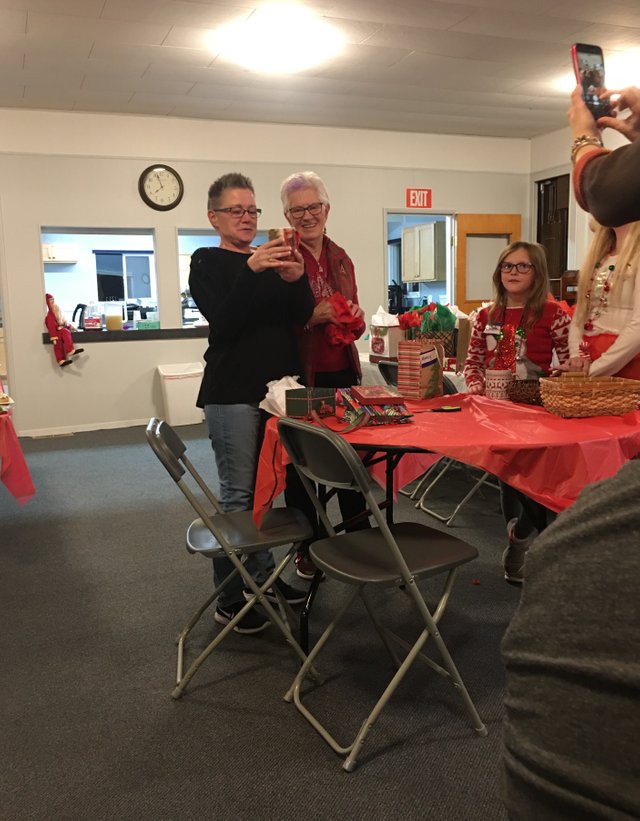 This is Marcy and Louise. Marcy sang with me for the first time Sunday, and it was her first time to sing in about 35 years publicly! Louise I've known for 20 years; we sang together from 2000 to 2006 in a church choir. Ironically, they are neighbors and their numbers got paired for their muggings, lol!
It took a long time to get through all of them, but it was loads of fun! Afterwards, we played a game of the cellophane ball. Over sixty items were literally wrapped up in the cellophane into a big ball. You had to roll doubles with a pair of dice in order to have a go at unravelling the ball. Whatever fell out as you did, was yours to keep. You only got to keep unravelling until someone else threw doubles, and so on and so forth. Oh, and did I mention you had to wear the really big plastic gloves like you'd find in a bakery while trying to unravel the cellophane and you could not rip or tear or use fingernails to unravel it?!! It was a hoot , and yes, I got some of the booty from the ball! I can only imagine what this might have looked like to an outsider just stepping in the room, to find this huge group of ladies rolling around this ball from person to person while each one of us threw the dice! Probably looked suspicious I imagine, lol!
The day was awesome!
Thanks for stopping by! Don't forget to keep on steppin'! Any exercise is good for you, so keep at it. Have a wonderful day wherever you are!




15793

Daily Activity,Hiking,House Chores