It was pretty wintery looking today but it didn't rain and the temperature was nice for disc golfing. I rode my e-bike down to the new eighteen basket course.
I did find a way to get there that did not involve that much white knuckle riding. There were some newly added bike lane areas. I was happy to see some improvements in the bike route.
Here's a view I quickly took of the river from the road: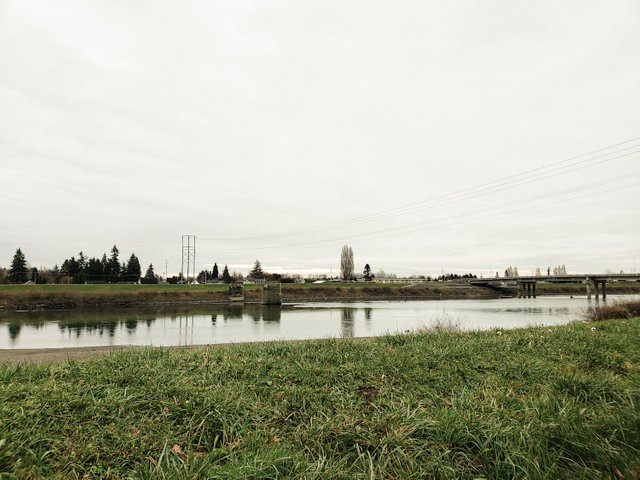 You can kind of see some remains from an old bridge that was here at one time. I think this might be where the old railroad went through that they were thinking of making into a bike path that would extend up to Canada. That would sure be nice.
I started playing on the course and a couple of friends came over and noticed I was playing. We all got together and had so much fun playing that we ended up playing the eighteen basket course twice. For me it was over forty baskets of disc golf.
I was feeling real good but a bit tired after I got home from the longer e-bike ride. (Maybe ten miles round trip?) It feels like my endurance is getting better from doing the 10K steps consistently.
---
Downvotes
I've been picking up a few downvotes on both accounts. Usually it is from smaller accounts.
Today I noticed a larger investor was downvoting me. I thought maybe it was because of the quality of my photography or writing or something. Going after your Steem rewards is one thing but going after your PHOTO, PAL and SPORTS rewards hits a bit harder. After all, disc golf would appear to be something sports related and it's not like I'm stealing images off the net for photography and PAL is really generalized.
After I looked into things a bit it does not seem to be about the quality of my posts. Looks like someone is downvoting everyone with some SBI shares.
It does not seem to be a fair thing. Some people gave me some SBI out of the goodness of their heart. I really did not have any input in the last hard fork besides not really feeling it was all that good an idea.
I can see why they might be irritated too though with all the recent changes. Bid bot owners have had it hard from the changes. If you make plans for things to be a certain way and then it gets changed so much that all your work and investments don't work out, it can get frustrating. (I can't really speak for what is going on with anyone else and why they are doing the things they do though.)
After looking into all this it did seem to be somehow less annoying to me and thankfully my AFIT tokens and some other rewards can't be downvoted away.
---
Thanks for reading! I always value your support and comments. The pictures were taken by me with my Galaxy S9+. Text and graphics copyright lightsplasher & litesplasher.

---


16050

Cycling, Daily Activity, Golf, House Chores, Walking