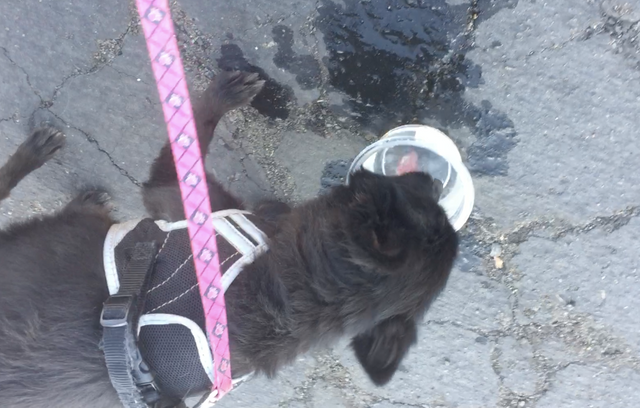 Miss Bb was a true trooper today. She walked with me all the way to the farmers market and back and hardly complained. She was very happy that I had brought some water with me and was eagerly lapping all the water she could - spilling just a little.
You must wonder why in the world am I taking a dog with me to the very crowded farmers market? A little dog at that!
At least that is what I was wondering when I recently went to the very popular and crowded Farmer's Market in Little Italy, a popular spot in San Diego. Just about every other person had a dog. Some were small and I kept fearing that someone was going to step on or fall over one of them.
Apparently, the people who are at the market are worried about that too. I overheard a vendor telling a dog leading lady that they like the market to be dog free. She looked around her, seeing the huge amount of dogs all around her and just shrugged her shoulders and went on her merry way. I am pretty sure she didn't buy anything from the vendor who wanted her to leave her dog at home.
I did leave Miss BB at home when I went there. But our little Lemon Grove Farmers Market is a different story. Very few vendors show up and customers are not in large supply either. Plenty of room for Miss BB to be all by herself in the middle of the market.
Hopefully, we will change the emptiness. I have not been wanting to get involved in more community service type of activities, but ideas to promote the market kept popping into my thoughts - and it looks like I will be getting involved.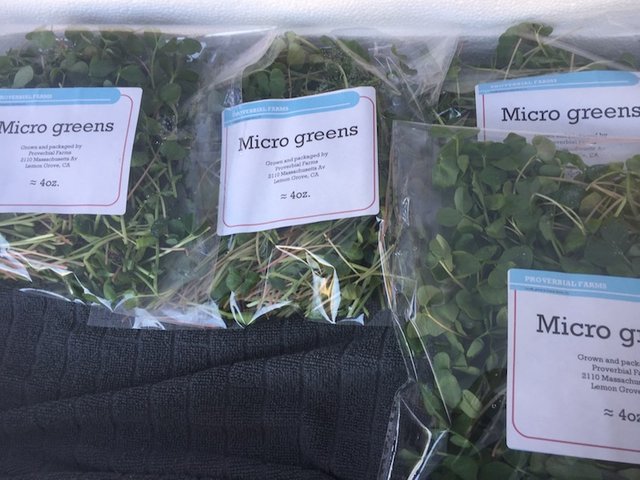 This is all Proverbial Farm, a husband and wife team, were able to bring to the market today. They are fairly new to urban farming and experienced what so many farmers have before them.
One crop got wiped out by the heat and the up and coming one fell victim to a visit of a raccoon family. They are quite good at ripping your garden apart in the shorted of time.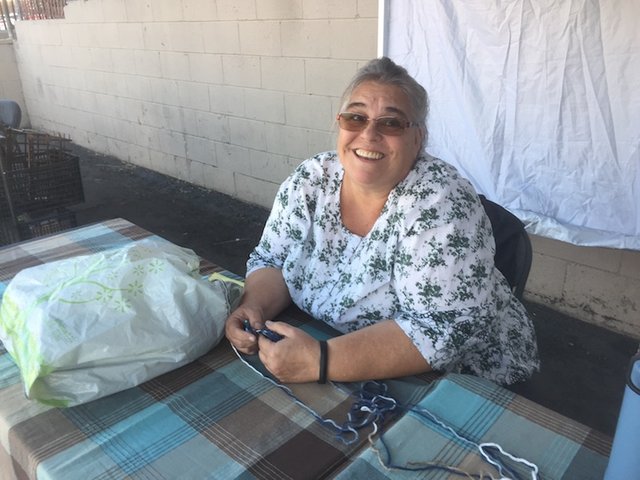 Still, she comes to the market with a smile. Sometimes, showing up is hard, but she does it to help this community grow.
Speaking of growing. Next to her was a representative of the Mt. Hope community garden that is located in San Diego.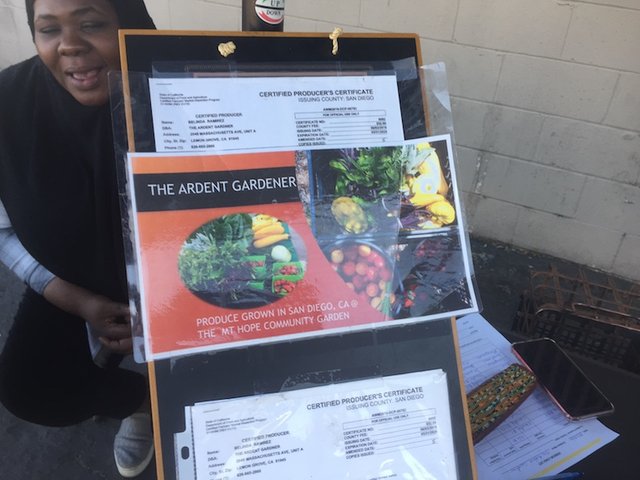 It turns out that the person who came today to help out with the table used to be one of my customers when I had my store. After we figured out where she knew me from, she said some nice things about me. It made my heart sing. The store was a lot of hard work and often was very frustrating. My nice customers were the only reason that I hang in there - well, besides the fact that I had bills to pay...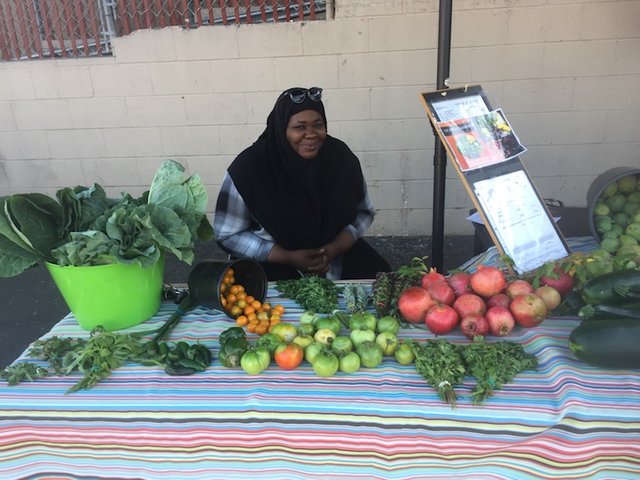 Look at all this yummy food!! I love good food and the fresher, the better.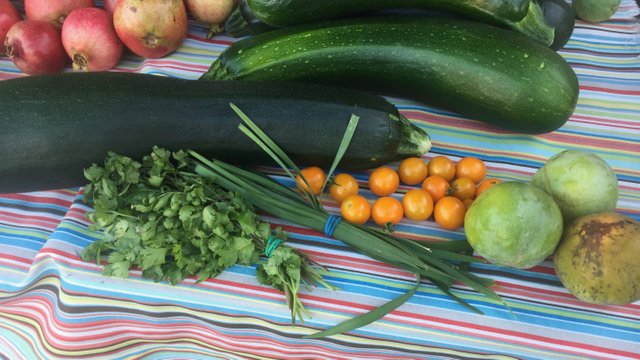 This is what I took home and at the time of this writing, some of it is no more But my tummy is happy
If you are living anywhere in or close to Lemon Grove, let's make this Market a success. We are a varied community and we have only a few grocery stores in town. Nowhere is the produce as fresh as here and- wait for it- it is grown with organic methods.
(Can't say it is organic since that requires an expensive certification process - starting a rant here but going to keep it for my NaNo Writing :)

Join us for the daily 5 - Minute Freewrite. Check my profile for a new prompt every day.
I am adding the CC tag to all prompt posts and to most of my other posts as well. You can earn Comment Coins simply by leaving a good comment. No spam please!!!

All images are my own unless otherwise cited.
Graphics made on Canva.



Animation By @zord189

#SoCalSteemit is building and supporting the Steemit community of Southern California. If you are from SoCal and are into creating quality content here on Steemit, we'd love for you to follow us @SoCalSteemit and join our group on Discord!

Join @Actifit, become healthier by being active and earn as you walk. My referral link
Join us at the Freewrite House for fun and games!!! Weekly drawing for SBI memberships and so much more!!

And get your Freewrite House Swag here

7069