A snowy mess of a run as I begin to taper down for this weekend ultra.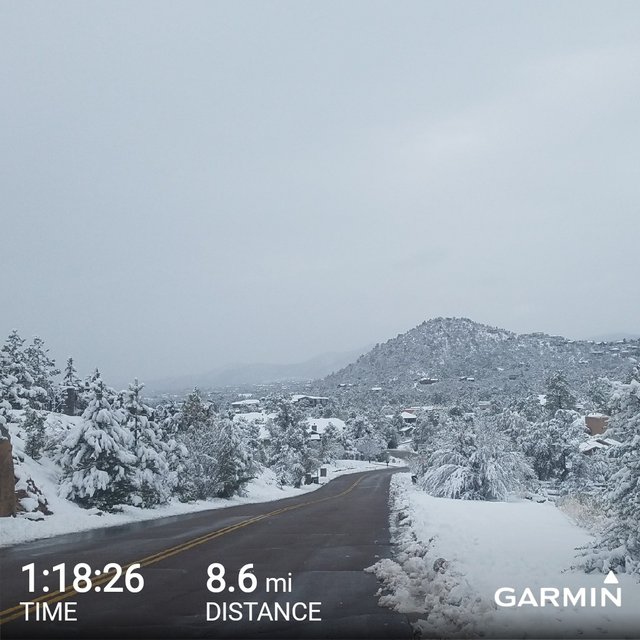 6 inches of new wet snow greeted us when we got up this morning.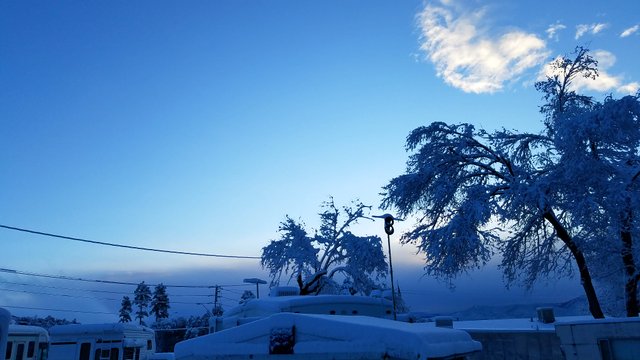 Sorry about the Actifit app not being able to upload correctly, hadn't been acting up recently.
Unfortunately the city of Prescott is pretty useless in plowing so the sidewalks were a mess and I had to run out in the road unless I had wanted to stumble through the piled up snow off the road.
At least Lulu enjoyed the snow. For me it was a tiring run and I was glad to get back and out of my wet running gear. At least my time on the busy main roads was short so it was a bit better to be able to run on the cleaner areas of the back roads without having to be constantly watching for incoming traffic. Looks like most of the snow will melt over the next couple of days but tomorrow should be my last day of "running" as Thursday and Friday will be more or less rest days or maybe a short couple of miles easy running.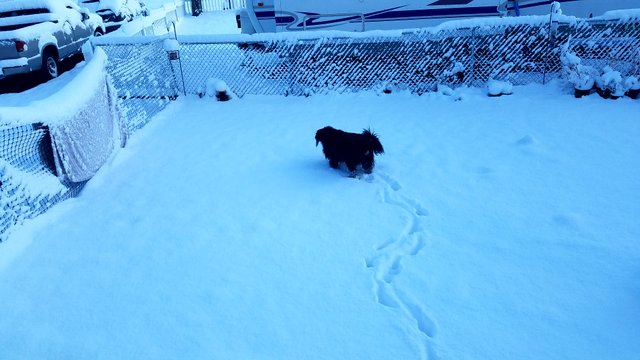 Glad I can ease back a bit as I'm tired more than I would like and will be glad when I'm at the race so that I can just concentrate on the race and then put my full attention and effort to improving my diet and hopefully getting healthier and happier in my running.
<br><img src="https://cdn.steemitimages.com/DQmXv9QWiAYiLCSr3sKxVzUJVrgin3ZZWM2CExEo3fd5GUS/sep3.png"><br><table>   <tr>        <img src="https://cdn.steemitimages.com/DQmRgAoqi4vUVymaro8hXdRraNX6LHkXhMRBZxEo5vVWXDN/ACTIVITYCOUNT.png"> </tr>   <tr>        <div class="text-center"><b>21099</b></div> </tr></table><table>    <tr>        <img src="https://cdn.steemitimages.com/DQmZ6ZT8VaEpaDzB16qZzK8omffbWUpEpe4BkJkMXmN3xrF/ACTIVITYTYPE.png">  </tr>   <tr>        <div class="text-center"><pre><b>Running, Walking</b></div></pre></div> </tr></table><div class="text-center"><img src="https://cdn.steemitimages.com/DQmNp6YwAm2qwquALZw8PdcovDorwaBSFuxQ38TrYziGT6b/A-20.png"><a href="https://bit.ly/actifit-app"><img src="https://cdn.steemitimages.com/DQmQqfpSmcQtfrHAtzfBtVccXwUL9vKNgZJ2j93m8WNjizw/l5.png"></a><a href="https://bit.ly/actifit-ios"><img src="https://cdn.steemitimages.com/DQmbWy8KzKT1UvCvznUTaFPw6wBUcyLtBT5XL9wdbB7Hfmn/l6.png"></a></div>