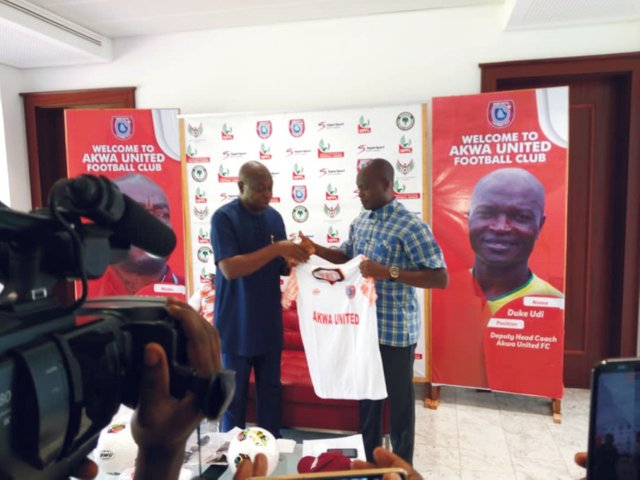 The indigenous football Team of Akwa Ibom State Government - "Akwa United" christined as "Dakkada United gets new Chief Coach and Deputy.
The duo of John Obu, and Duke Udi, were unveiled few days ago as Chief Coach and deputy by the Senior special assistant to Akwa Ibom State Governor Udom Emmanuel on sports matters, Elder Paul Bassey. This is part of the plans to make-up the team in preparation of the Nigerian Premier League season which is quite close.
The event took place at the Conference Hall of the Godswill Akpabio International Stadium on Monday, 28th November, 2019 in the presence of the public and sports journalists.
Elder Bassey hailed Obu and Udi as the best hands to take Akwa United to the peak of the professional Nigeria Premier league. In the words of Elder Bassey who is also the Chairman of Dakkada United:
it would have been efforts in futility if the league did not start in spite of the struggles. I hope Obu and Udi are not here to wait but had already started in earnest with the team until all the formalities were completed with the club.
The new club leaders were wished a good football season, while being admonished to trust in God for success. In response, Coach Obu said
"I know that the demand and expectation is high. I have come to do a different thing and by the special grace of God, I will be able to meet the target of winning the league title and AITEO Cup title as well.
"I have a good idea of the club and a strong person behind me, therefore if not succeed here, where else,"
The new coach berated that he will give in his best to ensure the club wins the titles ahead.
Let's watch and see what comes out of the team in the coming NPL Season and hope they'll be at their best.
---
Many thanks to @marlians.sports whose curation I've always received on a frequent basis.
Final Words
Anything worth doing is worth doing well. I hope you have a great day!
I am @Edipascal