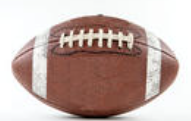 (pixabay)

Right now I am dealing with the idea of Dorian.
this hurricane is coming straight for East side of Florida.
Hopefully if not missed I am preparing for it.
Enough Dorian!

NFL is starting next Thursday with Green Bay vs Chicago.
This year the game will be played in a different level due to some changes
on the field.
New helmet for everyone.
Quite a few rule change for kicking, blindside block and replay.

Most importantly many new QBs will start this year.
Daniel Jones so far showed that he is ready to lead the Giants
in the football field.
Is Eli Manning a bench QB now?
Time will tell.
Cowboys will play them without Zeke.

As far as I am concerned Jerry loves the media
as an owner.
Dallas is not ready to commit to a long contract with Zeke.
This year could be a wee wee year for Cowboys.

Close to home I cannot wait to see the Dolphins.
Patrick or Josh, the QB?
Flores has to make up his mind.
AFC East is all New England.
Hopefully Miami can finish second.

Andrew Luck just walked away before the season.
Colts have now Jacobee to lead the way.
AFC South still on the hands of Colts.
Texans may grab second.

Got to talk about AB.
I feel like the helmet issue
is all gone.
Now let us talk about production.
Kansas and Chargers will lead.
Raiders have to fight hard for a good third.

By the way Rams and Kansas may surprise us again.
Brady is the GOAT so far.
Saints always in the good place.
Panthers cannot scare them a bit.

More American Football is coming.
I will be watching quite a few teams.
Washington Redskins with Haskins.
Cardinals with Kyle.
Patriots is the epithet of great football.
What teams will you be following?
Are you ready?