Cookies on CD
For more information and rules for entering @artstorm art contests, please see the original post.
The word prompt for Thursday, December 12th was Snacks for Santa
This is my entry - Cookies on CD
---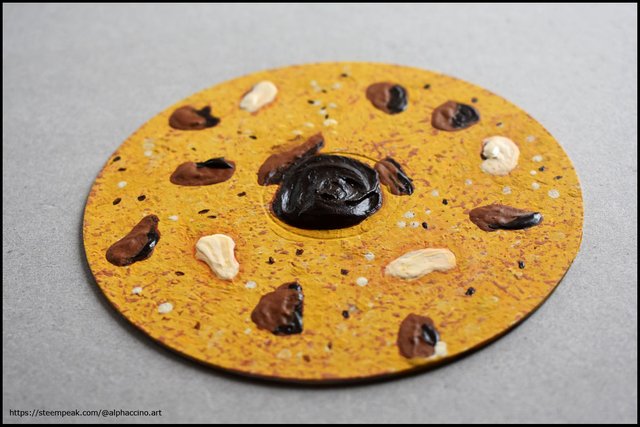 Acrylic on plastic (recycled CD)
Round, dia. 120 mm
Colors are burnt umber, hazelnut cream, mustard, antique white
---
As soon as I read the prompt for this contest, the 'Cookies on CD' idea immediately sprung to mind and it appears as though the @artstorm prompt was just what I needed to spark my flow, because the past few days have been super-creative.
The reason why CD's came to mind so readily is because of another on-going project where I've been using recycled CD's as a substrate, in an effort to craft with materials that have been 'reclaimed and re-framed'.
---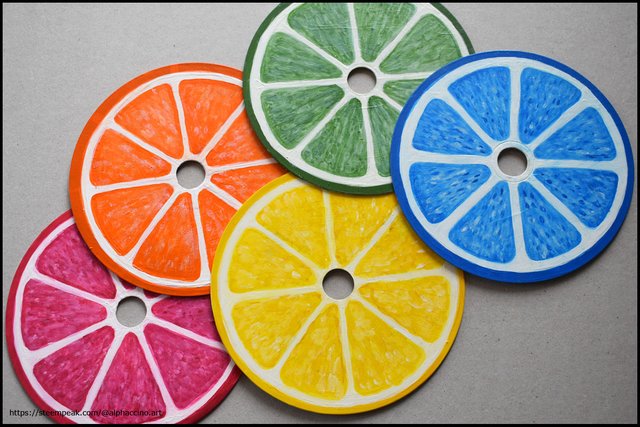 Acrylic on plastic (recycled CD)
Round, dia. 120 mm
Colors are magenta, orange,yellow, green, cyan & white
---
This is my Citrus on CD project, where I utilise the shape of the CD to recreate slices of brightly colored citrus, these will go onto another project that will eventually see them displayed in the garden.
You may have already seen the 'yellow' slice in a previous post; the collection now includes blue, green, magenta and orange. My original intention was to paint a slice (like a swatch) for each paint color I had in the studio, however, if I could just finish the colors of the rainbow for now, that would be an achievement in itself :P
---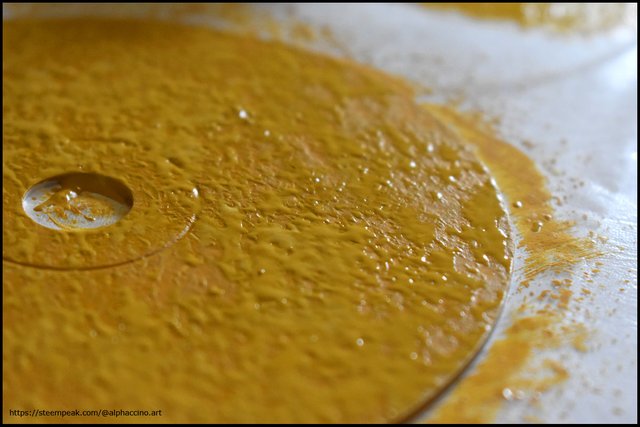 A little aperture anyone?...
---
Anyhoo, I hope you like my entry because I really enjoyed creating it; I decided to cover the CD-hole with texture paste, trying to make it look like melted chocolate in the middle... and maybe it needs just a little satin varnish to finish it off but I'm fairly sure I'll be making more cookies to add to the collection.
Who knows...? by this time next year, maybe I'll have a whole jar of CD Cookies...
...and maybe it's Santa who'd better watch out...! bwahaha
Until next time... xxx