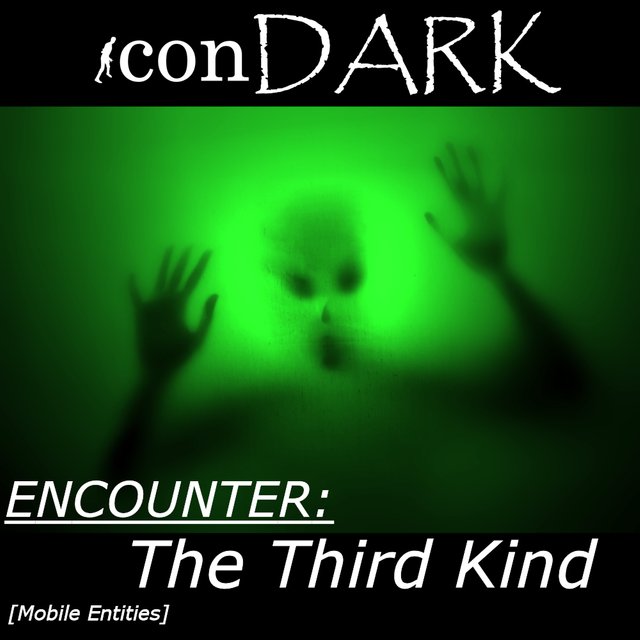 Third and final(?) track in the "Encounter" series.
Close Encounters of the Third Kind: An encounter in which a moving entity is present... alien, robotic, human, or 'other'...
Just as the second track borrows from the first, this third entry retains some of the elements from its predecessor. It turns dark ambiance on its head by delivering an electro-rock grove with a heavy guitar riff. The aliens make their appearance during the break amid the return of the Geiger counter clicks and (hopefully) ominous Morse code. Have they come to party, or are they here to mutilate cattle and consume household pets? Whichever it is, it's not like you can stop them. If you learned anything from the Hopkinsville Encounter, it's that the aliens are, in fact, bulletproof.
The series as a whole is intended to showcase various genres:
First=Breakbeat,
Second=Dark ambient,
Third=...whatever this song is.
Taken together, they are a perfect answer to the question often asked of musicians: "So, what kind of music do you make." If you liked either of the three, you'll probably like my other work as well.
Available on Bandcamp: https://icondark.bandcamp.com/track/encounter-the-third-kind
And Everywhere Else: https://song.link/i/1443213980
Support us by listening on the following platform(s) (we earn a small amount of crypto and would appreciate it):

Appears on:
---
FOLLOW iconDARK:
---
More about iconDARK:
I like what I like; I make what I make.
My electronic instrumentals range from eerie dark ambient to rock-influenced electronica to bass-heavy breakbeat. I refuse to limit myself to just one subgenre. The one unifying thread throughout my work stems from my lifelong love of imaginative fiction, horror movies, and tales of the paranormal… all of which make their way into the titles and themes of my music.