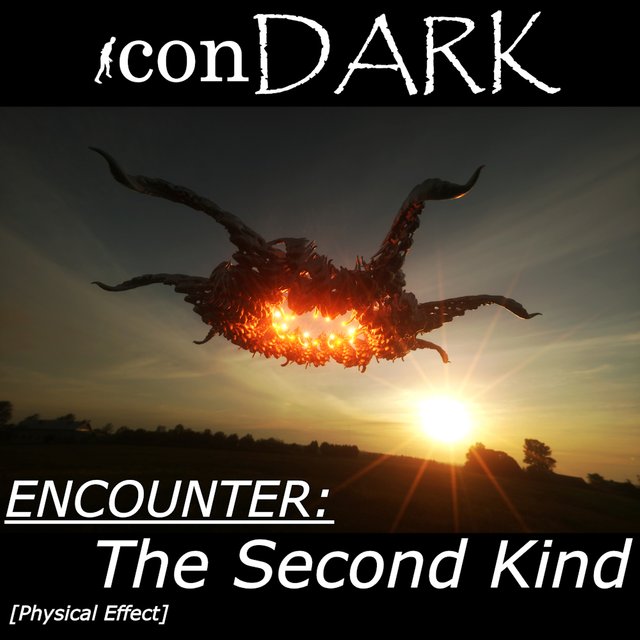 Genre: Dark Ambient
Second in the "Encounter" series...
Close Encounter of The Second Kind: Physical effect on surrounding environment, including people, animals, vegetation, electronics, or machinery.
This dark ambient track begins with a eerie slowed-down reprise of the chord progression of its predecessor "Encounter: The First Kind". It fades, then returns for an early and unexpected crescendo, meant to imply the arrival and sudden departure of the ship from that earlier song. But what did it leave behind? Crop circles? Radiation? Mutilated livestock? The soundscape for the remainder of the song is open to interpretation, although the presence of radio static and a Geiger counter's characteristic ticking certainly implies at least one of the above. If that wasn't enough of a warning, the increasing musical tension as the song concludes strongly implies that the story isn't over yet... that the aliens will be back.
This is one of my favorite dark ambient tracks. Although it tends to be over-shadowed by the more traditional sounding First and Third installments, this, to me, is a prime example of combining musical elements and non-musical sound effects to create tension and fear.
Available On Bandcamp: https://icondark.bandcamp.com/track/encounter-the-second-kind
And Everywhere Else: https://songwhip.com/song/icondark/encounter-the-second-kind
Support us by listening on the following platform(s) (we earn a small amount of crypto and would appreciate it):

Appears on:
---
FOLLOW iconDARK:
---
More about iconDARK:
I like what I like; I make what I make.
My electronic instrumentals range from eerie dark ambient to rock-influenced electronica to bass-heavy breakbeat. I refuse to limit myself to just one subgenre. The one unifying thread throughout my work stems from my lifelong love of imaginative fiction, horror movies, and tales of the paranormal… all of which make their way into the titles and themes of my music.