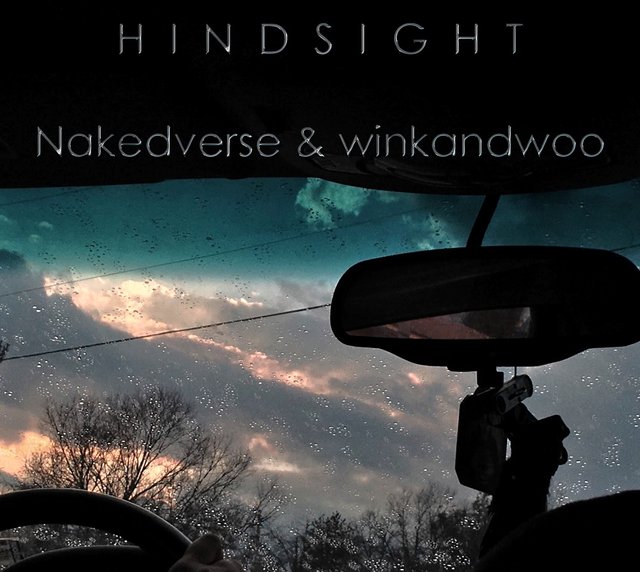 Taken From The Forthcoming E.P. - DRIVE
Go hook up with the sounds of -@nakedverse
Music , Production , Arrangements - Nakedverse
Vocals , Lyrics, Melody - winkandwoo
LYRICS
Did I do the right thing
On that cold October day
As the leaves were falling
Had the sunshine gone away
The Calm
The sudden twist
That's praying on my mind
The breeze
The Autumn mist
That seems to show me signs
Would I soon be wiser
Will it take till Winter's here
Is this ill advice or Do I go by what I hear
The crowd
I took for granted
Were they on my side
Out loud
The seeds we planted
Were they justified
I'm looking in the rear view mirror
Tryin' to get the vision clearer
Looking back at what just happened
Gotta break the forming pattern
With hindsight
Aren't you s'pose to know
With hindsight
Where you gonna go
I'm looking in the rear view mirror
Tryin' to get the vision clearer
Looking back at what just happened
Gotta break the forming pattern
With hindsight
Aren't you s'pose to know
With hindsight
Where you gonna go
---
FOLLOW winkandwoo:
---
More about winkandwoo:
Just call me wink , everyone else does .
Hi I am a singer songwriter from Central London . I write and produce from home on a multitrack deck , i have no reason to change to a daw , I like hardware it feels more organic.
I am always collaborating with my pals on atomcollector & electronic music alliance (YOU KNOW WHO YOU ARE)
and i like to write songs that make you think and hopefully are open for interpretation.
My favorite songs are usually written in the form of metaphors , that really gets the mind going .
winkandwoo is not genre specific .