Yesterday I had the experience of drinking the Gwanghwamun (광화문) Pale Ale by Asan Breweries.
Recently I've been reviewing so many Korea craft beers for #beersaturday that I got ahead of myself and all of the local small shops. In fact, there is only one non-generic Korean beer I haven't reviewed. Actually, last week, I reviewed [4 other Korean craft beers],(https://steemit.com/beersaturday/@abitcoinskeptic/sampling-korean-beers-during-the-no-japan-boycott).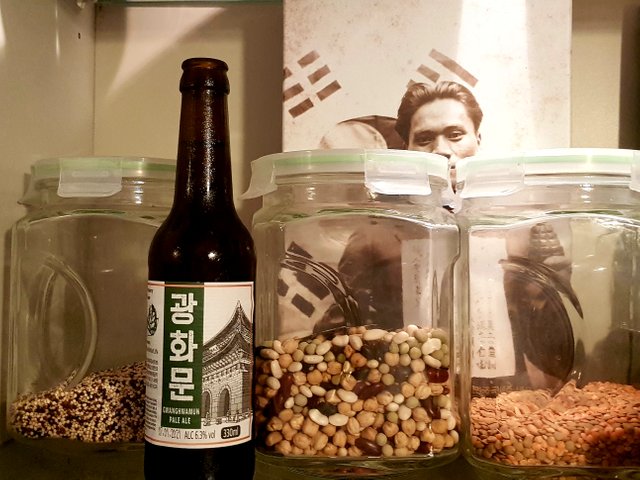 I decided to photograph my beer on a different shelf with dried foods and my ginseng liquor box.
Gwangwhamun Pale Ale
Gwangwahmun pale ale is made by Asan Breweries, please don't confuse it with Gwangwhamun Soulite Ale by ARK, which I've reviewed before, here. Gwanghwamun is the name of the gate in front of the main palace in downtown Seoul. As far as gates go, this one is very nice and arguably the No. 2 most beloved gate in Korea.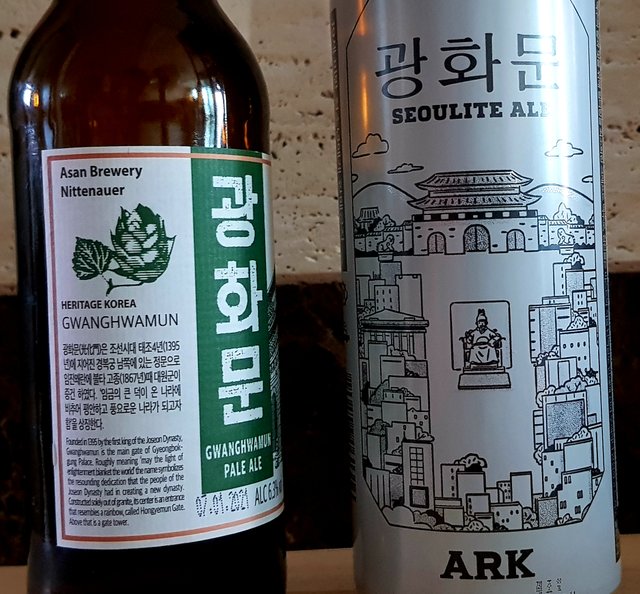 You can notice these two beers are indeed different even though they have the same Korean name. There is also a nice store about the Gwangwhamun Gate
Gwangwhamun Pale ale is 6.3% ABV which is quite strong in my opinion. I'm not sure how much IBU is in it, but it was quite hoppy. I didn't get a good look at the color because I drank it from the bottle. All the ingredients are imported from Brauhaus Nittenauer Germany and it seems it is just brewed in Korea. There is nothing un-beer like in the ingredient list. I actually enjoyed the beer, but I wouldn't want to drink too much of it as I would end up with a headache or a stomachache.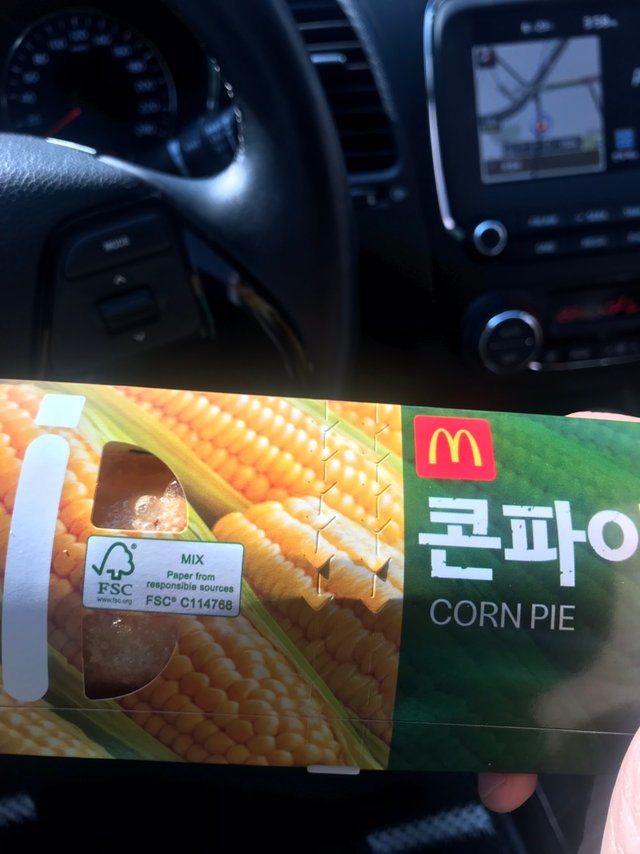 Mc Donald's Korea Sells Corn Pies
I stopped by a McDonalds on the way home to try a corn pie. I'd seen it advertised and some mean people were making fun of it online. Koreans put corn on pizza, some desserts, in salad, etc. This freaks out some Americans, who eat more than their fair share of corn and put corn syrup in everything. I decided I had to try it, so why not? I don't drink and drive, because I'm not a criminal or an asshole. But I do eat corn pie and drive, lol.
As mentioned I drank and reviewed all the Korean craft beers that are sold in the local shops. That means I have to travel further to get beers to review. So I just went to the big market where I found 3 I haven't reviewed (don't worry I'll find more at the other big markets or elsewhere). I am not willing to review stuff that is obviously barely beer like a radler, or beer mixed with fruit juice or whatever. Nothing is wrong with this and I enjoy. However, I don't think you can fairly compare it to beer.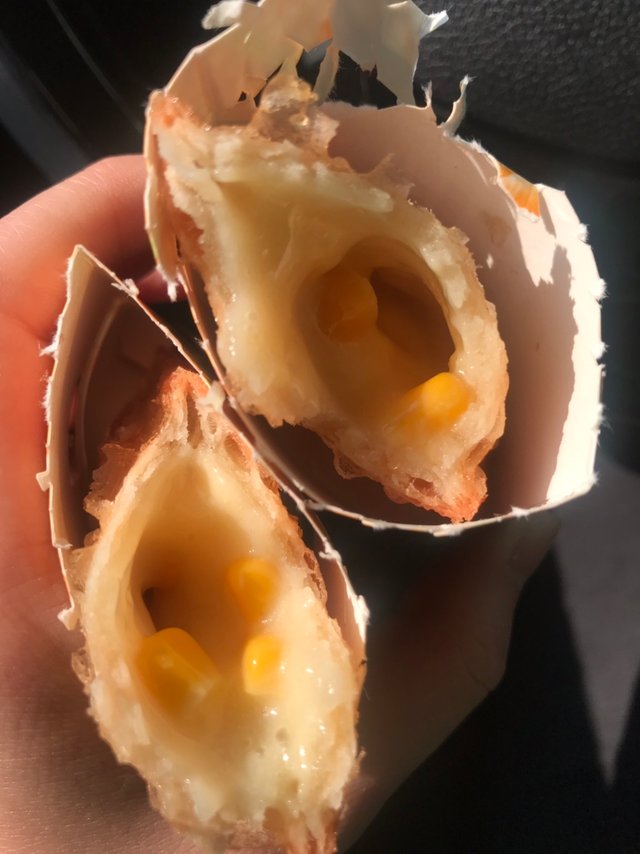 They are really sweet and not to my liking
In case you are wondering, the corn pie was gross. It only had a few pieces of corn in it and the sauce was way too sweet. It's like sweetened condensed milk with a few pieces of corn thrown in.
I've had a corn pie before from the McDonalds in Thailand, but it was actually good and tasted more like corn soup than dessert.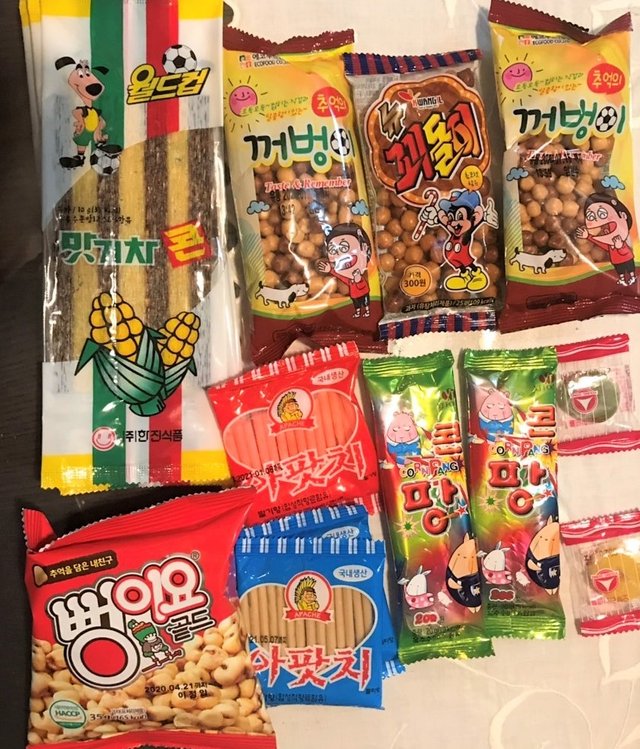 These are Korean snacks which were popular 20 ~ 40 years ago.
I also had the pleasure of enjoying some traditional Korean snacks. One of my family members ordered a box and gave me some. There are various jellies, candied nuts, and starchy or sugary treats. I don't really eat much of this stuff, but since I haven't had any of this stuff in a really long time. It brings back memories of snacks I ate when I was a child.