Behind The Photo contest
As a lover of photography, I could not lose this contest, I am not a professional photographer or even an amateur photographer, more than capturing photos I like to see them, I feel that photography freezes in time a moment in the life of those who appear in it and invites us to live and remember that moment every time we look at the photo.
I confess that as a child I was captivated by photography and as a teenager, I thought I had found my passion, and I'm not wrong, I still think it's my passion, but for reasons of life I haven't developed it, studied it or taken advantage of it as I should.
So if you like photography this contest is for you, "BehindThePhoto". It is a contest that is not about the photo itself but the process before or during the taking of the photo.
I'm going to show you three of my best photos, let's start:
Swimming in the pool.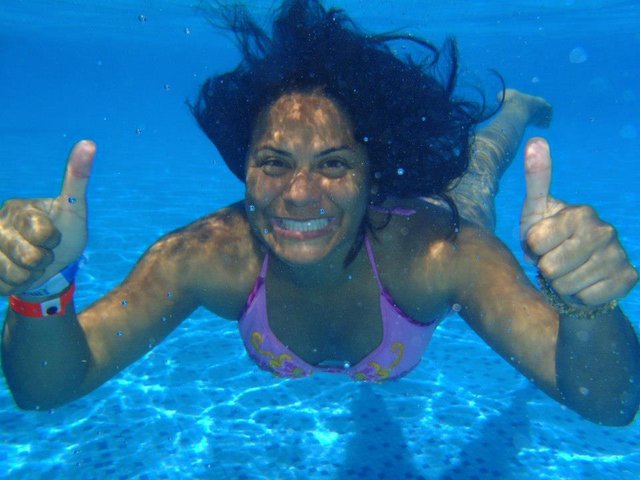 This photo was captured by the hands of a friend named Jusmar Silva, with my Olympus Stylus Tough water camera in the Margarita Island country Venezuela in the water park named water park, I was on vacation, the year 2015.
Both of us wanted to go out into the water, to make it look clear and fun, so we captured it in a relaxed way, the person with the camera on and ready was waiting to stand inside the pool with his legs open and the camera inside his legs, ready to press on what the other person, that is to say, I heheheh, was immersed in.
My process was the following, I had to maintain the stability of my body and weight in the right position without breathing and opening my eyes and mouth because I wanted to show my beautiful teeth, they are not so beautiful anymore.
We tried about 5 times until we got this result, I still remember that moment and I love looking at this picture.
Traveling by the river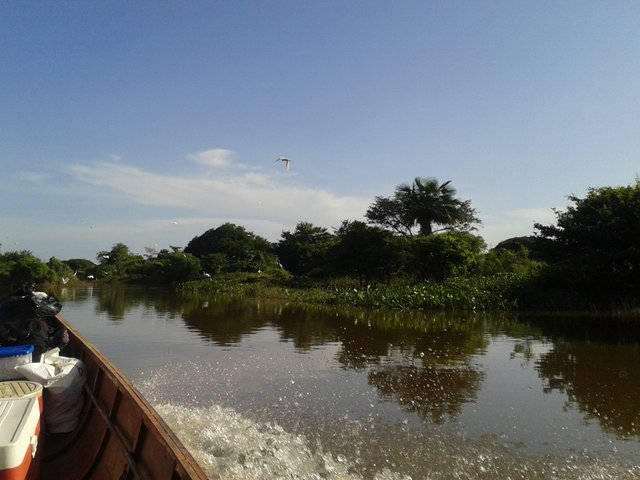 This time the photo was taken by me with the camera of the Samsung Galaxy SIII smartphone, in the Apure river of Guárico Venezuela, the year 2015.
Here I was mounted on an outboard motor canoe loaded with luggage and with other people by my side, I was going to spend a week's holiday at a friend's house in the Venezuelan plains, at a relatively fast speed.
It was a moment of ecstasy for me that made me decide to capture the photograph, in that instant I could hear the birds singing, the sound of the river, the sun in its splendor, the nature creaking and the view was special, I hope I have grasped a little of what I lived in that moment in this photograph.
Between heaven and earth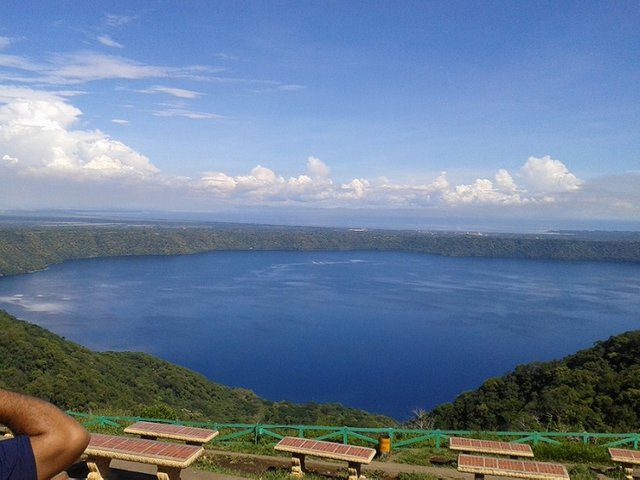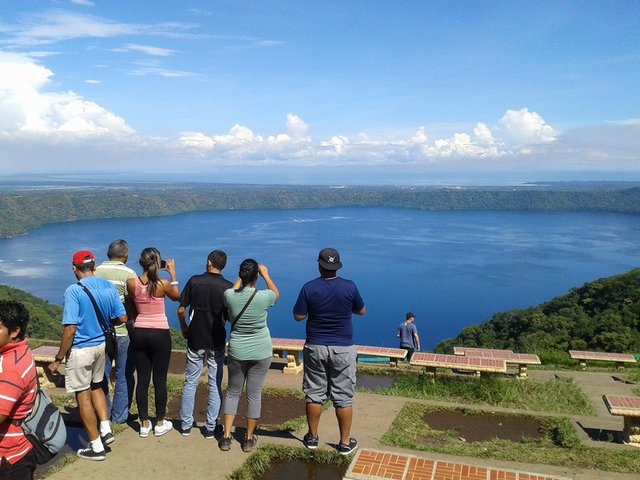 And to finish I show you this photograph that was taken by me with my Samsung galaxy SIII smartphone camera in the Apoyo lagoon, country Nicaragua, on a vacation that was when I was rich and did not know it hehehe, in the year 2015.
This is a magical place, I can't define it any other way, before capturing the photo I was breathing for several minutes, almost in meditation, I opened and closed my eyes pretending to see, the image confused me, I didn't know how to distinguish between heaven and earth.
One sight that took my breath away was the image of the support lake, which is a body of water of volcanic origin and is located in the town of Catarina near Masaya. The mountain is a dormant volcano where its crater is full of water and still vapors rise from the same volcano that makes a kind of cloud in the same lagoon and gives a reflection that cannot be distinguished between the sky and the earth.
According to the natural history of Nicaragua, the Apoyo Lagoon was formed some twenty-three thousand years ago, after the explosion of the Pre-Apoyo Volcano that left the current Apoyo Crater. The view is spectacular since the sky is confused with the water of the lagoon, it is not known where one ends and the other begins.
All the photos are in their original version, without filter or any edition.
I wish your thoughts of prosperity to multiply.
and come true. Remember that anything is possible.
God bless you.


En Español
Concurso "Detrás de la foto"
Como toda una amante de la fotografía no podía perder este concurso, no soy una fotógrafa profesional ni siquiera una fotógrafa aficionada, más que capturar fotos me gusta verlas, siento que la fotografía congela en el tiempo un momento en la vida de los que aparecen en ella y nos invita a vivir y recordar ese momento cada vez que miramos la foto.
Confieso que de niña la fotografía me cautivo y en la adolescencia creí encontrar mi pasión, y no me equivoque todavía pienso que es mi pasión pero por cuestiones de la vida no lo he desarrollado, estudiado ni aprovechado como debiera.
Entonces si te gusta la fotografía este concurso es para ti, "BehindThePhoto" detras de la foto. Es un concurso que no trata de la foto en sí, sino del proceso antes o durante la toma de la foto.
Si quieres participar entra en este enlace.[]https://steemit.com/behindthephoto/@nelyp/behind-the-photo-contest-edition-4
Les voy a mostrar tres de mis mejores fotos, comencemos:
Nadando en la piscina.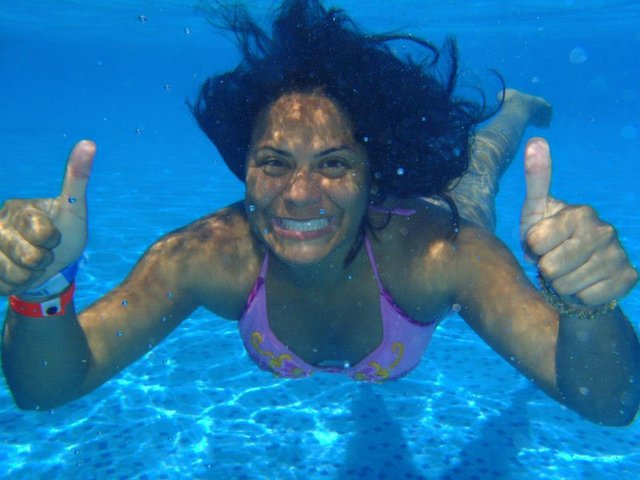 Esta foto fue capturada por las manos de una amiga de nombre Jusmar Silva, con mi cámara acuatica Olympus Stylus Tough en la Isla de margarita país Venezuela en el parque acuático de nombre parque el agua, me encontraba de vacaciones, año 2015.
Ambas queríamos salir dentro del agua, que se viera clara y divertida, así fue la captura todo un relajo, la persona con la cámara encendida y lista esperaba parada dentro de la piscina con las piernas abiertas y la cámara dentro de sus piernas, lista para oprimir en lo que la otra persona, es decir yo heheheh se sumergiera.
Mi proceso fue el siguiente, tenía que mantener la estabilidad del cuerpo y el peso en la posición adecuada sin respirar y abriendo los ojos y la boca, porque quería mostrar mis bellos dientes, ya no son tan bonitos. Lo intentamos unas 5 veces, hasta que obtuvimos este resultado, todavía recuerdo ese momento y me encanta mirar esta foto.
Viajando por el rio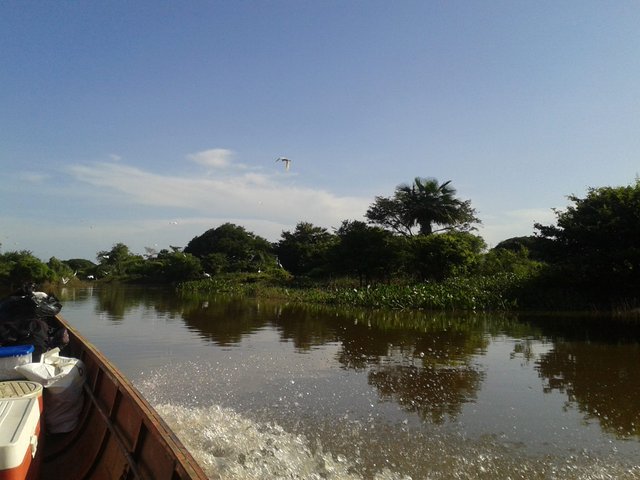 En esta oportunidad la foto fue realizada por mi persona con la cámara del teléfono smartphone samsung galaxy SIII, en el rio Apure del estado Guárico Venezuela, año 2015.
Aquí me encontraba montada en una canoa con motor fuera de borda cargada de equipajes y con otras personas a mi lado, iba a pasar una semana de vacaciones en casa de unos amigos en los llanos venezolanos, a una velocidad relativamente rápida.
Fue un momento de éxtasis para mí lo que me hizo decidir capturar la fotografía, en ese instante escuchaba los pájaros cantando, el sonido de rio, el sol en su esplendor, crujía la naturaleza y la vista era especial, espero haber agarrado un poquito de lo que viví en ese momento en esta fotografía.
Entre el cielo y la tierra.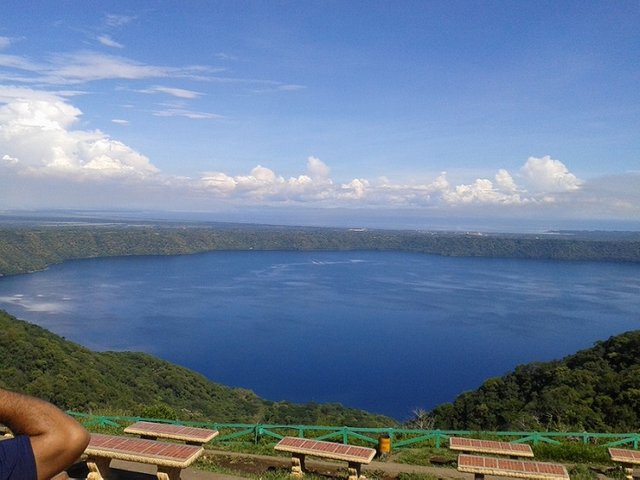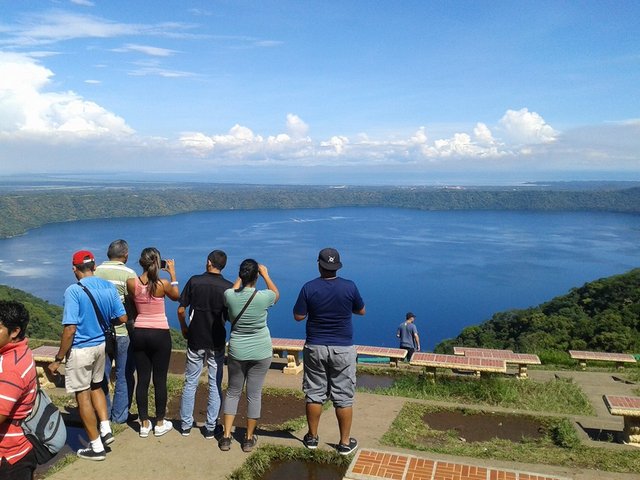 Y para finalizar les muestro esta fotografía que fue tomada por mí con mi cámara celular del smartphone samsung galaxy SIII en la laguna de Apoyo, país Nicaragua, en unas vacaciones eso era cuando era rica y no lo sabia hehehe, en el año 2015.
Este es un lugar mágico, no lo puedo definir de otra manera, antes de capturar la foto estuve respirando por varios minutos, casi en meditación, abría y cerraba los ojos pretendiendo ver con claridad, la imagen me confundía, no sabía distinguir entre el cielo y la tierra.
Una vista que me dejo sin aliento fue la imagen de la laguna de apoyo, que es un cuerpo de agua de origen volcánico y se encuentra en el pueblo de Catarina cerca de Masaya. La montaña es un volcán inactivo donde su cráter está lleno de agua y todavía se elevan vapores del mismo volcán que hace una especie de nube en la misma laguna y da un reflejo que no se distingue entre el cielo y la tierra.
Según la historia natural de Nicaragua la laguna de Apoyo se formó hace unos veintitrés mil años, después de la explosión del Volcán Pre-Apoyo que dejó el actual cráter de Apoyo, su vista es espectacular ya que se confunde el cielo con el agua de la laguna, no se sabe dónde termina uno y empieza el otro.
Todas las fotos están en su versión original, sin filtro ni ninguna edición.
Deseo que se multipliquen tus pensamientos de prosperidad
y se hagan realidad. Recuerda que todo es posible.
Dios te bendiga.