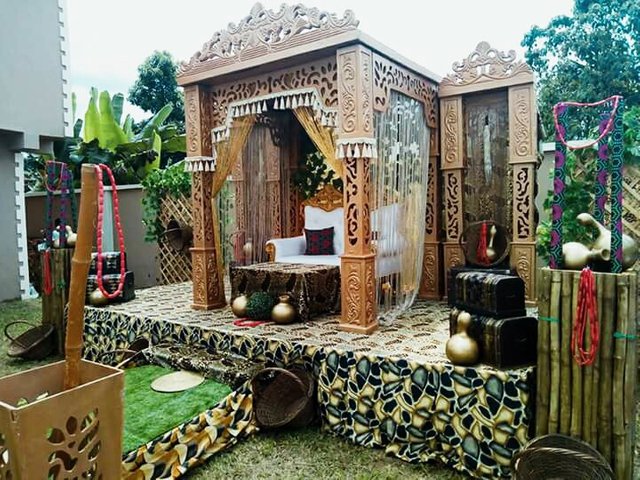 ---
Pictures or images have their own special and unique way of passing across information or messages with a lot of ease. With a picture, you may not need to say a lot of words. A thousand words could be depicted with just a simple image or photo. Also, photos come in very handy in keeping and sustaining memories. This and many more then makes pictures or photos to be very important and useful in today's world.
However, many things and reasons could trigger the taking or snapping of a particular photo. It could be for the purpose of keeping memories as earlier stated, it could also be for the purpose of business, fun, celebration and the likes. Whatever the case, there are always reasons for snapping any photo and thanks to the #behindofphoto contest brought to us by @nelyp, we can get to know and read the story behind some photos.
---
About the Photo
---
The picture above is a "traditional hut" that was being set up during a Traditional Marriage ceremony in Ikot Akpa Adepe Efud, Akwa Ibom State, Nigeria, West Africa. Normally, in ceremonies of the sort in Nigeria, exterior decorations are usually being done so as to make the event colourful. So, the "traditional hut" was part of the decoration and is particularly meant for the couple to seat.
The photo was captured with the help of a smartphone. Some details of the photo are as follows:
Date Taken: 10th July, 2019
Location: Akwa Ibom State, Nigeria, West Africa
Date and Time Edited: January, 28th 2020; 17:22:29 PM, Nigeria Time
Height: 540
Width: 720
Captured With: Tecno F1 8 Mega Pixel Front Camera
Edited With: Lenovo A2016a40
Orientation: 0
Filter Applied: Punch
---
My siblings happened to be into the Events Decorations business (both exterior and interior) of which I usually tag along as their media and advertisement manager. The name of their decorations company is "Creative Desire Events Planning and Decorations". Their work involve the setting up of events and making the venue look colourful and comfortable.
In making cases, it requires us traveling a very long distance to decorate events depending on the location of the client.
On of one those occasions, we travelled to the said location to decorate a venue for a Traditional Marriage. The journey was actually fun and adventurous being that I have not been to the said location before.
It was there I took the above photo of the 'Traditional Hut' for them for the purpose of cross-examining and appraising their job. Meaning that this photo was not taken for the sake of this contest as it was taken months ago. However, it became handy for the contest.
I can remember that I had to climb a plastic chair to take the shot. On one of those attempts, I did slip.
Also, the taking of the photo was not spontaneous; it was a planned photo taking as it is usually customary of me to snap every work so as share and lure customers as well as advertise their brand.
About the hut, it is a result of several parts and components. It is not fixed as it can be dismantled and re-coupled as well. In setting up the hut and the accompanying walkway, many hands were on deck as only one person cannot fix it.
Furthermore, the photo was re-edited for the sake of this contest. The filter applied was the punch filter and was applied using my Lenovo A2016a40. The punch filter is quite easy to apply. It is a matter of just a click.
The photo was not taken for nothing sake. There were reasons it was being captured. With this, the couple will always have the memory of their union to be evergreen.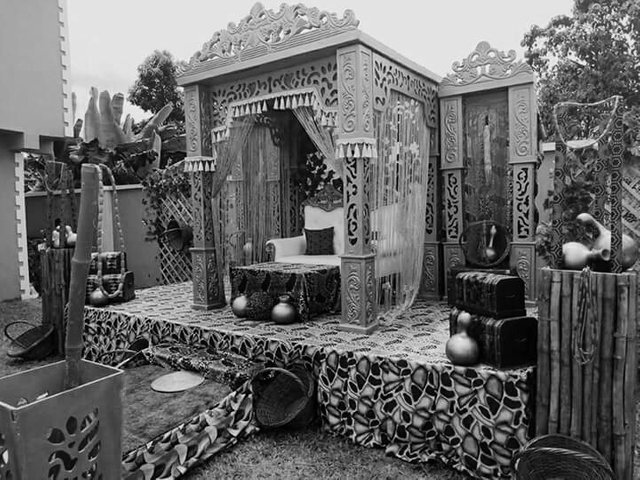 ---
This post serves as my entry to the @nelyp #behindthephoto contest. See post Here
---
Glossary
Ikot Akpa Adepe Efud: Name of a village in Southern Nigeria