Bitcoin looks to be ready for a breather
After a big move up, things look to be calming down a bit for king bitcoin.
Some see the recent drop in prices (from $8,900 down to $8,600) and start to worry that the run is over and that it's now tank time for ol bitcoin.
They could be right, but most likely it is just some consolidation before the next move up.
Basically we are going to see something like this play out: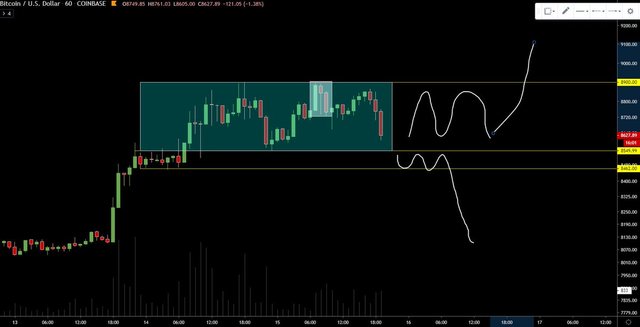 (Source: https://twitter.com/____Thrasher__/status/1217623738675531776)
Some sideways chop and then eventually a breakout of the consolidation rectangle.
Most are hoping that the breakout will be to the upside, which is that first squiggly line on that chart above.
But, even if it breaks to the downside I wouldn't say all is lost...
I still think we are going to see a decent sized rally prior to the halving, rather we breakdown here or not.
Which will then eventually be followed by a decent sized correction.
However, I think after that is over we will ultimately see the euphoric blow off top rally that takes prices well beyond the previous all time highs.
A famous saying in traditional markets that is also applicable to crypto is this:
"Remember, prices tend to take the stairs on the way up, and the elevator on the way down."
Meaning that prices tend to move up slowly, build a base, then move up some more, but when they go down, it often happens in a straight line.
The reason I say that is because we will see dips and rips all the way up, but we will likely also see higher lows along the way.
Don't get scurred out.
Stay informed my friends.
-Doc