More Bitcoin transactions use SegWit than ever before
SegWit was first released back in late 2017 and it has seen mostly slow adoption ever since.
However, the latest data shows that up to 66% of all bitcoin transactions now use the SegWit technology.
That means that 2 out of every 3 transactions are SegWit enabled: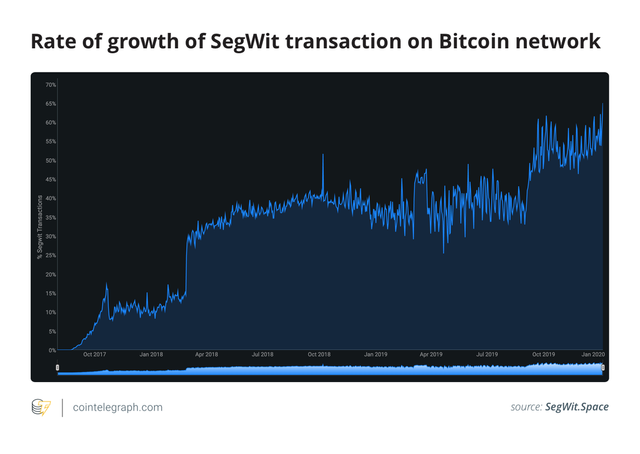 (Source: https://www.segwit.space/)
What is SegWit again?
SegWit was an upgrade to the bitcoin network launched amid controversy back in late 2017 in order increase the speed and efficiency of bitcoin transactions and reduce their bulk.
The benefits from this would be faster transactions and lower fees.
More about it can be learned here:
(Source: https://www.youtube.com/watch)
Overall, bitcoin proponents argue that exchanges reluctant to adopt the technology are putting needless strain on the Bitcoin network.
Why the recent surge higher in adoption levels?
Bitmex recently implemented SegWit on their exchange, which is likely a big part of the reason SegWit adoption is at all time highs.
Bitmex is one of the largest bitcoin exchanges in the world.
A favorite among traders as it offers extremely high margin levels for trading.
https://cryptoslate.com/bitmex-enables-lower-withdrawal-fees-with-native-segwit-support/
Interestingly enough, Binance is yet to upgrade to SegWit, which still leaves plenty of room for growth.
Binance is currently the largest bitcoin and crypto exchange in the world.
Stay informed my friends.
-Doc