If you didn't already know @anomadsoul and @blocktrades are putting on another contest for the end of the year. You have until Sunday to submit your posts and are supposed to pick your 3 most undervalued posts, in your opinion, and write up a summary about them for your post. If you want to know the rules check out his post or check the resteems in my profile.


GIF by @issymarie, go follow her for great content!
At first, I thought this was going to be a relatively easy post, but after going through some of my posts, some of my undervalued content is not necessarily my "best" content, so I found myself struggling with the decision of including higher paid articles I'm more proud of, or posts that performed pretty bad, but I'm not as proud of.
In the end, I think I have found some great posts that are a good compromise of both undervalued posts and ones that are higher quality that I am proud to highlight in these posts.
Steem BTC Price Predictions
@acidyo ran a contest at the beginning of the year offering delegation to anyone who got some matching numbers on the Steem Price in USD and BTC price in Satoshi. @rayken04 is currently the closest from a Steem Price and @enjar is the closet from a Satoshi, BTC, price, but even they aren't that close as most people were expecting the bear market to be over by now.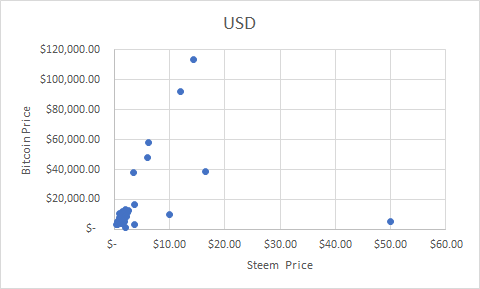 @kimzwarch and @abh12345 are closest from a BTC price at $7,100 and $7,800 respectively, if you were to calculate a BTC price off of the prices that were guessed. Granted we are 5 - 6 days away from the end of the year, so a lot could change between now and then.
83% of the people that commented think the price of Steem is going to end the year at under $4. The highest USD price for Steem was $50 and the lowest was $0.35. I will say the person that guessed the lowest USD price bet that both the USD and the current BTC price will increase by about 28% between now and the end of the year, and unless something drastically changes between now and then (huge spike or drop in BTC price) this could be the closest numbers.
It's crazy that I guessed this would be the closest number a year ago, since this was a free guess for delegation I made a crazy guess of $10.00 and 100,000 satoshi, but I assumed the price would be much flatter over the year. I would have never guessed though that Steem would fall so hard against BTC, but it is cool that the average BTC price people assumed from their guesses was going to be around $8,000 which may end up pretty close to the price of BTC depending on what happens in the next few days.
There were some other interesting correlations, perdictions, and awards that I gave out so if you would like to read more head over to the original post now and I would appreciate it if you left a comment if you decided to stop by!
Account Update Posts
It feels a little self-serving to include these posts into my post as I'm complaining about a post that I write about myself isn't getting the "value" it should, but I hope these posts will provide some hope for those that join Steem in the next bull run seeing how far someone has come that has never invested any money on Steem.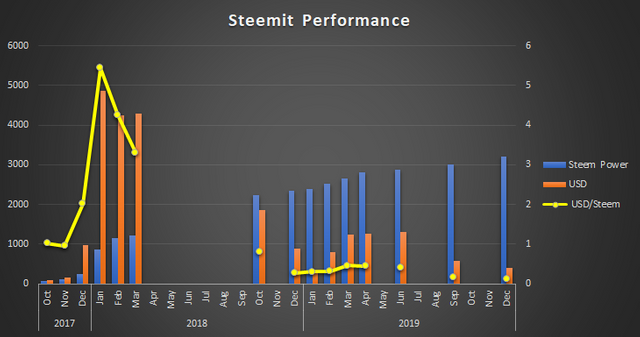 Source
I keep posting these because I enjoy seeing how far I've come on Steem and it's nice to see a lot of the help that I received along the way that has gotten me where I'm at today. It's also fun to use SteemitBoard Rankings Website to gamify my progress and to see my progress against others on Steem.
One thing that I have found out when posting these is no matter how hard you think you're working compared to others there are always those out there that are working even harder than you. It was frustrating with the slow growth when first starting out, but when you sit back and look at what you're contributing compared to others, there are always ways for you to work harder than the person next to you.
To see how far I've come since the beginning of the year be sure to check out this post on Engrave which also includes all the previous account updates I've made throughout this year, as well as posts that I think were some highlights during that month, and how I'm moving forward compared to others or falling back when I take breaks on my account compared to others.
Monster Market Updates
I think these are some of my best most under-rewarded content. It might not seem like much, but gathering all the data takes at least 2 - 3 hours on top of analyzing it which takes another hour or so and then putting together the post which takes some time.
This is part of the reason that I haven't made a post in the past couple of months as it takes so much time to gather this data and I've been trying to stay more consistent on Steem which limits the time I have to put a lot of time in one post. I have, however, started gathering the data again recently and am wanting to get an update out either at the end of this year, or the beginning of next year as a huge market update including some Splinterland prices.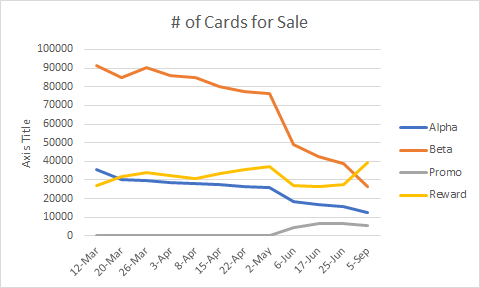 I make these posts in hopes that I can share some information with fellow investors to help some people see what cards maybe a "value" to invest in if they don't have time to analyze the market themselves.
The next update I hope to have some more time to analyze prices and be able to share a lot more of the data I've been collecting, but it's hard to find a happy medium of including a post full of graphs and a post full of text.
In the post I'm specifically talking about I give some expected values of Alpha and Beta packs, an update on some calls I made for cards to invest in both good calls and bad, and some things I'm looking forward to for the future of Splinterlands and the market.
The Good, The Bad, and The Ugly
This has been an interesting exercise as some content I thought was undervalued really just wasn't as good as some other content that has received higher upvotes.
It's also nice to see that most posts that I put quite a bit of effort has been rewarded relatively well making my time on Steem worth more and more. It's been nice to see the growth here and I'm looking forward to the growth that I'll see regardless of what the price does in 2020.
If you have the time before the end of the year I definitely recommend being a part of this conest. If you do participate make sure you follow all the rules and look forward to readings some of the posts by others.