Today is the first time I am about to share a referral link. And one that I really don't mind if you use or not, but I am still happy to share it with all of you.
Due to my work in the digital field, I often need to create graphics. So this time of year can be a bit hectic because of all the Holiday cards and posters I need to prepare.
The previous years I would search for inspiration and then create my designs from scratch.
This year I thought; "Why not try Canva to create a few Christmas Cards"? I use it anyways for some quick posters..
And I did. And I was surprised. It had a large amount of designs and all of them you could edit as much as you wanted.
Canva is free to use and it also has its professional (paid) version with more features.
The only big difference is the premium images you have in the paid edition and also the opportunity to download animated files (which you cannot in the free version)
Still, I find it a good choice.
Oh, I forgot about the rewards...
I created this card in canva, it was an invitation card and I just kept its structure.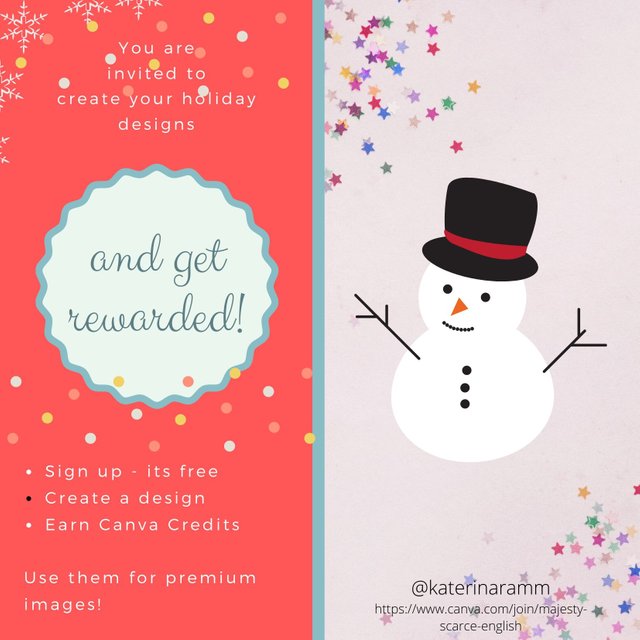 This is my referral link https://www.canva.com/join/majesty-scarce-english
And this is the link to know more about the rewards and to sign up without referral link you can use this website https://www.canva.com/
Important!
You can sign up easily using a social media account
You can use it online and have your files in any computer you use (since you just log in)
It is very easy to use, drag and drop :)
You can upload your elements, graphics, pictures and do whatever you want with them
It has got tones of different types (flyers, posters, Instagram posts, social media posts) etc to choose from
---
What do you use for creating graphics? What inspires you?
---
In case you wish to join, this is my referral link
---
This is my other project, about my city - you can support it by following me there too!

You can follow @aboutheraklion on instagram