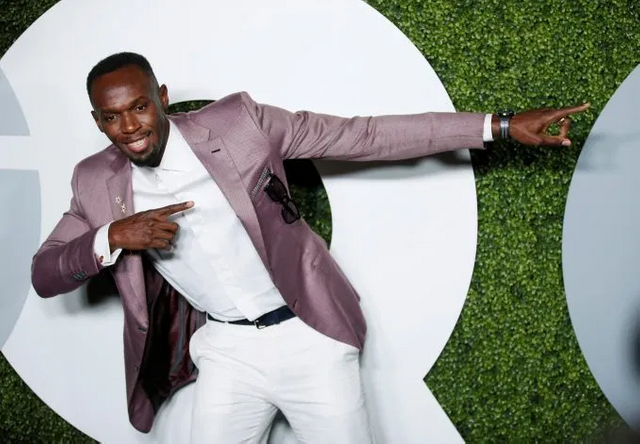 Source
The fastest man alive...... does he still hold that title? Even if he doesn't the brand Bolt is swiftly moving into promising industries. The restaurant owner who tried out for a football team and is now a Champagne Pappi ( Champagne company Ceo). Oh, and don't forget branded clothing line, accessories and high end endorsement deals. Did I miss anything, I think I did.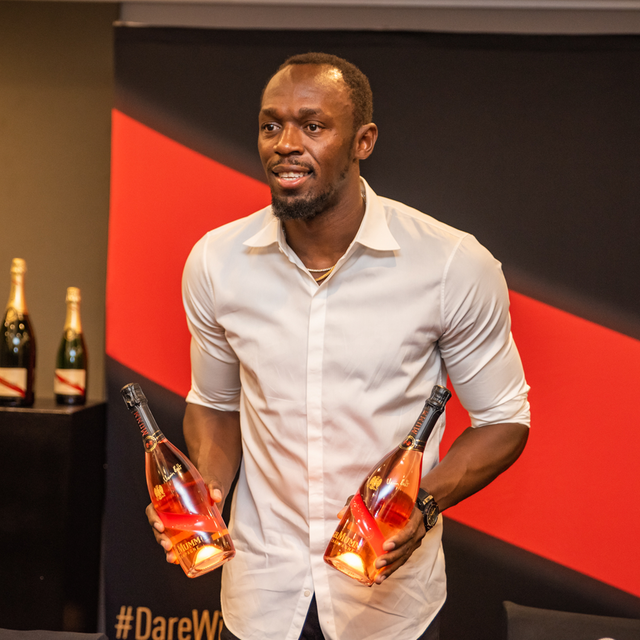 Maison Mumm x Usain Bolt present Mumm Olympe Rosé. It is a collaboration Usain Bolt, the Maison's C.E.O ( Chief Entertainment Officer) since 2016. It is a Champagne Cognac blend which Bolt himself thought of because it is a trend in Jamaica to mix Moet ( or other Champagnes) and Hennessy, BIG Ballin. The premium bottles pimp juice is said to reflect Bolts personality, a jovial winner who likes to celebrate in fine style. The taste of the Champagne is said to be sweet add the aged barreled Cognac and I can imagine a double dose of sweetness.
Back to the Music.
For those of you who didn't know, Bolt is also playing his cards in Music Production. Well I wouldn't say playing, with new established wealth, (estimated $90M net worth and counting), the fast rising entrepreneur is diving into the RIddims with contacts in the biz who gracefully voice a track for the world celebrity. Now when we say Bolt is the producer, he didn't actually sit and make the beat, he is the Executive producer... I wonder what deal the creator got?
Here is his fist production released just about 4 months ago called.... Olympe Rose, what a way to kick off the new bottle of champagne. So his liquor is on the top shelf and his Riddims are blazing out of the speakers. What is next? Party promoter? The video is basically a promotion for the Rose and it does a fine job. Big pimpin in the yatch, party life, beautiful women. Enjoy!
Olympe Rosé (Medley Video)
His latest RIddim is called the Immortal Riddim, has some of the hottest names in Dancehall including the incarcerated Vybz Kartel, Masicka , Demarco, Munga Honorable, Zuzu and Ding Dong. The two stand out track and of course Kartel and Masicka. I personally love the Masicka, you can't go wrong with a money tune dropping right before new years. Everyone wants money right?
Usain Bolt Presents: Immortal Riddim Medley
Now these Riddims represent the true Dancehall culture that Bolt represents. No watered down just straight raw modern Dancehall. The thing that sets Bolt apart from other producers in the space is his name clout. He is already getting contacted by game creators, movie producers etc to use his Riddims.
One thing is for sure, Bolt knows how to invest and he has a team to execute.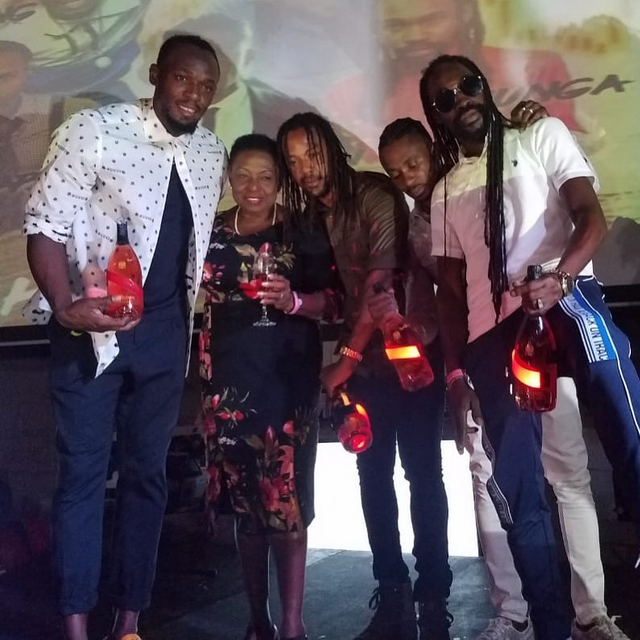 Source
In this photo: Usain Bolt, Minster Olivia Grange (Minister of Culture, Gender, Entertainment and Sport), ZUZU, Christiphor Martin, Munga
Top secret: Be on the look out for a Bolt coin, rumors are it is in the works.
---
Posted via ReggaeSteem | Reggae Culture Rewarded