STEEM suffered a devastating loss yesterday if you care about the success of seeing smaller fish here grow. @axeman has thrown in the towel and cancelled the many contests he runs and all will be over in a few days as the weekly events reach payout.
@axeman is a very talented photographer and sometimes gets good votes on his own photo posts. I hope he will continue to post those.
Most of his contests were photo contests, but he was also an active dPoll-er. His efforts have helped many a new STEEM blogger learn how to post, and be the beneficiary of @axeman's very generous critiques and prizes.
Here is the main announcement post, and if you go to the blog, you can watch the contests as they close out day by day.
Contests and Giveaways Cancellation Announcement
This is not the only helpful place we have lost, and are losing as I watch. Most of our contest runners are struggling under NewSTEEM. The votes they get are basically what they used to get, but now much smaller with the reward curve changes.
At freewrite by @mariannewest, she gets less than 50 cents on her daily calls for entry posts. After over 700 days of this work, we have seen no less than 4 freewriting authors go on to publish on Amazon. New bloggers stumble in and learn to post in a continuous flow. This should be a vibrant and well-funded place. Instead, Marianne is so discouraged that she has been stepping back.
I can give you many more examples of hard-working and long term STEEMers ready to give up. But many of them have already, so it is too late.
And we see a huge drop off in number of votes.
Why have people stopped voting in STEEM?
No - it is NOT the bots. The bots were never more than 10% of total votes by number and many of those bots are still voting for free anyway.
Curation has fallen off a cliff. This is from @arcange's most recent post (with a payout of $1 for all of his consistently hard work here):
Steem Statistics – 2019.10.29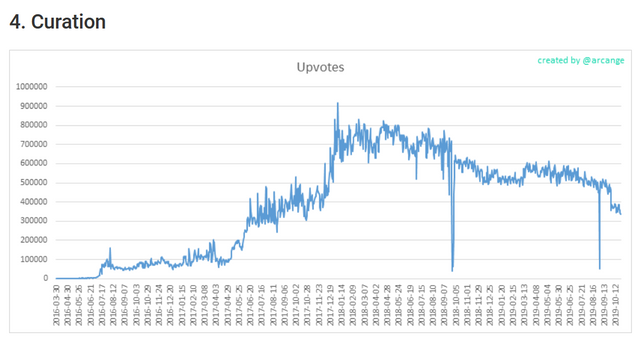 And this is from @penguinpablo's most recent weekly report showing the same thing:
https://steempeak.com/steemit/@penguinpablo/weekly-steem-stats-report-monday-october-21-2019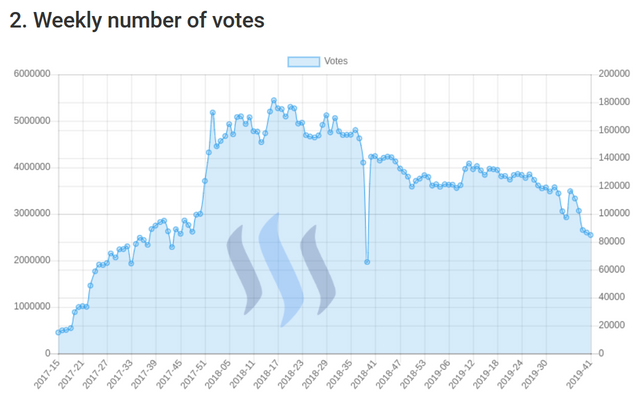 Both of those reports show other equally disturbing trends. The deadfish number on @arcange's report has really grown in the last two months especially in redfish.
We were near to 10K in minnows a few months ago. This is why @steevc called his project tenkminnows. Now we are dropping back each week, as small bloggers power down and leave. Then they become one of the dead redfish - a category growing fast. Here is the most recent post of discouragement from the project 11 days ago
And it is worse now: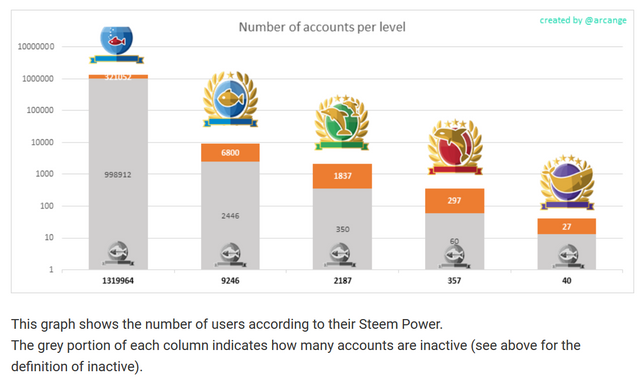 So what if we lose 600 minnows? We can always get more? I know many of you are on the hunt for new fish. We have a number of marketing plans going on now. But we desperately need more help to the small blogs that are here.
Who will vote for those new fish as they learn to post here? Where will they post if contests and challenges disappear?
I have talked to a few "big guys" who are voting with 95% plus vp or even with 100%. They they do not have the skills to manually curate, and refuse to use auto-voting since they are pure as the driven snow.
They can no longer vote for their friends or risk downvotes. They cannot delegate to bots. And so they have just stopped caring.
OR
They are all about the downvoting now, and have no time for upvoting small blogs.
Meanwhile, tiny fish from India or somewhere stumble in and try. They have some kind of mis-understanding, and their 14 cent post gets downvoted to zero by a downvoting bot.
And the many cammilleresteemer 10% downvoters go after the new little guys the most now. So they get a bunch of downvotes on each post, few upvotes, and no interaction. Why would they stay?
I know and you know that those 10% downvotes do not matter. But when the new tiny fish only got 2 cents on the post in the first place - yes those ten percent downvotes they got do matter.
Here is a recent post by @anomadsoul, begging you to manually spread your votes down below:
Open letter to change voting patterns | A plea to give #NewSteem a chance
But manual curation is hard! It is even harder with a big vote. I have two older posts to try to help big guys learn how to vote on STEEM. Try one or two of these ideas with even 5% of your daily voting power and make a huge difference at the bottom of the pond.
Whale Tip! Vote for Pre-Curated STEEM Posts
Whale Tip! How to Curate Contests on STEEM and Help Small Bloggers Grow
And the seventh SPUD (STEEM Power Up Day) is happening on Nov 1. Your support with prizes or upvotes would help little fish who are trying hard and powering up like you want them to:
From STEEM, With Love - SPUD 007
Go to @streetstyle's blog on Nov 3. Look at the comments on his post asking SPUDers to show their results. Go upvote the people who powered up and give them encouragement. One hour of this action will make a big impact.
I do see some smaller blogs getting better upvotes and I am so happy for this event. I am a believer in NewSteem, but right now we are off track and driving minnows and redfish out the door in droves.
I won the Conference Fee to STEEMFest in Bangkok!
Just the other day, I got this great news. I was going to be in Bangkok anyway for a necessary Visa trip, but now I will really be at STEEMFest in a few days.
I am still fundraising to get there and I need help. I think I need about $85 more in USD and will have that number soon to do a countdown with it, lol.
If you would like to help me get to STEEMFest, you can!
You can upvote any of the posts on my three STEEM blogs, especially those older and close to payout:
@fitinfun
@fitinfunfood
@bxlphabet

You can send any amount of STEEM/SBD to my @fitinfun wallet.

If you would like to send cash by paypal, please contact me in Discord. Sending that money to a member of TeamMalaysia instead of to me directly ends up being quicker and with much less fees.
If you would like to send cash to my Thailand Bank account where I can access it with no fees while there, please contact me in Discord to get that information.
My Discord Contact Info:
fitinfun#2249
Many thanks to those that have already helped:
@whatisnew
@lizelle
@mrnightmare89
anonymous times 2
What I do on STEEM
I post a total of 5-8 posts a day on my three niche blogs. The majority of what I do here is to help small blogs grow. I did see an uptick in voting right after NewSTEEM came in. Most of that has disappeared now and I am struggling still.
All my blogs enter contests many times a week. We win often now since there are so few other participants.
Top @tipu Curator which pays $0.11 STEEM per day.
Regular top participant and winner in the Weekly Engagement League of @abh12345.
Constantly on the @trufflepig list for undervalued posts.
= =
freewrite daily with @mariannewest
Minnow Tips
Photography
Travel
Food and ccc contest posts
Tasteem restaurant reviews
@pifc contest entries
dApp, tokens/tribes and gaming review posts
dpoll- STEEM and lifestyle questions
My most recent summary of Minnow Tips is here:
These tips will help you if you are new and struggling on STEEM. Tag me in any comment, and I will help you if you ask me to.