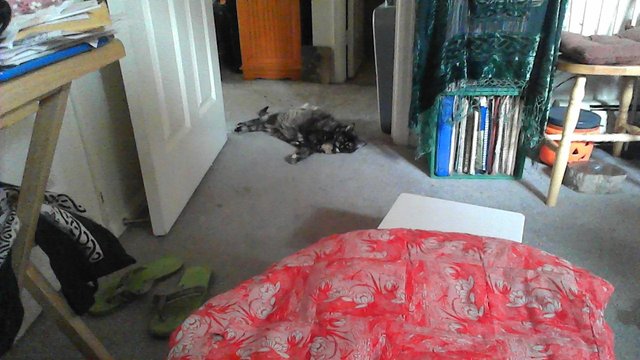 Happy Caturday, Steem fam! Not much going on here so far. I'd say it was quiet, but there is some machinery outside making high pitched whining noises that is DRIVING ME INSANE ...well, more insane than usual. It's difficult to have quiet here in the city. In a construction zone. Near high traffic corridors. Sigh.
The above photo is Queen Maggie yesterday, doing her beach cat thing in the doorway. "Beach cat" is a third category of cat talked about in one of Jackson Galaxy's books, and is the type of cat who sprawls out in the doorway/hallway/footpath/middle of the floor for you to trip over. Maggie is a beach cat when she's feeling relaxed. She's a bush dweller - that is, she hides under and behind things - when she's a bit nervous (say, because Yuan is being a butt or there is another hooman in the apartment besides myself). Though she does like to sleep in hidey holes sometimes just because. I can tell that she has adapted to the new bed because she now will go under it for naps. So far not on it, but under it is Maggie acceptance in her own tortie way. :)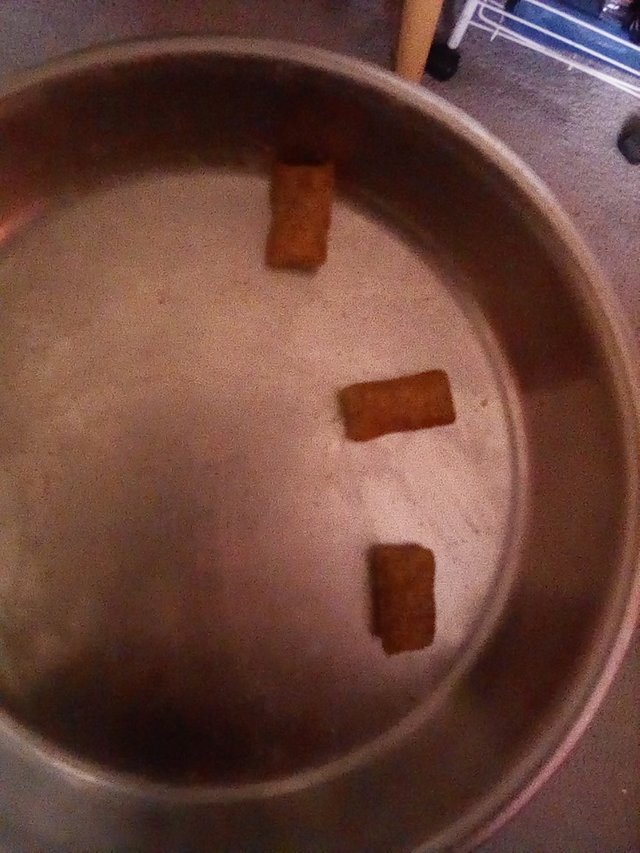 So I got these treats several months ago to try, and neither kitty likes them very much, so I've been sneaking in a few in with kibble to try and use them up. How much does Maggie not like them? She ate around them and left the treats behind. Damn. They must not be very good treats.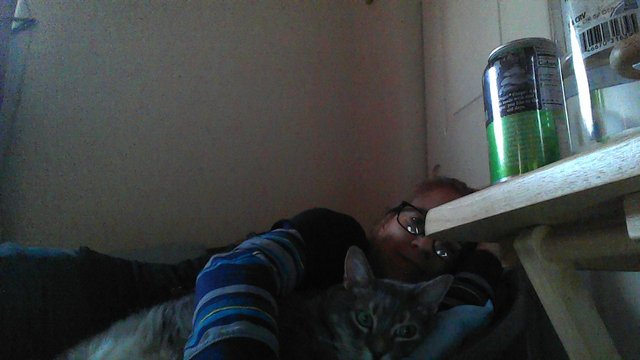 Yuan has been halping me science - this is us curled up together to watch some Journey to the Microcosmos on YouTube the other day. He found it as interesting as I did. Everyone likes tardigrades! :)
So that's about it on this lazy caturday. How are y'all doing today? Be good and purr on. <3
Referral links:
Earn rebates from your everyday shopping with ibotta. Join with my referral code: ptonkkp. You'll get a $10 welcome bonus and I'll get a referral bonus: https://ibotta.com/rebates
Earn more rebates from grocery shopping with Checkout 51! https://checkout51.app.link/JCLdEdrj3Q
Earn points toward gift cards with your shopping or just scanning items in the store – no purchase necessary – with Shopkick. Use code DEAL295384 or download https://getsk.co/deal295384
An app where you get points for scanning receipts when you grocery shop, called Fetch Rewards. Use my referral code G9RJM during signup and you'll get 3,000 Fetch Points ($3.00 in points!) just for starting. https://bit.ly/2zwOdBK