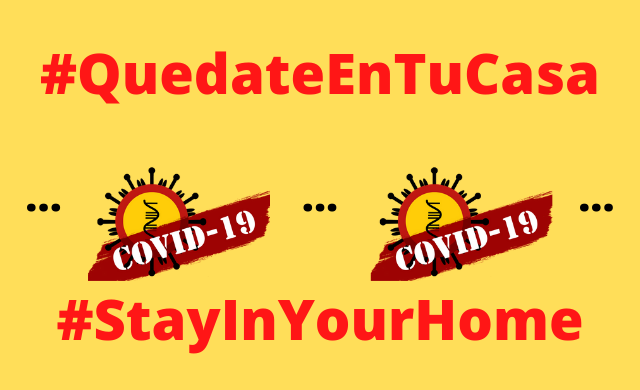 Imagen de Google en en este link
Editada en Canva
Hola... El día de hoy a iniciado una campaña a través de la plataforma Twitter con la etiqueta que se encuentra en el titulo de este poema, con relación a la situación que nos afecta a nivel mundial relacionada con el Coronavirus o COVID-19, por lo tanto te invito a sumarte activamente con dicha campaña... Espero que esta receta literaria sea de tu agrado... 💖
Hello ... Today a campaign has started through the Twitter platform with the label found in the title of this poem, in relation to the situation that affects us worldwide related to the Coronavirus or COVID-19 , therefore I invite you to actively join this campaign ... I hope this literary recipe is to your liking ... 💖
Quedate En Tu Casa / Stay In Your Home

Mejor quédate en tu casa,
mientras el COVID-19 pasa;
procura no salir,
las medidas sanitarias debes cumplir.
Better stay in your house,
while the COVID-19 passes;
try not to go out,
the sanitary measures you must comply with.
Esto se debe atender con prisa,
no es un tema que cause risa;
cuídate de la infección,
para todos es la mejor acción.
This must be dealt with in a hurry,
it is not a laughing matter;
take care of the infection,
for everyone it is the best action.
Este asunto es muy delicado,
varios poemas le he dedicado;
pero de nada sirve lo que pueda escribir,
si toda tu atención no logro recibir.
This matter is very delicate,
I have dedicated several poems to it;
but there is no use what I can write,
If all your attention I can't get
Mejor quédate en tu casa,
si no lo haces todo esto se retrasa;
si queremos vencer el coronavirus,
quedarnos en la casa es el mejor antivirus.
Better stay in your house,
if you don't do it all this is delayed;
if we want to beat the coronavirus,
staying at home is the best antivirus.
Este poema es de mi propia inspiración, contando así con todos los Derechos de Autor, Registrados ante la Sociedad de Autores y Compositores de Venezuela (SACVEN), bajo el número de Socio: 8.115
Si te ha gustado esta poesía, te invito a que me sigas y me des tu voto... Bienvenidos sean todos los aportes de valor... Nos vemos en una próxima publicación con nuevas Recetas y algo más... Saludos