V posledních dnech a týdnech jsem nalítal hezkých pár mil. A při té příležitosti jsem zažil zásah letištní ochranky na pražské Ruzyni. Mezi sedačkami v jednom z prstů zůstalo zapomenuté zavazadlo, klasický kufr na kolečkách, podle vzhledu spíše zánovní. Nakonec se ukázalo, že je (alespoň pokud jsem viděl) téměř nebo úplně prázdný a odložil ho zřejmě někdo, komu se nechtělo platit za nadměrné nebo příliš těžké kabinové zavazadlo, a tak si důležité a drahé věci přeskládal jinam a kufr tu nechal.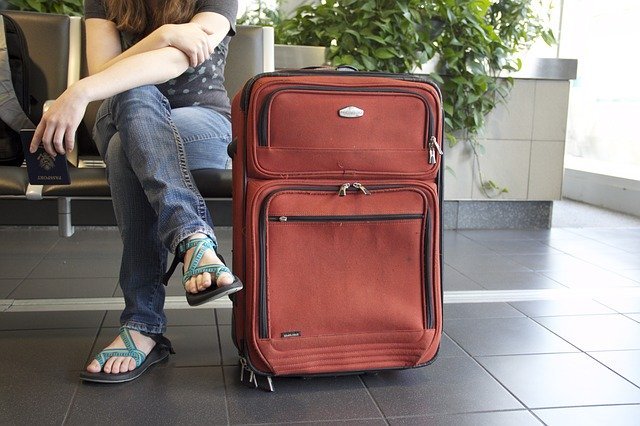 Pixabay License - něco takového, ale v šedočerném odstínu.
V čase T nula si pozorná pracovnice odbavování všimla, že mezi sedačkami je bezprizorní zavazadlo. Všechna čest, protože okolo posedávali a postávali téměř všichni pasažéři menšího Boeingu, tedy cirka 150 lidí. Zaregistrovat, že určitý kufr nikomu z nich nepatří, není nic jednoduchého.
Slečna se k zavazadlu nenápadně přiblížila, okoukla ho a zavolala telefonem, který je u gate, ochranku. Za pár minut přijeli dva ramenatí chlapáci v uniformách airport security. Oba pořádní pořízci, metrák živé váhy. Okolí zapomenutého kufru se mezitím začalo tak nějak nenápadně vylidňovat. Všichni tak nějak přešlapovali směrem pryč. Po půlkrocích, ne že by někdo opravdu odešel.
Sekuriťáci obehnali zavazadlo červenobílou páskou se zákazem vstupu. Nebylo to tak úplně třeba, protože stát hned vedle se stejně nikomu nechtělo. A pak postávali okolo a čekali na příchod policejní hlídky. Mezitím začal check in, cirka deset metrů od podezřelého zavazadla.
Policisté, genderově vyvážená patrola, se objevili zhruba v době, kdy byla polovina pasažérů odbavena a druhá stála ve frontě. Podívali se na kufr a postavili se vedle ochranky. Ještě později dorazil někdo, kdo byl zřejmě letištním nebo policejním pyrotechnikem. Na jeho uniformu jsem už pořádně neviděl.
Byl jsem zvědav, co se zavazadlem provede. V jeho bezprostředním okolí bylo ještě několik desítek lidí čekajících na odbavení. Zásah pyrotechnika jsem viděl jen ve filmech a překvapilo mě, že nečeká, až se lidé evakuují, nebo alespoň projdou gate. Napadlo mě, že by třeba mohl zavazadlo alespoň obestavět nějakými bariérami, které by v případě výbuchu směřovaly jeho energii primárně nahoru a dolů, kde by to bylo méně nebezpečné, než do stran. Nic z toho se nestalo.
Jen taková vsuvka – vzhledem ke všem kontrolám, kterými na letišti procházíte, je šance, že někdo propašuje nebezpečnou trhavinu, a pak ji umístí v nepříliš frekventovaném konci jednoho z prstů pražského letiště, opravdu minimální. Ale i tak.
Pyrotechnik si zavazadlo opatrně pootevřel a posvítil si do něj baterkou. Nebo to tak alespoň z mého úhlu pohledu vypadalo.
Pak, to už zřejmě věděl, která bije, ho otevřel úplně a předal policistům. Ti kufr zavřeli, postavili na kolčka a odkráčeli s ním pryč.