Ve videu, které včera publikoval @phortun jako komentář pod tímhle @tazi'ho článkem, vysvětluje Luke Stokes, jak se Sunovi podařilo nabrat dostatek podpory pro své loutkové svědky. Využil steem, který leží na centralizovaných burzách, do nichž má přístup. Burzy steem uložily do SP a následně využily k volbě svědků. Takže kdyby se teoreticky někdo z nějaké burzy pokusil vybrat větší množství steemu, nepovedlo by se mu to. Čistě proto, že burzy ten steem sice mají, ale není likvidní. Nekoukal jsem, jak moc je to pravda, a kolik procent podpory svědků takové hlasy reálně tvoří. Video je každopádně tady:
V @taziho článku jsou ovšem také printscreeny, na nichž je vidět, kolik hlasů mají dohromady kteří svědci. Sunovy loutky včera byli zhruba na 208 000 milionech vests. Každý milion vests je cirka 500 SP. Loutky tedy měly podporu cca 100 000 000 SP. Jde o stále stejnou SP, neboť každý může hlasovat pro až 30 svědků. První skuteční svědci se pak blížili hranici 90 000 mvest.
Od té doby proběhla jakási mobilizace a lidé houfně hlasují pro svědky. U většiny z nich to vypadá zhruba takhle: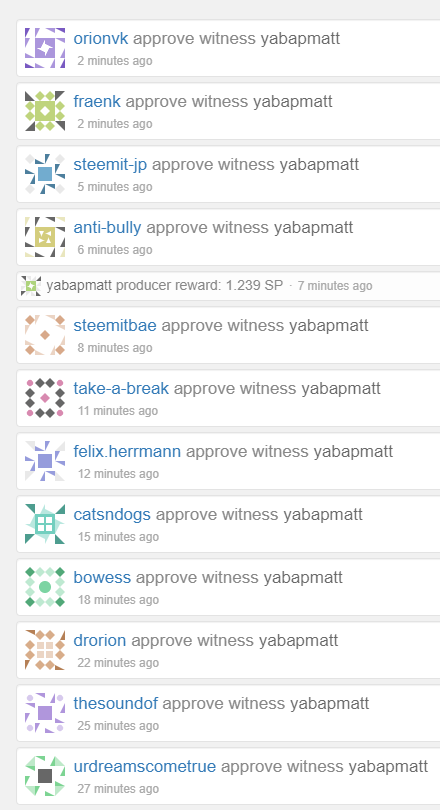 Jasně, spousta hlasů jsou hlasy malých ryb, ale je super, že se i plankton takhle zajímá a zapojuje. Jde i o vyjádření názoru, nejen o efektivitu takového hlasu.
Těšit nás může také, že loutky o spoustu hlasů přišly, plus mínus o třetinu včerejších podpory. Na Steemd jsem jen rychle listoval, ale většinou šlo o podporu od skutečných uživatelů, kteří své hlasy přelévají mezi skutečné svědky. Rozdíl mezi prvním skutečným a posledním loutkovým svědkem už je jen zhruba 10 000 mvests, což je sice závratných 5 000 000 SP, ale v kontextu celého Steemu to není mnoho.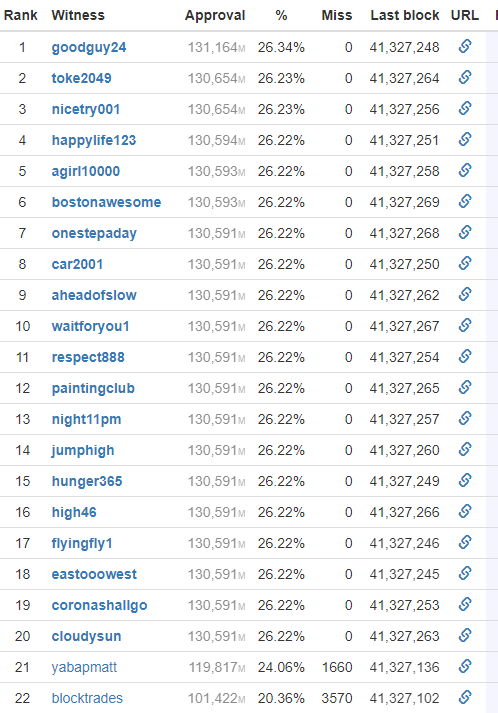 Pokud jste pro svědky doposud nehlasovali, je nejvyšší čas.


Znáte-li osobně někoho, kdo tu má ladem ležící účet, poproste ho, ať přijde alespoň zvolit svědky


A hlavně - pokud vám leží steem na burze, zkuste ho vybrat. Namísto bank run pak možná zažijeme Sun run.