Nechce se mi uklízet doopravdy, a tak si dělám pořádek virtuální. T. to má naštěstí podobně, generální úklid domácnosti tak bude až mañana. Což je mimochodem zvláštní slovo, které v mužském rodě znamená zítřek nebo budoucnost obecně a v ženském rodě ráno. Ale zpátky k tématu. Komunity nabízí možnost moderovat obsah, který se v nich objevuje. A mají několik uživatelských rolí. Je to struktura, která nemusí každému sedět, a proto je dobře, že zůstává možnost využívat nemoderované a tagy tak, jak jsou doposud. I tag #cesky samozřejmě zůstává beze změny.
Cirka tuctu služebně starších, kteří tu dlouhodobě působí, mají trošku rozhled a vědí, co na Steem patří a co ne, jsem přidělil roli moderátora. Jsou to také ti, co obvykle vítají nováčky a pomáhají jim. Možná jsem na někoho zapomněl, kdyžtak si napište do komentáře.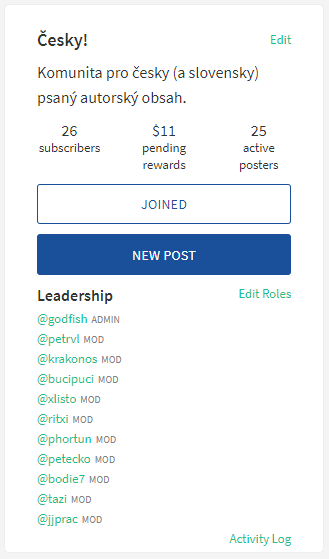 Funkce je to samozřejmě hlavně symbolická, ale u jména se vám v závislosti na používaném frot-endu objeví symbol moderátora a možnost "udělit si" nějaký titul. Cvičně jsem @krakonos'e jmenoval Panem Historikem. Snad se nenaštve. Ostatně, svůj titul si může sám změnit. Takhle to vypadá na Steemit:

A takhle na Steempeak:

Zároveň jsem nastavil dvě základní pravidla, která beztak téměř všichni dlouhodobě respektujeme: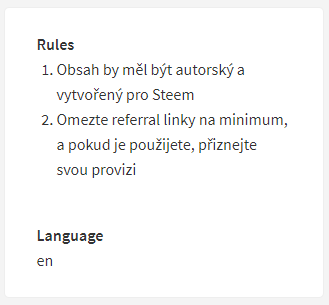 Čeština mezi jazyky zatím není, ale měla by se tam brzy objevit, pak to může kterýkoli moderátor změnit.
Moderátoři pak mají jednu unikátní pravomoc, a to udělit někomu "mute", porušuje-li pravidla komunity. Příspěvky dotyčného se v komunitě nebudou zobrazovat, ale v blockchainu samozřejmě budou standardním způsobem zapsány. Zatím jsem zkusil cvičně ztišit dva účty biblických robotů, kteří se mi objevují pod každým postem. Uvidíme, jak to bude fungovat.
Jak nedávno upozornil @bucipuci, začínají se objevovat soutěže pro jednotlivé komunity. Zatím je třeba, aby komunity pro účast psaly anglicky, ale věřím, že do budoucna se objeví i ne-anglické soutěže. Účast na komunitním dění a kvalitní tvorba nám tak s trochou štěstí může vynést nějaké zajímavé upvote nebo třeba delegaci SP.
Obecně jsem zaznamenal, že články uveřejněné v rámci kvalitních a moderovaných komunit mají větší šanci získat si pozornost větších ryb.
---
Edit: opravdu to funguje, komentář "muted" autora se na Steemit nezobrazil: