Ti kdo mě nějaký čas čtou jako @phortun tak vědí že moje ekologické názory nejsou zrovna v souladu s hlavním proudem. A už několikrát sem tu vyjádřil pochyby o tom jestli je globální oteplování vůbec způsobené člověkem a jestli vůbec je nějaké globální oteplování. Avšak poslední data co se mi včéra dostala do ruky mě zase nutí se k tomu znovu vyjádřit.
Dnes se používá globální změna klimatu, pro jistotu aby se kdyžtak bylo z obliga kdyby ty haluzný predikce přeci jen nebyli pravda. No globální změna klimatu se dá jednodušeni nazvat slovem počasí. :) Ono to počasí se také neustále a globálně mění, včerá nebylo jako je dnes.
Ale zpět k tomu oteplování. NOAA vybudovala v roce 2005 síť měřicích stanic v USA nazvanou USCRN. A pokud se podíváte na graf průměrných teplot.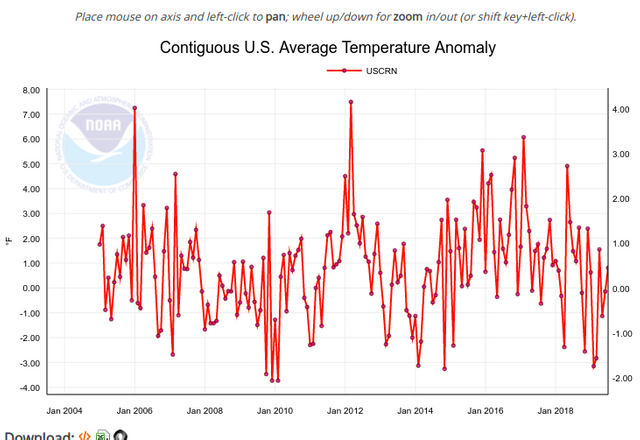 Source: NOAA
tak si můžete všimnout že nějaké závratné oteplování se nekoná. Spíše se dá říci že se teplota za posledních 14 let v USA skoro nezměnila. Pro Vás co čučíte už nějaký čas na grafy ceny krypta to na první pohled je jasné i bez nějakých interpolací. Je jasné že 14 let je pro nějaké globální tvrzení málo a tak nám Oteplovací alarmisté vždy předloží tento graf velice rádi.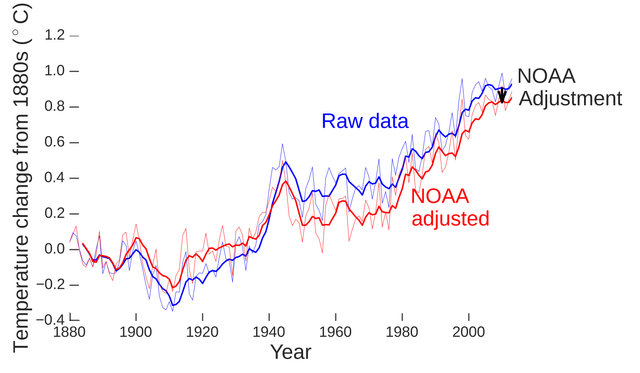 A já jim pak na oplátku místo 100 letého grafu můžu předložit tisíciletý.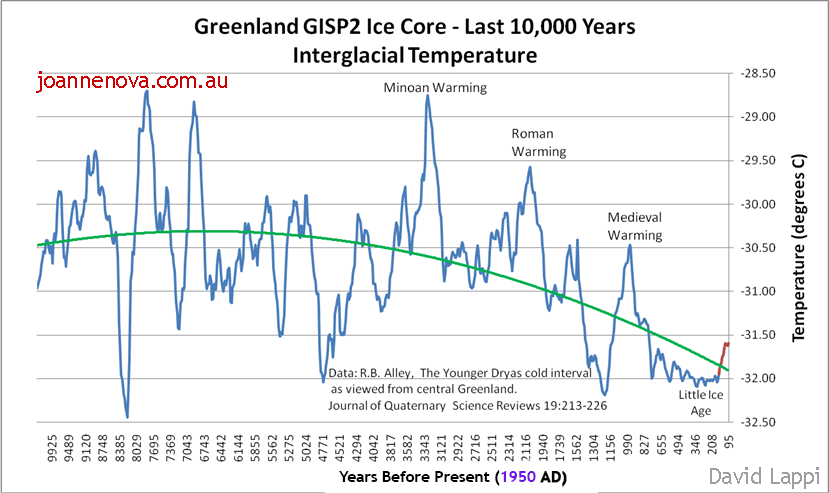 S kterým jsou ještě větší problémy než s tím stoletým. Proč? No protože jeho data pochází z ledovcových vrtů. A Problém stoletého je právě důvodem proč celá síť USCR vlastně vznikla. Velice moc dobře víme že naše města se oteplují, ale není to protože by se oteplovala planeta, ale je to protože v nich přibývá asfaltu skla a ubývá zeleně. Proto na druhém grafu jso udvě křivky a ta červená jsou právě upravená data podle toho co bylo naměřeno v síti USCR.
Proto mě třeba fascinuje vyjádření rektora Zemědělské univerzity ke globálnímu oteplování. Stačí když se kouknete na první dvě minuty. Proč záměrně používá zkreslená fakta? Říkám záměrně, protože on stoprocentně ví že teplotní řada z Klementýna je ovlivněna tepelným ostrovem města. A když vidíte že Vás manipuluje i rektor zemědělské univerzity v polopopurizačním pořadu iDnes tak se sami sebe musíte ptát čemu máte věřit.
Já osobně nevěřím věcem co někdo říká a když mám čas tak si najdu ty opravdová data a studie a přečtu si je. Třeba jaku tohle od jednoho profesora z Alabamské univerzity. Velice doporučuji si alespoň prostudovat grafy, když už nic jiného. Jenže je mi jasné že široká veřejnost na tohle nemá čas, znalosti a chuť. A tak se raději spokojí s přečtením palcového titulku. Krom toho jak Vám jistě @godfish potvrdí ten negativně skandální se lépe prodává.
Vlastně mě k tomuto tématu přivedl sraz se spolužáka z vejšky. Kdy jsme se chvíli bavili o šílené náplni naší spolužačky, která sedí v Bruselu a má na starost přidělování grantů pro projekty bojující s globálním klimatem. No ono se to jmenuje honosněji, ale to je jedno. Třeba měření prdícího výkonu u krav je super tahák jak dostat dotace a to že navrhujete v postupu utratit každou krávu, která prdí nadměrně už přeci žádný problém není... hlavní je že se bude produkovat méně toho skleníkového metanu.
Co ale problém je že právě tyhle selektivní prachy do výzkumu nám tvoří podklady podle kterých se pak úřednický šimel rozhoduje. A stejně tak jako je to celé zmanipulované tak stejně tak manipulovaně pak budou nastaveny normy a tak až přijde nařízení z EU, které bude nařizovat utratit všechny nadměrně prdící krávy nebo vysázet rybízi na rašeliništi tak budete vědět odkud vítr vane.
Pro mě však ve vzduchu visí podstatnější otázka. Jak dlouhá časová řada z USCRN sítě bude potřeba aby jsme přehodnotili své černé vidění budoucnosti globální teploty.