Greetings brothers and friends,
Reading the bible today, I saw some verses that caught my attention.
Isaiah 55: 10-11
10 As the rain and the snow
come down from heaven,
and do not return to it
without watering the earth
and making it bud and flourish,
so that it yields seed for the sower and bread for the eater,
11 so is my word that goes out from my mouth:
It will not return to me empty,
but will accomplish what I desire
and achieve the purpose for which I sent it.


I like the way in which the word of God is compared in these verses, and there we can see how this becomes a cycle and in turn made me remember the water cycle.


For people to understand that the word that comes from the mouth of God completes a cycle, I want to explain it through the water cycle.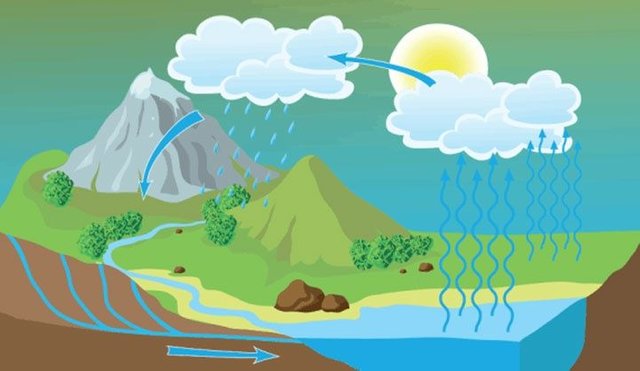 Source
The water cycle is carried out through the following quick points:
The water falls from the sky, falls on the earth through rainfall, irrigates and nourishes the earth, and does not return without having fertilized the seeds found in the earth, and thus provides food for the present and more seeds to the sower to the next cycle; through the heat of the sun, the water evaporates and goes out into the atmosphere; when it comes into contact with cold air it condenses and clouds form; they remain there, create nuclei around which the steam condenses and from there the rain begins to fall again.


We can conclude that because of this cycle, we are drinking the same water as our ancestors. Year after year!
Now, after explaining the water cycle, we will compare it with the word of God, which also obeys a cycle. When God wants to do something, He speaks with a specific purpose and his word completes its cycle, never returns empty. The word, coming from the mouth of God, comes from the third heaven, where there is perfect stability and is fully realized. The same word from two thousand years ago is still alive and stable in the heavens. This is the word of God in our lives and it is important to know and look for the pure word, both the prophetic word reported in the Bible and the specific words that He gives us, because those who have no word know no future or hope.


The word of God is effective and essential for us, in the same way, as rain is for the ground, in this way, the word of God, when it falls from the sky, germinates everything that has already been sown under its perfect will, so that later the fruits leave and the seeds multiply, that again will be watered with the word, in its perfect cycle.


I liked to analyze it this way, I think it is very well understood what I want to explain through this example.
References:

---
Posted from my blog with SteemPress : http://blessed-girl.repollo.org/2019/11/15/the-cycle-of-water-and-the-word-of-god/
---