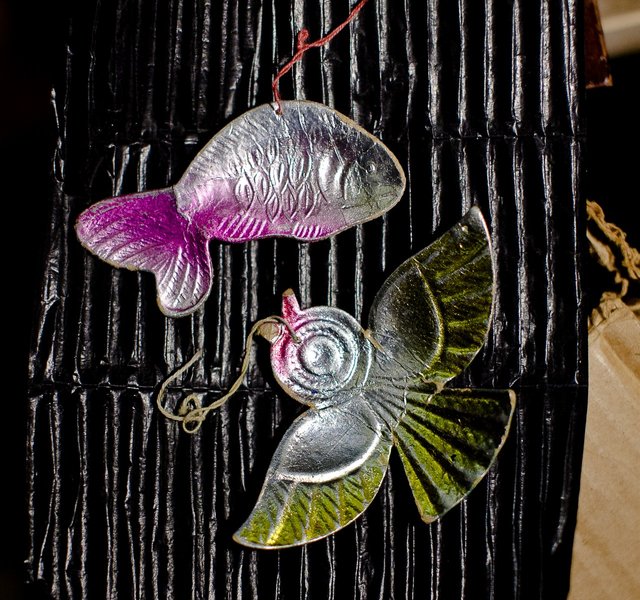 I've got a huge box of Christmas toys from the closet shelf, opened it and unpacked / sorted out its content... they are wrapped in cotton wool and colorful paper scraps (left from gift boxes :) These are various toys my wife's family accumulated through years. Of course I was distracted, took the camera and started to take pics to share these creatures of art with you. Very soon I felt I had to change the lens to macro, to present it the best way possible. I am not doing focus stacking here, no way! and just a very tiny, fast colour correction and raw processing (otherwise it may took ages, again).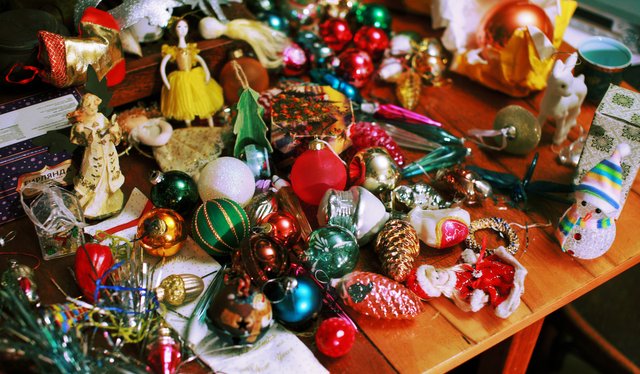 Let me start from this randon one.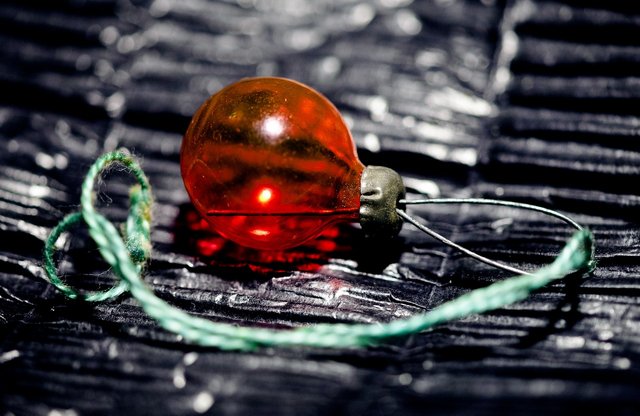 This looks like an Edisson's lamp for me! Are you getting such associations?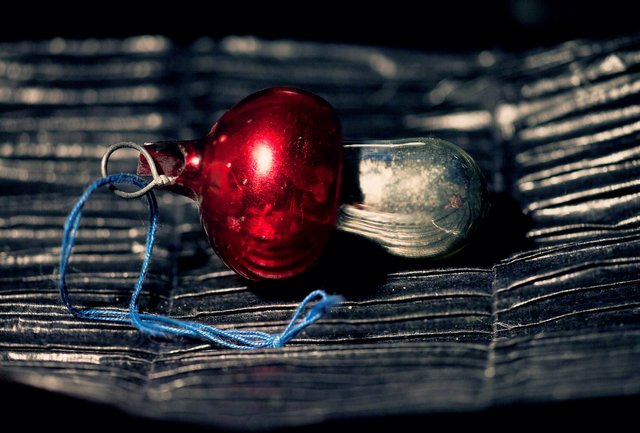 Этот грибочек и цветок ниже -- наши самые старые игрушки, они сохранились из 1950-х годов! Фрукты, ягоды и прочие дары природы - традиционный источник вдохновения для артистов новогодней игрушки.
This mushroom and the flower below are our oldest toys, they have been kept in the family since the 1950s!.. Fruits, berries and other gifts of nature are a traditional source of inspiration for artists creating the Christmas Tree decorations.
---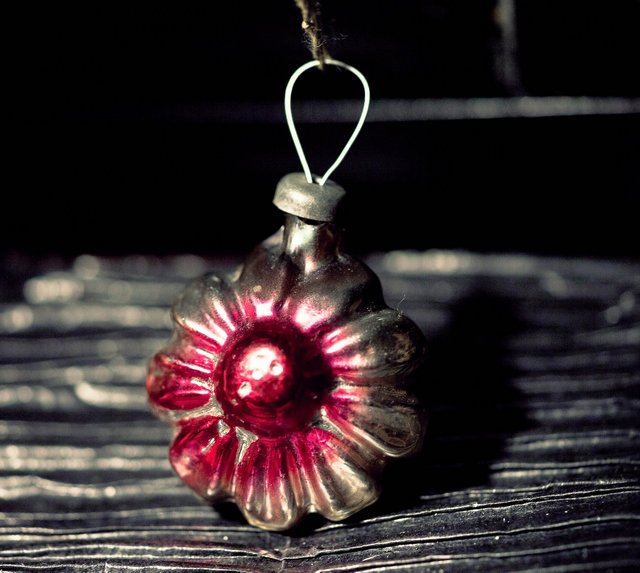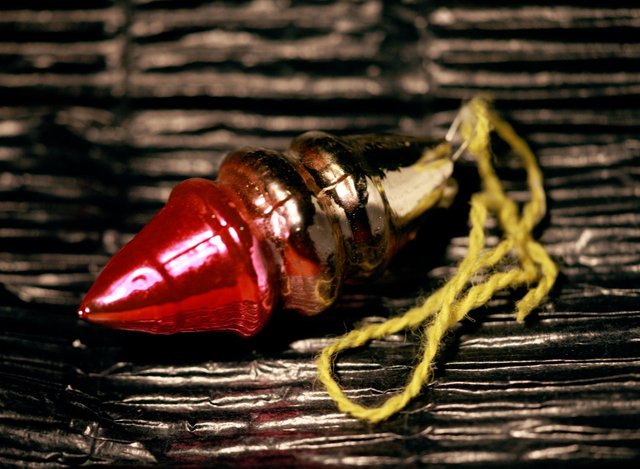 Fruits and other nature's gifts: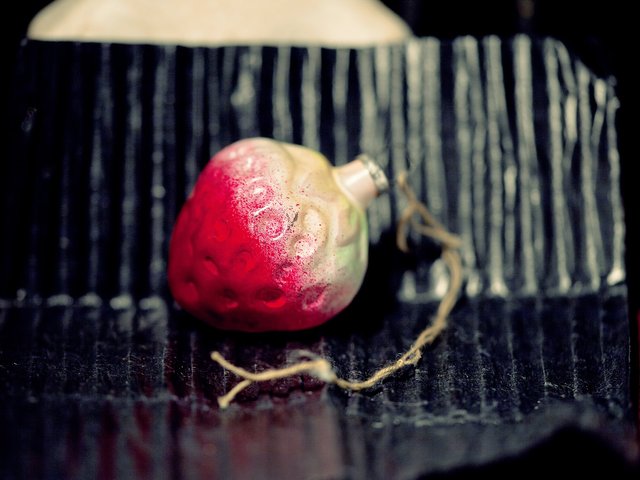 The strawberry...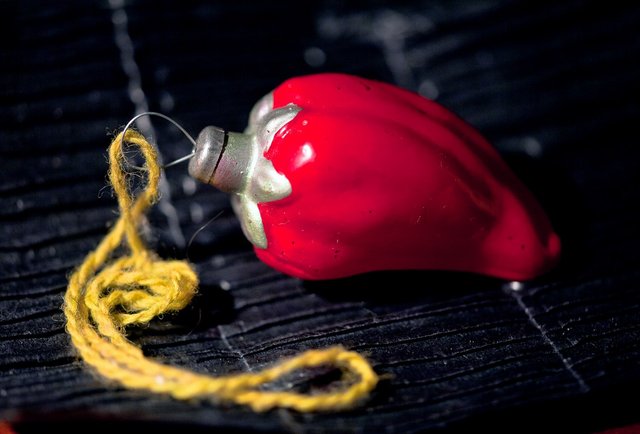 ...and the Bell pepper.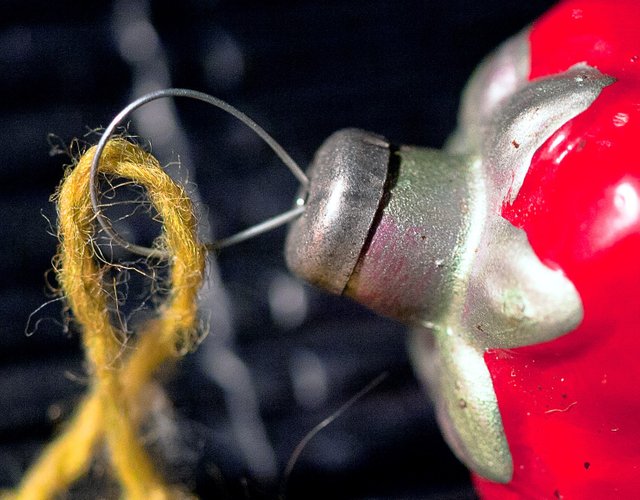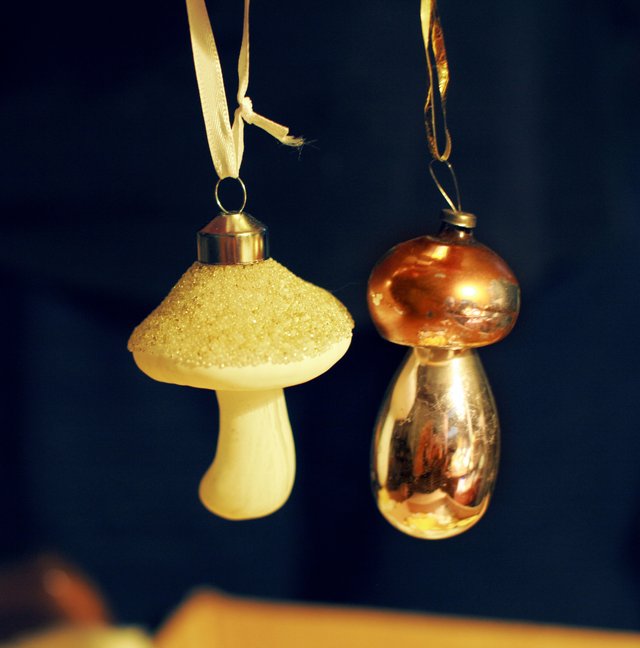 More mushrooms (the modern edition is on the left side).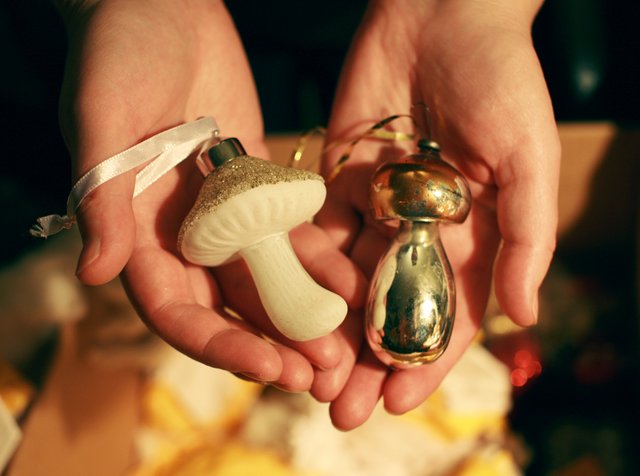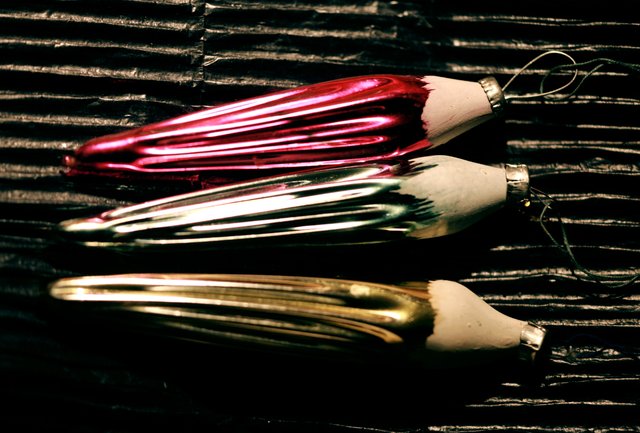 The icycles.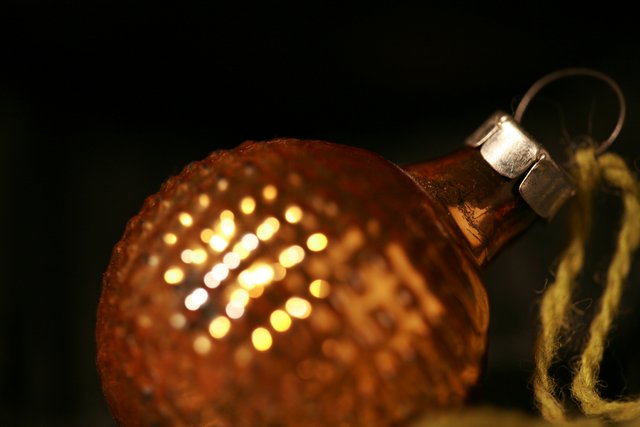 Different approach to bokeh and focusing.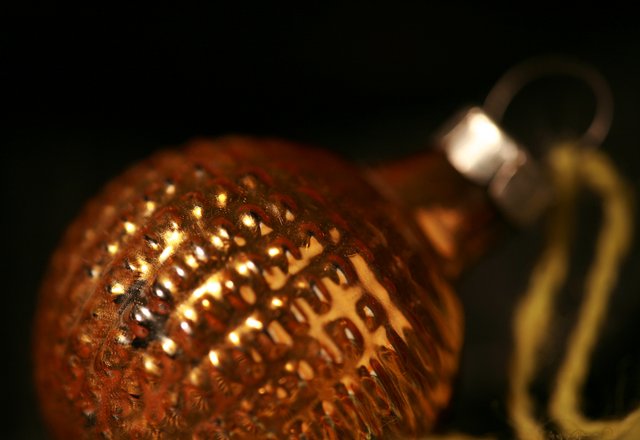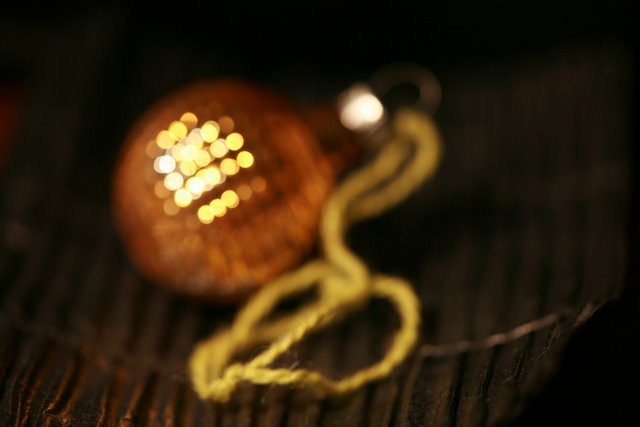 ---
cardboard toys
Несмотря на обманчивую "древность", этим игрушкам всего 30 лет, чуть больше четверти века. Жена вспоминает, как покупали их в 80-е годы "на сдачу" от стеклянных игрушек -- и они стоили копейки. Зато они "благородно состарились" и пережили многих других. Бумага против хрупкого изящного стекла... Ну а нонешнее поколение имеет все шансы увидеть, как будет стареть дешевый китайский пластик...
Despite the deceptive vintage look, these are only 30 y.o, a little more than a quarter century. Not the oldest part of the stash. My wife recalls she bought them in 80s "for small change" after getting more expensive glass toys. The paper ones costed just a very small penny. But they aged "in a noble way" and outlived many others. Paper versus fragile glass ... New generations will see how the plastic will degrade -- and something hints me it will not look like any "noble way"...
---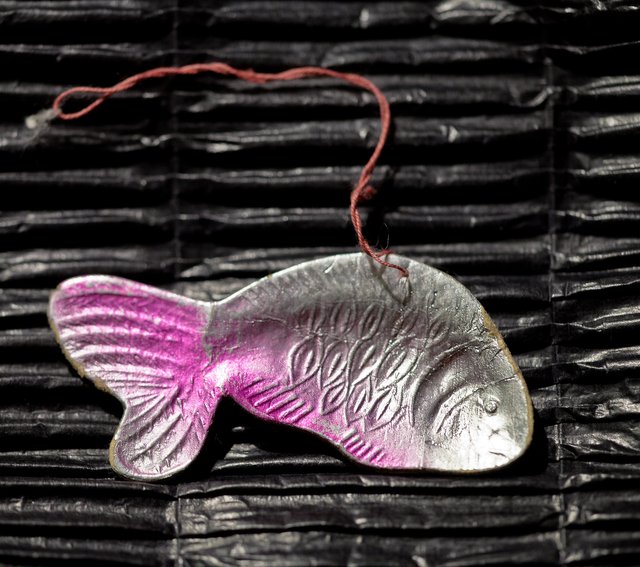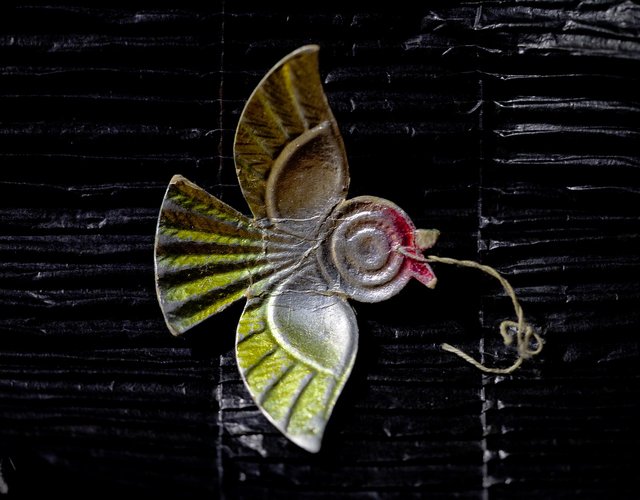 There are a few toys cut from the wood. This one is pretty new-made, tho.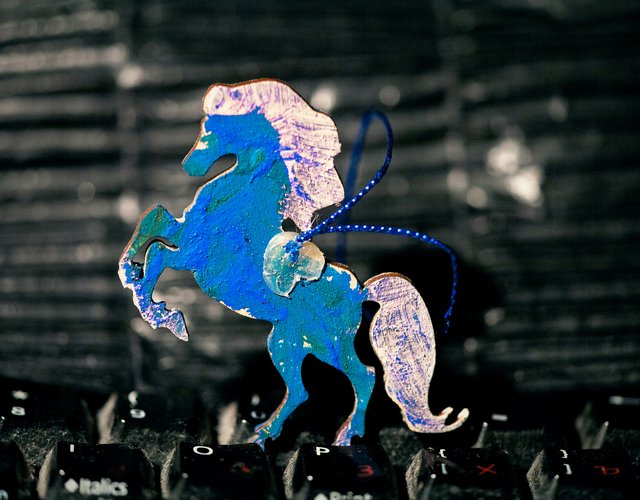 ---
Santa and his daughter
This toy is made of ceramics in the shape of a bell. This bell can sing... its just not too loud.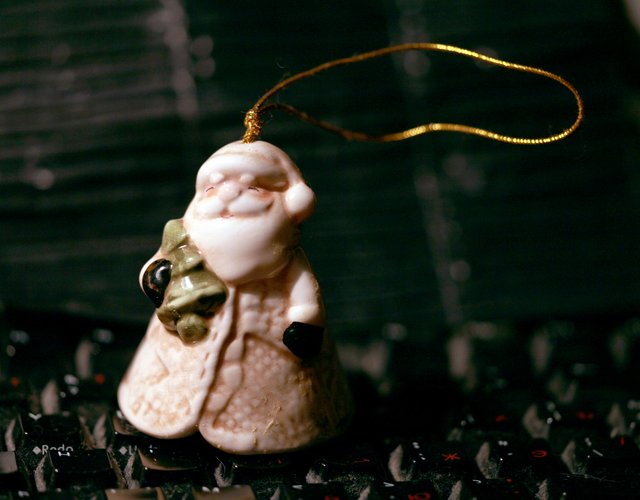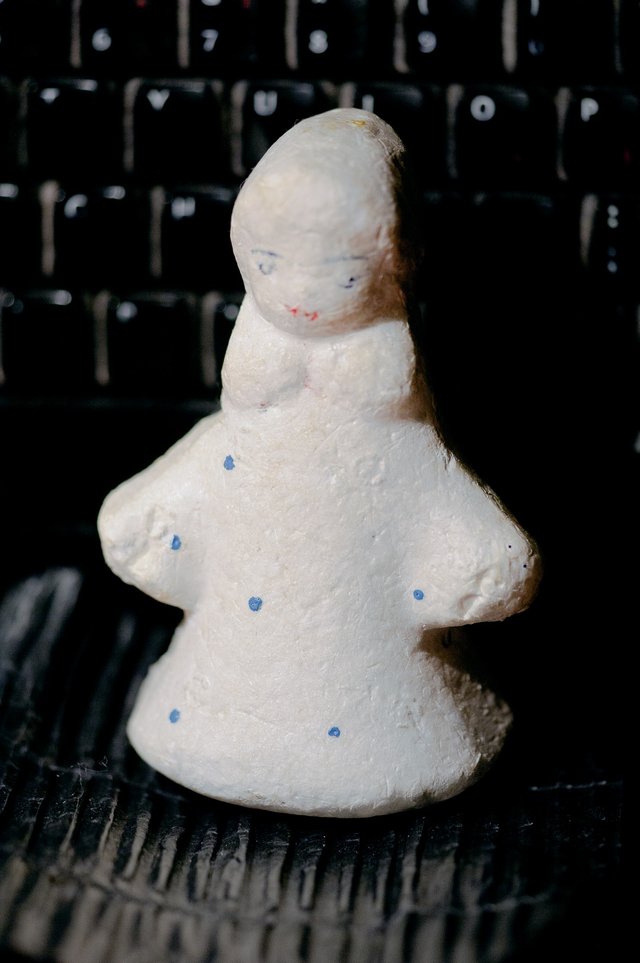 Снегурочка -- традиционный маленький помощник Деда Мороза. Эта фигурка настоящий хендмейд из 70-х, когда люди предпочитали не покупать, а сами делать что им нужно. Фигурка вырезана из пенопласта, и имеет нарисованное лицо. (Кстати, пенопласт отлично подходит для изготовления фото-реквизита. Один мой знакомый фотограф вырезал из пенопласта фальшивый хребет типа "костяной гребень", как у динозавров, использовал его на девушке-модели и получил уникальную фотографию женской бестии. И никакого фотошопа!
The Snow Maiden (in Russian 'Snegurochka') is traditional Santa's little helper. This toy is a real hand made from 60-es, when folks had not so much consuming opportunities and preferred to do things they needed themselves. It is cut out of polystyrene with a knife and has a painted face. (Btw, polystyrene is great for doing different things as props for your photos. One of my acquaintances, a photographer, cut out a fake ridge, the "bone comb" type made of polystyrene, dinosaurs-like, used it on a model girl, and received a wonderful, unique photo of a "female beast" -- without any photoshop!)
---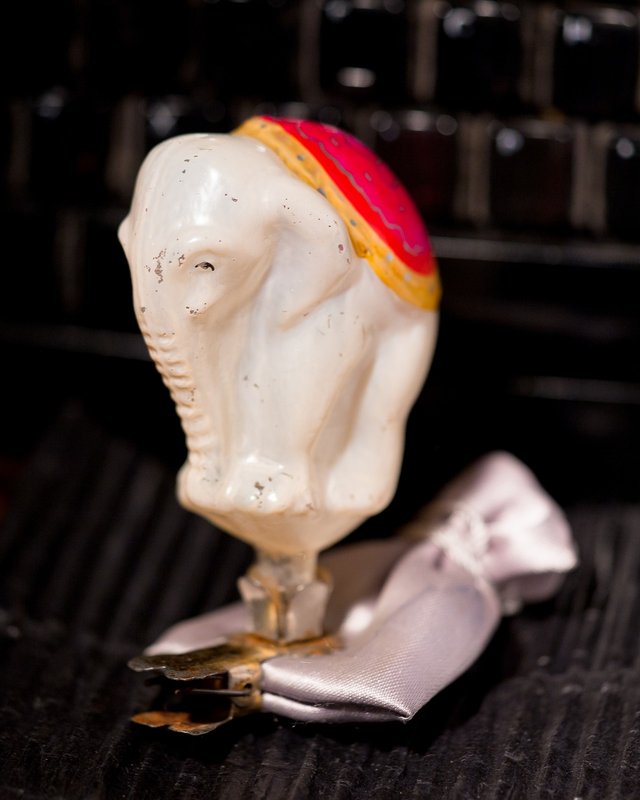 Another pretty old one from 1960-es: elephant! It was a bit hard to shoot: the toy has a few elements I would like to capture well -- overall shape ("white on white" relief - side light is needed to convey this appearance), little hand-drawn eye, its clothespin mount design... oh I forgot to mention: the toy is hand-decorated. Though I cant tell if the glass-blowing was a handmade too. Would be cool to make a close-up on elephant's back to display that hand-made nature of the drawing. But it is not possible to have at focus 4 different things at once! I made a straightforward compromise: focused on its eye and 'face'.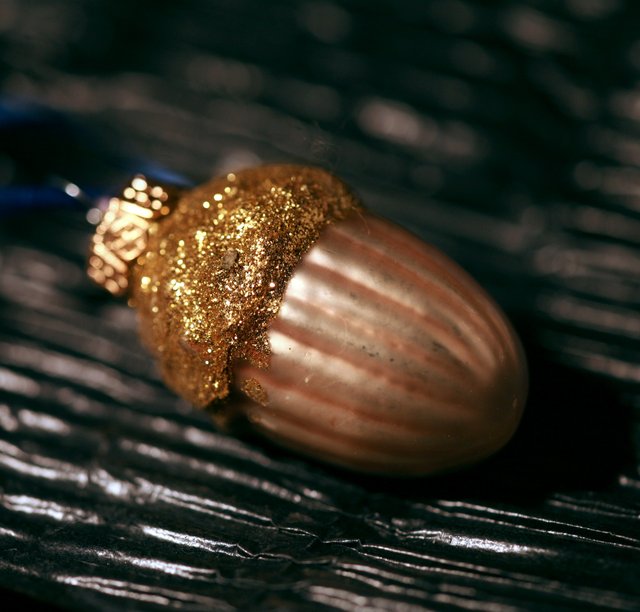 A golden acorn -- so simple, so beautiful! Why they dont they do it like that nowadays?... Or they do?..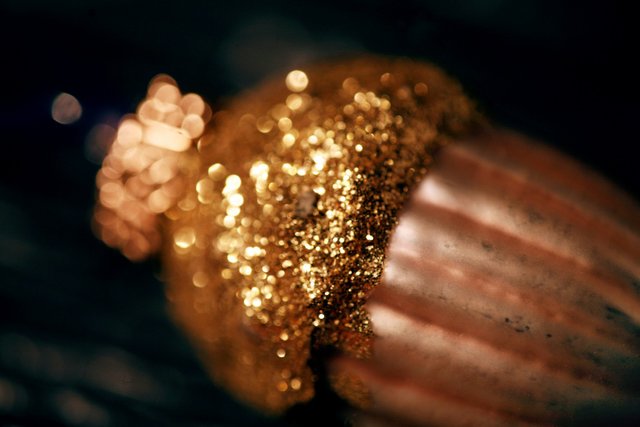 ...The box showed its bottom. Time to round up my blog.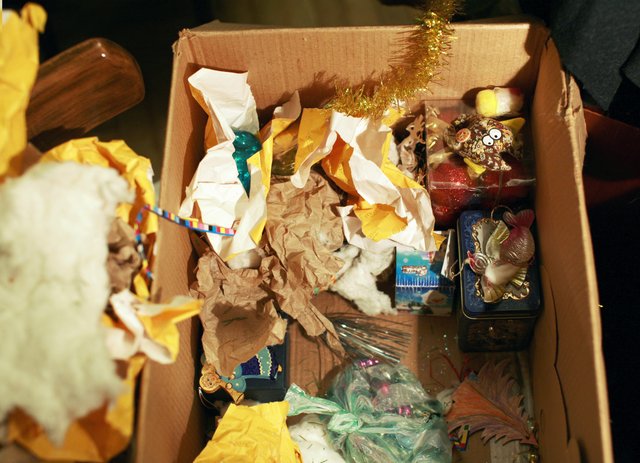 Hope you enjoyed this little time-travel with me, thanx for the company -- and Next Time!