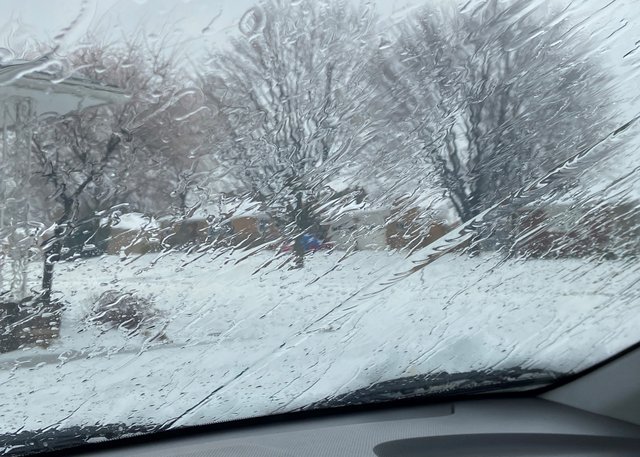 People from Ohio often joke about how quickly (and seemingly illogically) the weather here changes.
After several days of record-breaking temperatures last week (nearly 70°F!), the weather today was rather refreshing since it resembled normal January weather in Ohio.
Very early this morning it was cold and snowing. Later in the morning the temperature warmed up a bit and it began to rain, turning the snow into slush (see the attached pic I took from my car window). Eventually the rain subsided and the temperature moved up to around 40°F.
I felt very inspired by today's weather (I love rainy, cloudy weather), so, after I finished practicing at the church, I recorded the following improvisation (a link to the recording can be found here: https://www.reverbnation.com/michaelcalabris/song/31475886-weather-report-massillon-ohio-january).
I was so pleased with how this improvisation turned out that I posted it onto SoundCloud, too, so people who normally prefer to listen to my compositions can have the opportunity to hear it.
The improvisation consists of four parts:
"Prelude: Forecast." This quiet opening part of the improvisation features an ominous, serpentine melody.
"Snow." This part of the improvisation is faster and dramatic. It opens with a quote (played using the organ's MIDI handbell stop) from Claude Debussy's "The Snow is Dancing" (from his solo piano composition "Children's Corner"). This is the first of two musical quotations heard in this improvisation. These quotes lend the improvisation a bit of dark humor. Aside from the Debussy/handbell introduction, this part of the improvisation, like the prelude, features mostly a quieter registration.
"Rain." Played using the MIDI handbell stop, this third part of the improvisation is fast and sparkling. Several quotes from Maurice Ravel's "Ondine" (from his solo piano composition "Gaspard de la Nuit") are heard throughout.
"Postlude: Climate Control." The postlude is a recap of the prelude, with quotations (or their developments) of music heard in the second and third sections of the improv.
If you're pressed for time, I would direct your attention to 4'31" - 4'53" in this track, where the music somehow manages to sound dark AND funky at the same time (!).