Things are slowly turning back to normal here in China. "Normal" being a highly subjective word, to say the least. In the last week, I've resumed teaching my Strategy class at SKEMA Business School, which is in Suzhou, another city in "virtual lockdown." What do I mean by "virtual lockdown"? It just means that you're not exactly prohibited from going out of your apartment and you not EXACTLY under curfew, but you virtually are. It's still eerily quiet outside. But every day it gets a little more busy. A couple more people venture outside everyday and find that, "Hey, it's not so bad out here!" You still have to wear a stupid mask, but it's better than contracting the coronavirus!
But it's nice to kind of get back at least a little bit into the grind. No matter what is going on in my life, it always gives me great joy to interact with young minds, or at the very least to inspire them to make doodles of their prof like this one: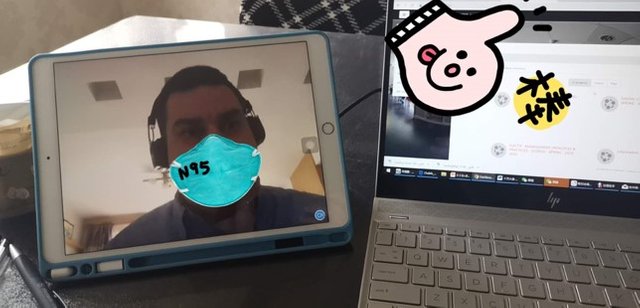 This semester we've started classes without being able to conduct them face-to-face, or at least face-to-face in the traditional sense. All of our classes are conducted online via Zoom, at least until further notice. While at first I was wary of this strange and foreign media (to me), because I'm not really familiar with teaching online classes, but after a couple of sessions I can say that it's really not that bad. Not at all.
From a profit perspective, I think SKEMA would probably prefer to fit 50-60 students in a classroom. But in terms of engagement, we've been doing about 15 students per class and it's really been a boon. The kids have to keep their video cameras on, so it's a lot easier for me to ensure they're paying attention and not looking at Twitter, Facebook, WeChat whatever... And for in-class activities I can assign groups to Zoom's Breakout Rooms and it's literally just like popping around group tables in a classroom.
Only I'm sitting at my kitchen table. My cat laying at my feet.