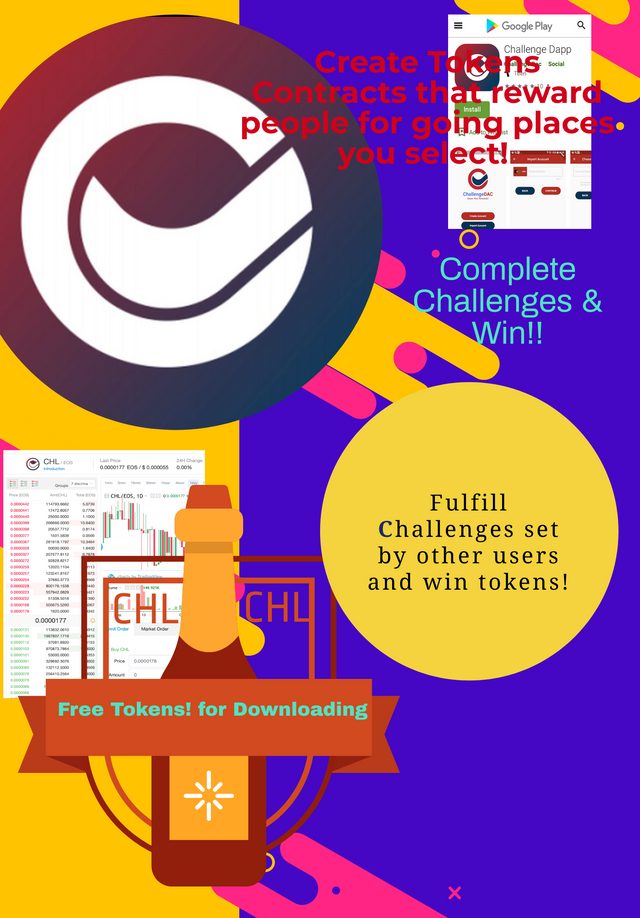 Join the ChallengeDac Dapp Curation and Tipping contest. Challengedac is an EOS based dapp that let Users send and receive Challenges. In this process, there are Crypto tokens to be unlocked if the requirements of the sender are met. The Sender will pick the place that the receiver has to be to unlock the reward. With ChallengeDac App, you can challenge a friend to go drink coffee or record a song in the studio etc. The ChallengeDac's local token are called CHL available on Newdex and CoinGecko while the Steem-engine pegged token is called CHLP.
1000 CHLP each will be tipped to every participant of this Contest and each participants will have their posts upvoted by the @challengedac account with 100,000 SP.
Contest:
• Download the ChallengeDac App for Android or iOS mobile.
Android:
https://play.google.com/store/apps/details?id=challengedac.com.challenge_dac_app&hl=en_US&fbclid=IwAR2JFSGfevOI84dn9ABypt0aV1M-tlWwW7k-J2laz79faPgvowsS3k1_URA
iOS:
https://apps.apple.com/us/app/challenge-fun/id1478759780
• Take a Screenshot of your Challenge username.
• Make a Steemit post about what you think of the tokens. Drop your Post link in the comment Section of this Post.
That's all!!
Invest in the CHL tokens:
Buy CHL via @newdex-io:
https://newdex.io/trade/challengedac-chl-eos
Buy CHLP via @steem-engine:
https://steem-engine.com/?p=market&t=CHLP

ChallengeDac Official accounts:
Website: https://www.challengedapp.io
Telegram: https://t.me/Challenge_DAC
Instagram: https://www.instagram.com/challengedacdapp/
Subscribe to ChallengeDac YouTube: https://www.youtube.com/channel/UCnYWlP_UT6k5EIfuLSD3Spg
Challengedac
Twitter: @ChallengeDac
Discord: https://discord.gg/HHXFfV
Reddit account: https://www.reddit.com/r/ChallengeDac