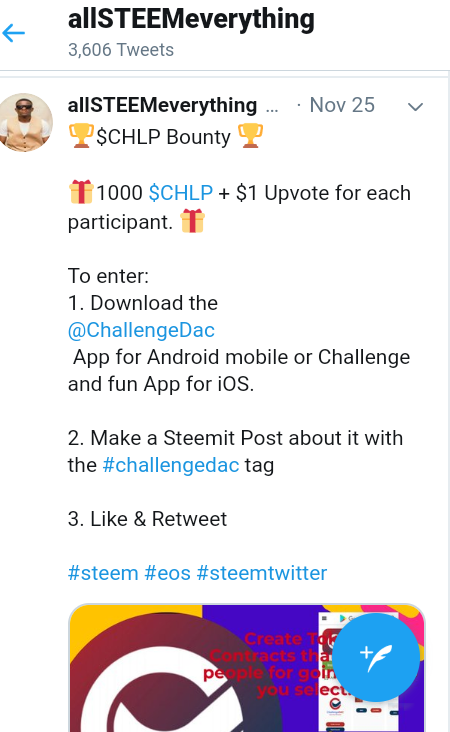 Join the @challengedac Twitter Bounty. Every Participant gets a $1 Upvote on his/her Steem post and also get Tipped 1000 CHLP tokens via Steem-engine. Click on the twitter link to participate.
https://twitter.com/iamcitimillz/status/1198993654150565889?s=20
The Challenge App is an EOS based Geo-Specific and Time sensitive App where users send and receive challenges. The receiver of the challenge unlocks a crypto reward if they completes the task at a given location. The App has it's own local currency known as CHL token available on @newdex-io, coingecko and okex exchange. It also has a pegged token on steem-engine called CHLP (pegged). The Challenge App team are based in San Diego, California.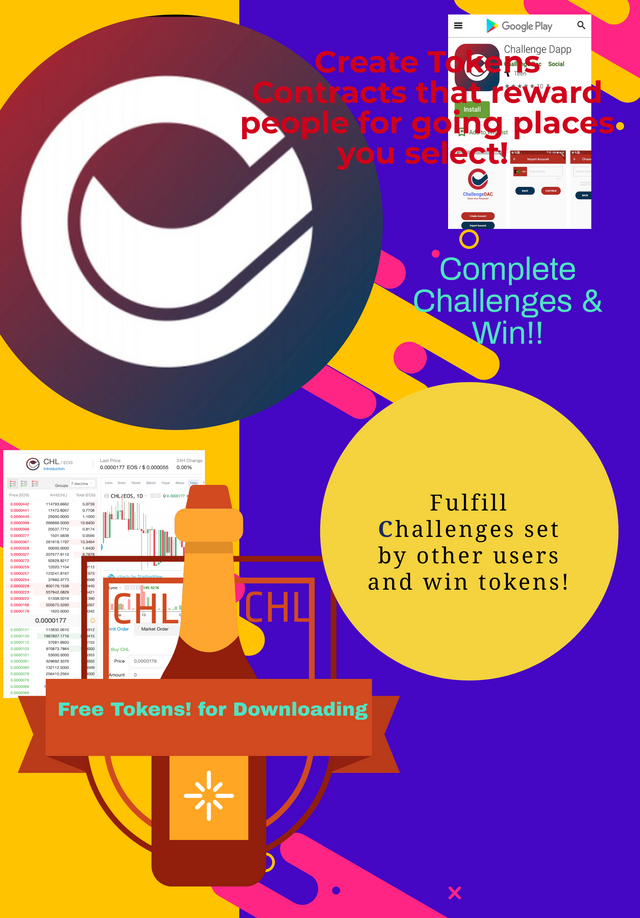 Download ChallengeOS App for your mobile:
Android:
https://play.google.com/store/apps/details?id=challengedac.com.challenge_dac_app&hl=en_US&fbclid=IwAR2JFSGfevOI84dn9ABypt0aV1M-tlWwW7k-J2laz79faPgvowsS3k1_URA
iOS:
https://apps.apple.com/us/app/challenge-fun/id1478759780
Purchase CHL via @newdex-io:
https://newdex.io/trade/challengedac-chl-eos
Purchase CHLP via @steem-engine:
https://steem-engine.com/?p=market&t=CHLP
Follow ChallengeOS Official accounts:
Website: https://www.challengedapp.io
Telegram: https://t.me/Challenge_DAC
Instagram: https://www.instagram.com/challengedacdapp/
Subscribe to ChallengeDac YouTube: https://www.youtube.com/channel/UCnYWlP_UT6k5EIfuLSD3Spg
Challengedac
Discord: https://discord.gg/HHXFfV
Reddit account: https://www.reddit.com/r/ChallengeDac
Twitter: @ChallengeDac