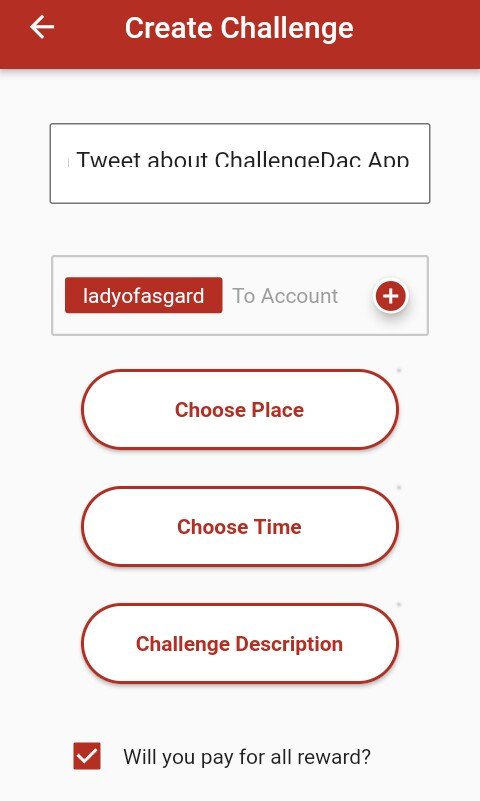 I just Challenged a friend @jeline to carry out a task on the @challengedac App and if she successfully carries out the task at the set location, then she will unlock a Crypto reward for herself.
The ChallengeDac App is an EOS software Dapp which can be used to send and recieve Challenges. A receiver of a challenge has to carry out a Time sensitive and Geo-Specific task to unlock a reward being provided by the sender of the task.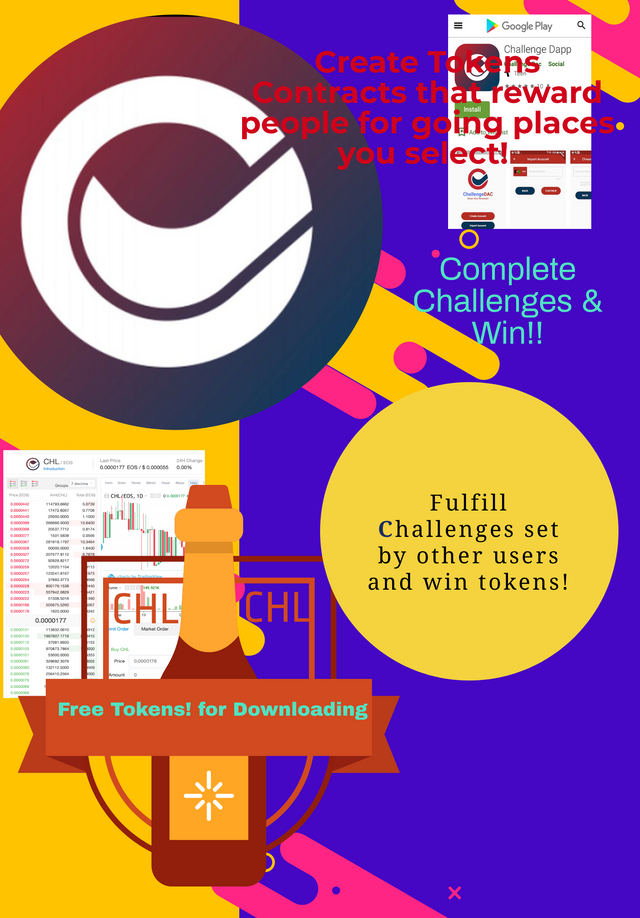 This is good news for lovers of Digital Cryptocurrency Technology. One can now challenge a friend to go hiking, go see a movie etc for a crypto reward. ChallengeDac Dapp has a local currency called CHL which is used for payment functions. The token is available on Newdex and has it's pegged token on @steem-engine. CHL token has a circulating supply of 2.7 billion coins and max supply of 2.7 billion coins.
Download the ChallengeDac App now and start having fun with your friends. App is available for iOS and Android mobile users.
Android:
https://play.google.com/store/apps/details?id=challengedac.com.challenge_dac_app&hl=en_US&fbclid=IwAR2JFSGfevOI84dn9ABypt0aV1M-tlWwW7k-J2laz79faPgvowsS3k1_URA
iOS:
https://apps.apple.com/us/app/challenge-fun/id1478759780
I am Currently organizing a contest for the ChallengeDac Team. See this post for details. https://steemit.com/contest/@citimillz/challengedac-dapp-tipping-and-curating-contest
Buy CHL via @newdex-io:
https://newdex.io/trade/challengedac-chl-eos
Buy CHLP via @steem-engine:
https://steem-engine.com/?p=market&t=CHLP
ChallengeDac Official accounts:
Website: https://www.challengedapp.io
Telegram: https://t.me/Challenge_DAC
Instagram: https://www.instagram.com/challengedacdapp/
Subscribe to ChallengeDac YouTube: https://www.youtube.com/channel/UCnYWlP_UT6k5EIfuLSD3Spg
Challengedac
Twitter: @ChallengeDac
Discord: https://discord.gg/HHXFfV
Reddit account: https://www.reddit.com/r/ChallengeDac