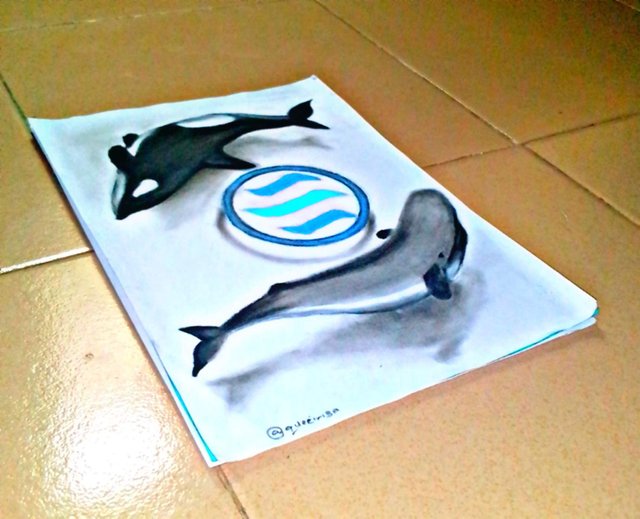 Hello Friends☺️!!!
I made piece of art was made to create awareness of steemit and also to encourage all other users of steemit (both new and old) like me who hope to be sitting at the big table (becoming whales) someday.
We all envy the big whales of this wonderful platform for some reasons. Generally, a whales are creatures that are honoured and admired for their gigantic sizes and enormous masses. They weren't born that way, Their sizes are as a result of their survival instinct, consistency, longetivity, dedication, persistence, sacrifices, risks. They represent good luck, solitude, strength, guidance and compassion. Now being a whale on steemit isn't so different too. Many newbies lost interest in steemit thinking it would be a gold mine but not putting in the work, networking and skills required. Many stayed back for self development while others because they of the presence of whales who supported and encouraged them.
To become a whale, I advise we start by;
Creating awareness of steemit and inviting potential users. Making them understand and seeing the importance and good of this platform. Not just the tokenized part of steem.
Creating useful and outstanding articles /posts.
Buying steem and powering up.
Creating connections with other users on the platform, both new and existing.
Support other users of the platform by making comments and helping them grow to be better.
Cultivating these habits; Patience, self development, and dedication. After working on this, I'm sure we'll become better users of the platform than we've ever Imagined we could be. And we would be getting closer to achieving our goal.
Now to the drawing, the materials I used here are a white A4 paper, HB pencil, black and white charcoal pencil and Pastel.
STEP 1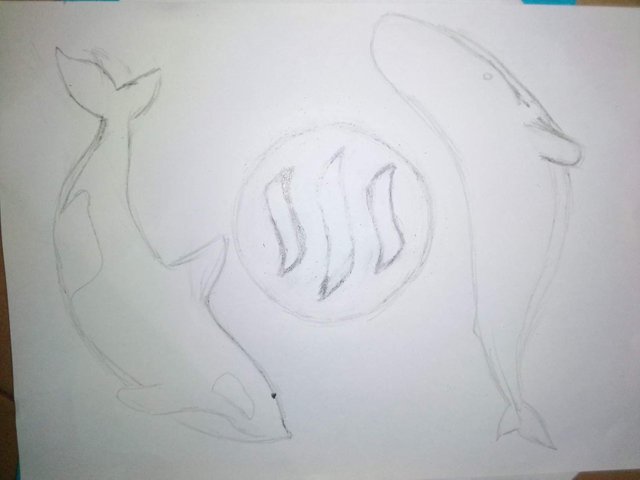 I made a sketch of the two whales of different species (a killer whale and a sperm whale) and the steem logo with an HB pencil.
STEP 2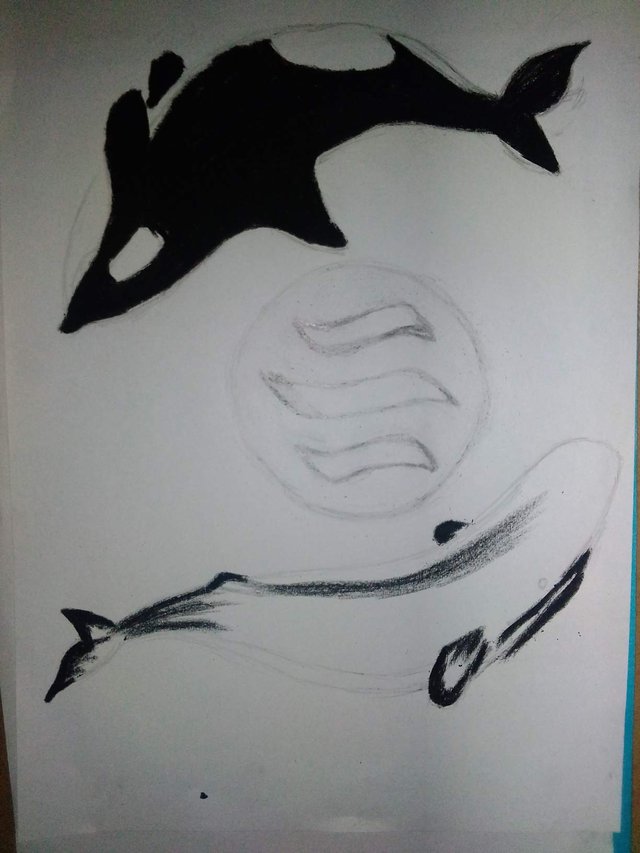 I added the darkness and shade of both whales with my black charcoal pencil
STEP 3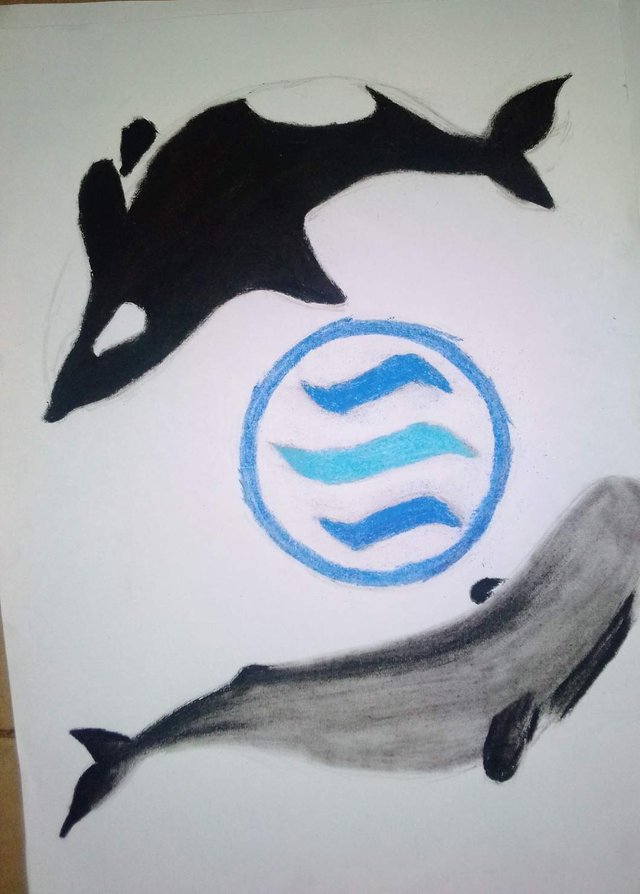 I blended the shades using a smudger. I also used my sky blue and navy blue soft pastels to create the steem logo.
STEP 4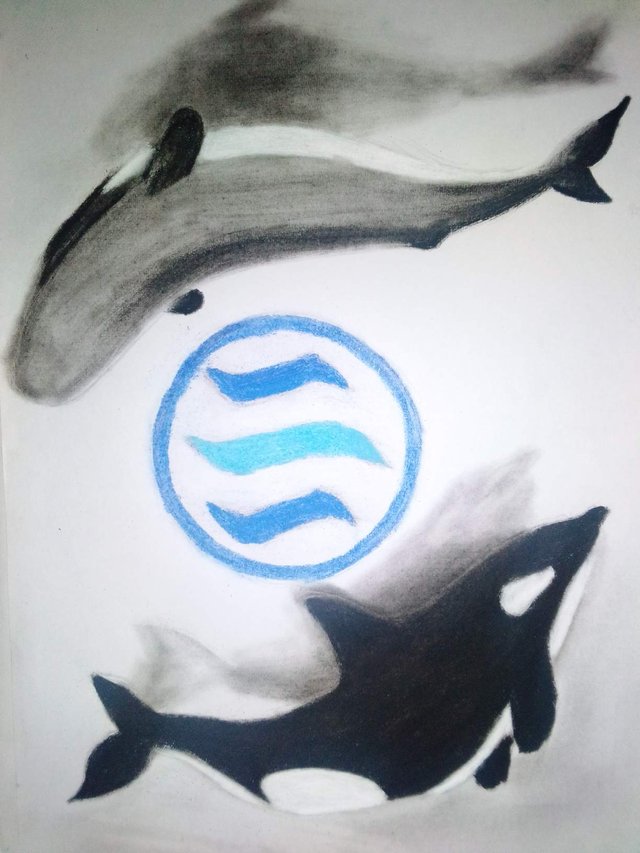 I made shadows of both whales to create a 3D effect. I blended with a smudger here.
STEP 5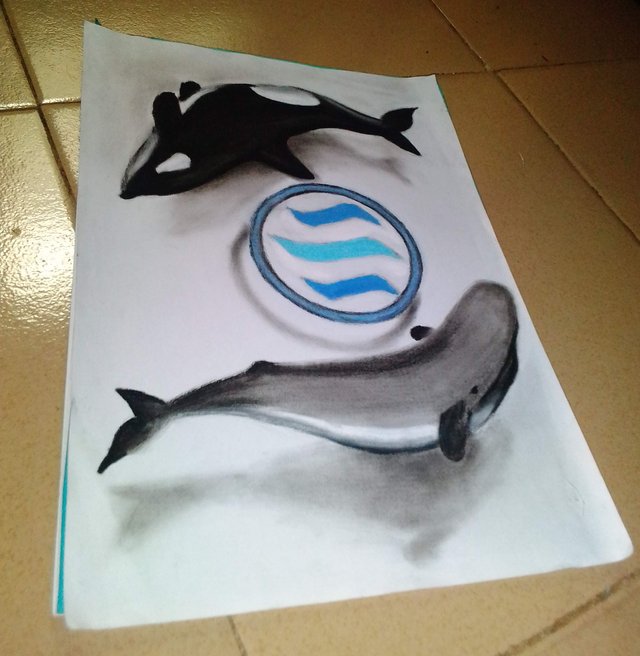 I created highlights of the whales and also created the shadow for the steem logo.
To get the 3D effect,the artwork has to be viewed from a particular angle and this was my angle.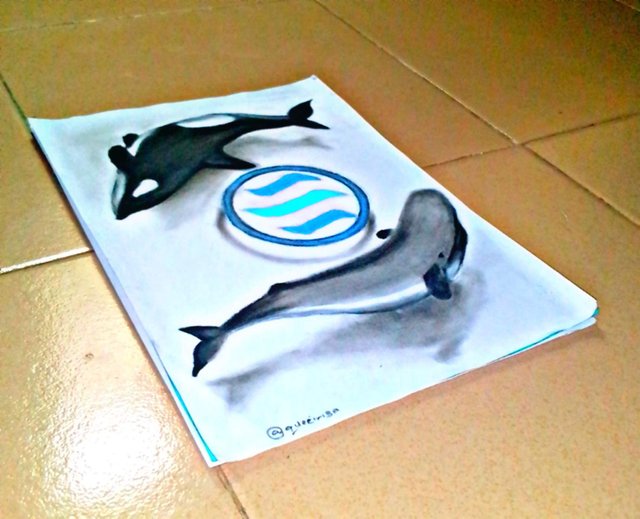 So this was how I created the 3D drawing of the whales and steem logo.
Thank you guys for reading and viewing my post😘. I appreciate every member of the steemit community for their support of my art and would be sharing my latest piece of art with us tomorrow. Stay tuned. Love you guys.😘😘
Please feel free to make comments and suggestions. They are highly welcomed. Thank you😚.
Posted using Partiko Android