On the first day of the third test, India started their batting but received quick blows with three quick wickets and at one stage India was 39/3, with big wickets like Virat Kohli and Cheteshwar Pujara. But Rohit Sharma and Ajinkya Rahane managed the situation and kept on capitalizing on their recent forms. Rohit was really phenomenal and he kept on attacking the SA bowling attack whereas Rahane was cautious.
Rohit hit his first-ever double hundred(212) in Test cricket and Rahane too scored a century(115) and they together put India in a commanding position in the 3rd Test. I would like to credit Rohit for his fearless cricket in Test format. But Rahane has played to the spirit of Test cricket.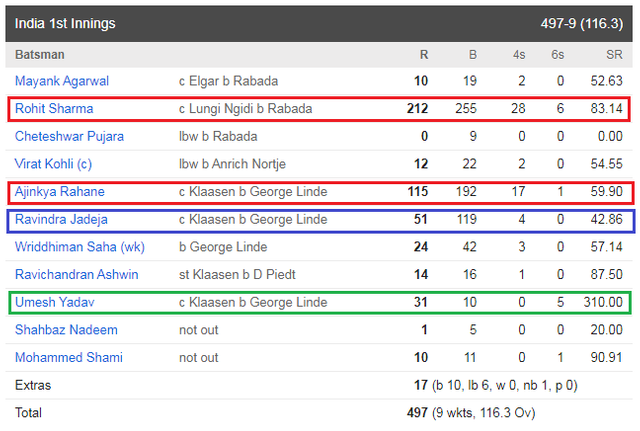 India once again proved that they are the king, especially on the home pitches.
While I love India and want to see India win every match, as a cricket lover I want fair competition in the game. I think in recent times India Vs Eng or Australia would be interesting to see. The world cricket is really very imbalanced at this moment. Eng, Ind, Aus are at par and can put up challenges for the opposition but other teams are below par and any game between another team with these three will be one-sided which is not a good thing. I want to see fair competition in games.
Coming to the fantastic form of Rohit, I must say that he has found the real spot in test cricket. Everyone was wondering why Rohit was not being able to transform his white-ball form into Test cricket and here is the answer in this series. Earlier in 6 test matches before this series, he batted at number 5 or 6, and that was the problem and that is why his average was very low (below 20) prior to this series. But the management has really found the ideal spot for Rohit and KL Rahul's poor form paved that opportunity for Rohit Sharma to carry forward the legacy of his wonderful ODI form into his Test career too. I love watching Rohit hitting those sixes. Those are really very romantic.
But truly speaking the best evolution of cricketing shots comes against the best bowling attack and I love to see India playing this way against Eng and Aus. I want to see Ind playing like this in overseas conditions. If that can happen consistently, then Ind can redefine itself as a good traveler in Test cricket.
On the second day of the third Test, it was the show of lower order and Ravindra Jadeja has been slowly and steadily trying to establish himself as an all-rounder in Test cricket. His stat in the last 2 years is really pretty good, not to forget that he bats at the lower order.
But the real show in the lower order was the innings of Umesh Yadav. It was really a quick inning and he scored 31 off 10 balls and hit 5 sixes in his show innings. But that was the entertaining moment of the day.
Wridddhiman Saha has been given another chance, and it is the time for him to showcase his performance and reinforce his spot. Otherwise, the wicketkeeper position is really a tough place to compete with considering the fact that the team will play one wicketkeeper. And gone is the era where you can sit on the premise of wicket-keeping only, you have to do well in batting also.
Before the day was called off on Day 2 of the 3rd Test, Umesh Yadav and Shami did not waste time and picked one wicket each and reduce SA to 9/2 in 5.0 overs. SA is now trailing by 488 runs, I am afraid that once again they may end up with innings defeat. It is really an upheal task and the present form of SA is really poor, so if they can at least draw this test, then it will be considered as a win for them.

That's all for the day, We have 3 days left, let's see how Indian bowling attack perform on Day 3 of the 3rd Test. SA has to offer better resistance and have to prove that they can hang on.
Thank you.
---
The stats are taken from cricbuzz official website.