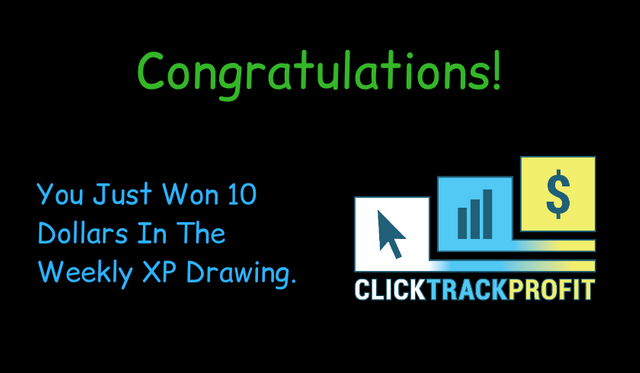 Made in Canva
It's Tuesday and the rain is a bit persistent today.
Congratulations! - You Just Won 10 Dollars In the Weekly XP Drawing!
So I just found out that I won 10 Dollars in the Weekly XP Drawing in ClickTrackProfit.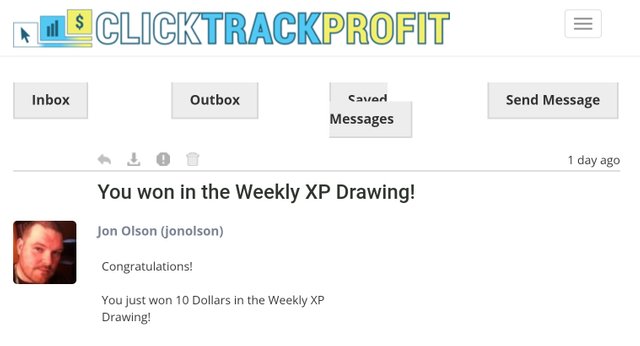 Sccreenshots from ClickTrackProfit
Thank you very much for this prize @jongolson and @blainjones, it is very much appreciated.
What Is The Weekly XP Drawing?
So I do not know too much about this weekly drawing I am afraid, but it's obviously done weekly and it's connected to the XP (eXperience Points) in ClickTrackProfit.
And as to the prizes that can be won, I don't know the full details about that either, but I just won 10 dollars from this.
How Can You Participate?
Now you might wonder how you can earn these XP and participate in the Weekly XP Drawing.
So this is very easy, you just get yourself an account in ClickTrackProfit, and the membership levels are Free, Pro and Entrepreneur, I have a Pro level membership, and all levels can earn XP.
XP is earned for completing the training in ClickTrackProfit, and for using the tools and services linked to it, and this is my dashboard showing my XP level, and I know this is not very impressive, but I have done a lot of the training so far.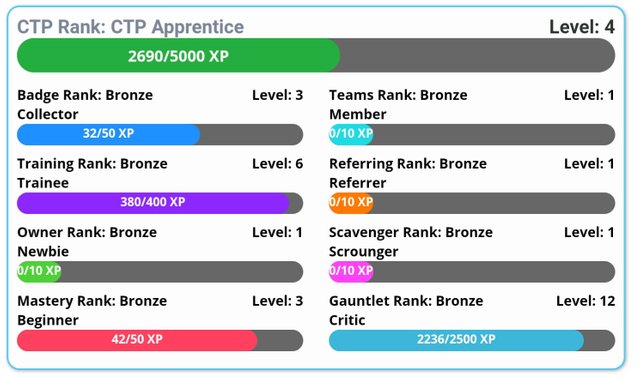 Screenshot from ClickTrackProfit
So after you have got yourself an account, just start with the training and start using the tools provided in ClickTrackProfit and you will start earning XP and that will automatically include you in the Weekly XP Drawing, and as far as I know that is the benefit you get of the XP, it's not really used for anything else other than also showing your Rank.
More Benefits Of Using ClickTrackProfit?
Now if you are a Steemian or anyone else and you don't know what ClickTrackProfit is and what the benefits are to using it, then CTP is a gamified affiliate marketing training platform, and they are also on the Steem blockchain with the CTPtalk.com tribe and the CTP and CTPM Steem-engine tokens.
So you can post and interact with the CTPtalk tribe on Steem and earn CTP tokens for doing that, and it's focused on Affiliate Marketing and Personal Development, and Actifit posts are also welcome according to @jongolson.
ClickTrackProfit For Steemians?
If you are wondering what ClickTrackProfit really has to offer to you and to your Steem journey apart from the CTPtalk tribe, then there is actually quite a bit.
The first thing is of course the income opportunity that lies in Affiliate Marketing, and you can do that using CTP and the tools and services there, the training will show you exactly how to set it all up and get you on your way, building your email list and building your brand, and promoting affiliate products and services that you will earn commissions on.
And the second thing is that by using these tools and combining it with CTPtalk and Steem you can create a feedback loop that will get you more engagement on your CTPtalk and Steem blog/vlog, and that will of course get you more upvotes and comments.
The third thing is that there are affiliate marketing opportunities on the Steem blockchain, there are dApps that have affiliate programs where you can get rewarded for promoting them, and the tools provided in CTP is a really good way for using this.
Affiliate Opportunities On Steem?
So there are several dApps that rewards you for promoting them and I will make 2 examples here, but there are a lot more affiliate programs on the Steem blockchain.
Steem.Ninja
Most on Steem knows about Steem.Ninja, it's a dApp that creates new Steem accounts for a fee (somewhere around $3 USD), and if you promote this then you earn $0.5 USD for everyone that sign up with your affiliate link.
And using the tools in CTP you can setup an affiliate marketing campaign that promotes Steem adoption and earn rewards for people signing up through your affiliate link.
Actifit
Actifit is a very popular dApp on the Steem blockchain, and they also have an affiliate program, it pays you 20% in AFIT earnings on all referrals you get to this dApp, and it does so for life.
And say that you setup a campaign with the tools in CTP, you can get rewarded in AFIT tokens for this.
So how would you create a campaign for Actifit?
Now the way that I would do this is to make a rebrandable ebook, and use that as a Lead Magnet that people can download for signing up to my email list, the ebook would be about Actifit and how to start using it.
And then I would create an email marketing campaign with about 5 emails talking more in detail about day to day use of this dApp, and how I use it myself.
The tools for this is all in ClickTrackProfit, you need a Rebranding tool for your PDF ebook, an Autoresponder for your email list, a Lead Capture Page where people can sign up to your list, and Conversion Tracking to track the performance of your Traffic and your LCP's.
So these are all the tools that you need to set it up, and the training in CTP is all you need to know how they all work and how to use them.
And if you really need a complete toolbox with all free tools, then you can get my free rebrandable ebook, Build Your List For Free, that can get you started at zero cost, but do note that the free Autoresponder is ad based and will show ads on their website and in all your outgoing emails, TrafficWave does not do this and it comes packed with a lot more features.

This is all my own personal opinion, do your own research before investing, and seek legal counsel if uncertain.
So this is how you can use ClickTrackProfit to earn an additional income and earn more on Steem.
(This plan sounds good, I might have to create this myself.)
Thank You!
Thank you very much for reading this post, and I hope that you found it interesting and that it can be of help in your own journey on Steem and CTPtalk, and ...
Stay Awesome!
Sincerely,
Erik Gustafsson
Do your own research before investing.
---
Join my Email and Video series, Profit With CTPtalk, and start making videos on Youtube, Dtube and CTPtalk, and use them to build your own email marketing campaign, and get paid on all content that you create and publish, plus get a free SBI Unit for signing up.

---
CTPtalk.com is a Tribe on Steem from fellow Steemian @jongolson, and you can also check out the ClickTrackProfit gamified affiliate marketing training platform, it is free to join and use, but they also have paid memberships, and affiliate commissions are paid out in crypto, so do your own research before investing.
---
And if you don't yet have a Steem account get one instantly with Steem.Ninja ($3 USD), or go to
Steemit.com / https://signup.steemit.com/
and get one for free, but you might have to wait a few days.
---
Sincerely,
Erik Gustafsson
Do your own research before investing.