Neighbors of the El Alto in Bolivia retained four Cubans and handed them over to the police, who kept them detained for suspicion of inciting violence and encouraging subversion.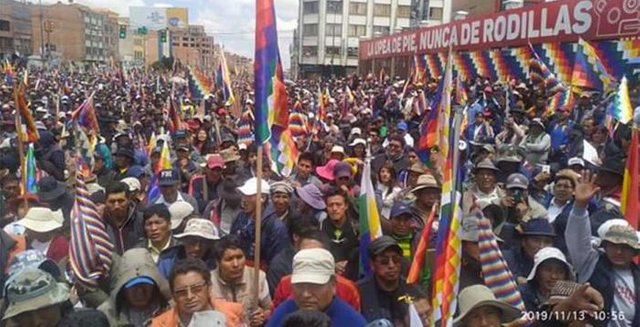 Mass protests in Bolivia that are presumed instigated from Havana
The four officials were occupied with a backpack with cash that they said was to make payments for basic services and rent to doctors who collaborate in the town. However, the inhabitants and other inhabitants found it contradictory to proceed with Cuban citizens, of which although it has not been confirmed, Havana says they are health professionals.
According to Cuban authorities, who
reacted
on Friday in a statement in the Granma newspaper, the four detainees are Idalberto Delgado Baró, who worked at the Municipal Center of Electromedicine on the Isle of Youth; Amparo
Lourdes García Buchaca, of the Provincial Center of Electromedicine of Cienfuegos; Ramón Emilio Álvarez Cepero, specialist in Intensive Care and Endocrinology at the General Gustavo Aldereguía Hospital, also from Cienfuegos and Alexander Torres Enriquez, specialist in Comprehensive General Medicine, who worked at the Carlos Verdugo de Matanzas Polyclinic.
Until today, the four professionals remain in detention although it was learned that they maintain communication with officials of the Cuban embassy in La Paz.
The idea that the Island uses the services offered by its professionals, especially doctors and athletes, is not new as a cover to promote subversion in some cases, such as in Ecuador, Brazil, or to support dictatorships such as in Venezuela and Nicaragua.
The reaction of President Jair Bolsonaro is well known, who, when assuming the first magistracy, terminated the Mas Médicos program to avoid the subversive and interventionist actions of Cuban professionals.
At the end of yesterday, it was learned that the head of the Cuban Medical Brigade in Bolivia, was searched in her residence and then conducted and interrogated at a local police headquarters.
It was learned that in conversation between the foreign ministries of both governments, the collaboration of Cuban doctors was terminated, so the return to the island of about 400 of these professionals to the Island is expected.