Cuban President Miguel Díaz-Canel Bermúdez offers dinner to His Majesties Felipe VI and Letizia Ortiz, kings of Spain.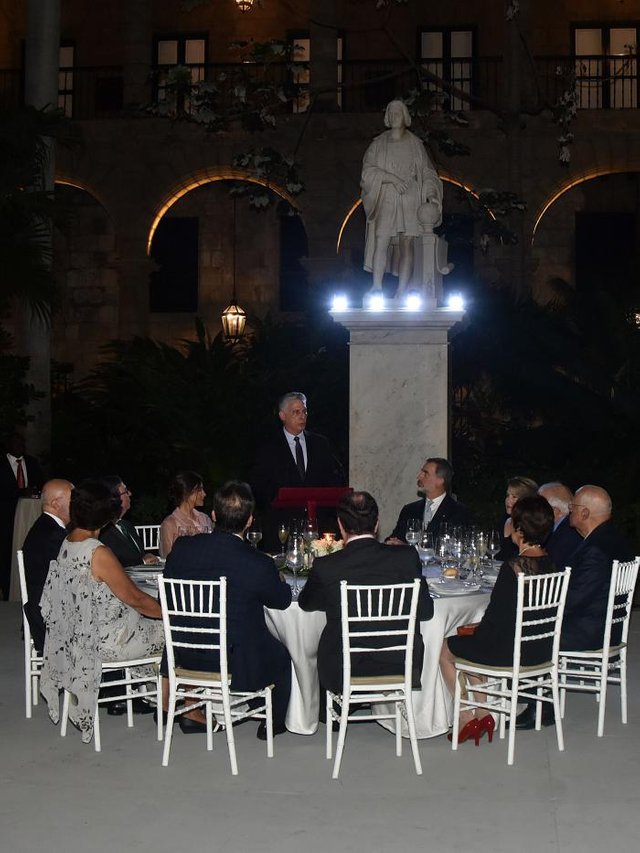 Cuban president and the kings of Spain
The ceremony was held at the Palace of the General Captains, in which the Cuban president vaguely thanked the visit of the first Spanish head of state to the Island.
The ruler also spoke of the celebration of the 500th anniversary of the founding of the Villa de San Cristóbal de La Habana and took the opportunity to refer to the constant flow of Spanish immigrants who for centuries populated the Caribbean country.
After mentioning that Spain is the first commercial partner of Cuba, the Cuban President went on to further sweeten his words to hide that the true purpose of the visit of the kings responds to the preservation of the interests of Spanish businessmen, who have invested in the Island and that often - as usual practice of the Cuban authorities - they are withheld payments for their economic efforts that they have been making for years.
Therefore, it is clear that behind the diaphanous and candid smiles of His Majesties there is a definite interest: to defend and claim the monies earned by their countrymen.
And for this, the kings - and their advisors or constituents - do not mind granting legitimacy to a dictatorship of more than 60 years, which represses a people who are not allowed, among many other things, to be an investor and form companies, Either they are nationals or in association with Spaniards or other nationality.
As part of their agenda, the kings will avoid meeting with a member of civil society (the real one) and will be careful to mention the dozens of political prisoners on the Island. Above all, they will avoid mentioning José Daniel Ferrer García, coordinator of UNPACU and perhaps the most connoted political detainee and defendant, who has been behind bars for more than a month and a half, just for peacefully expressing his ideas contrary to official ideology.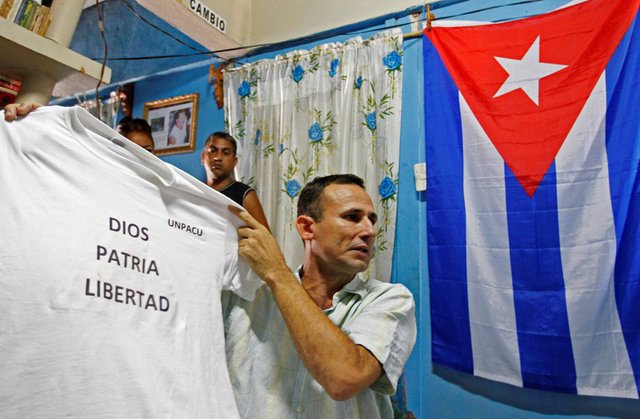 José Daniel Ferrer
The kings will also close their eyes to the reality that every Sunday they have remained on the Island, the Ladies in White have been repressed, detained and mistreated to prevent them from taking to the streets to ask for the freedom of political prisoners.
It could be said that the internal political affairs of the Island only concern us. I could also say the same about my neighbor. But things would change if I discover that this neighbor, who smiles at me and offers helpful exchanges, has been mistreating his own family for years.
Violation of a human right is not an internal matter of each country. It is a subject that forces us all, because we are part of that whole. To deny this reality is to be part of an abuse, it is to place a bandage over the eyes. Perhaps the kings need, in addition to the crown, a wide and very dark bandage.