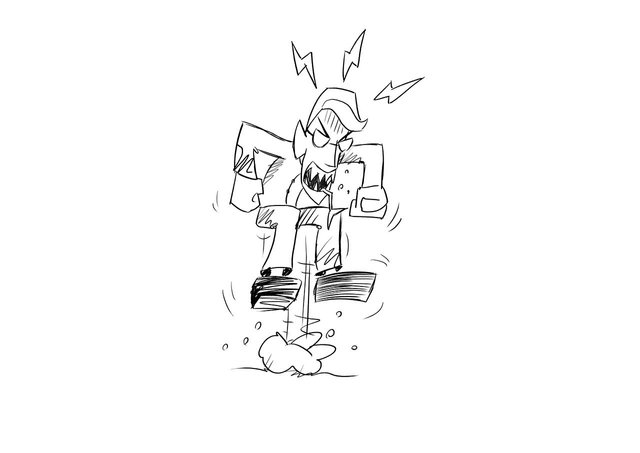 Ich bin echt sauer
Sehr spät - ich weiß. Aber ich habe es jetzt erst entdeckt, dass es mich auch betrifft, wobei ich ja kein Newbie bin, aber das Voten von Kommentaren macht überhaupt keinen Sinn mehr für mich. Hier mein Beispielvote (100 %!!!) für @michelangelo3:

Wenn da keiner mitvotet oder der Dustsweeper nicht aktiviert ist, habe ich meine VP einfach verbraten. Also werde ich keine Comments mehr voten und stattdessen Investvotes (Näheres ganz unten editiert), Bier oder Kaffee (sind bekannt) verschenken.
Kommentare voten macht höchstens dann Sinn, wenn man mit mindestens 0.04 voten kann.
Dustsweeper
Es gibt ja schon Abhilfe durch den Dustsweeper, der kurz vor Ablauf des payouts den Vote anhebt, wenn man ihn mit 1 SBD aktiviert hat. Wenn dieser verbraucht ist, erhält man eine Nachricht und kann nachladen. Aber das betrifft dann die eigenen Votes - was ja aber jetzt noch mehr Sinn macht nach den HFs, weil meine Voter dann wissen, dass ihr Vote nicht im Nirwana verschwindet. Da bräuchte es dann eine Liste, damit man diese User kennt ;-)
Dustsweeper Update von @dustsweeper
So to make Dusty more effective in sweeping dust, the upvote value will now be variable. Dusty will vote only what is necessary to push the value above $0.024. $0.024 should be enough to keep the value above $0.020 before the payout time.
Zusatzinfo von @michelangelo3
Ja hab ich, bei dir ist er auch aktiv. Müsste nochmal nachsehen, glaub der votet nur 1x am Tag. Jedenfalls besser als nix ;-)
Auf Discord im Bot-Channel kann man übrigens den aktuellen Stand abrufen. Hier mal der Link, falls dich interessiert: https://discord.gg/pyxntrD
Weitere Projekte sind:
CommentCoin
FAQ - CommentCoin von @commentcoin alias @alucian und @kristall97
Hier ein kurzes Zitat aus dem obigen Erläuterungs-Artikel (die meisten von uns werden den CC ja kennen):
...Question:
How to Use Commentcoin?
Answer:
Buy CC on Steem-Engine.com or work for it by commenting users with the CC hash tag(steemit.com/trending/cc) in their article. If you set the hashtag CC in your own article (like palnet, steemleo or other coins), your commentators will get one CC as a reward for their work....
Steem-Hilfe
Ein interessanter Account, wo viele Artikel gesammelt werden (wurden?), die Wissenswertes zum STEEM und dem Schreiben auf STEEM thematisieren. Inzwischen geht die Steem-Hilfe (@condeas) anscheinend noch einen anderen Weg, indem sie unterstützend voted und dabei dem @mima2606 folgt. Gefunden hier:
Condeas-pal stellt sich vor von @condeas-pal
Ein älterer Artikel zur Steem-Hilfe:
Steem-Hilfe von @steem-hilfe bzw. @condeas
Trendotoken
Dann sehe ich manchmal Folgendes unter Kommentaren:
"Call TRDO, Your Comment Worth Something!"
Join us at DISCORDAPP.COM
Join us at TWITTER.COM
Join us at FACEBOOK.COM
Join us at REDDIT.COM
Join us at TUMBLR.COM
Join us at MEDIUM.COM
Also scheint dies ein Token zu sein, der sich auch für Kommentare stark macht.
Edit:
Laut Kommentar von @dera123 gilt dieser Token wohl nur für Posts. :-(
Ja nutze in so einem Fall auch paar Alternativen, !trdo !BEER
Wobei trendo nur bei Posts geht.
TRDO Stake Based Comment Bot Version 1.0 Released...
Bitte gerne mehr Infos in die Kommentare oder zum Editieren von denen, die diesen Token bereits nutzen!
Edit: Investinthefutur (aus den Kommentaren - mit Ergänzung)
Da habe ich doch tatsächlich noch eine wichtige Möglichkeit vergessen, dabei nutze ich dies statt zu voten. Asche auf mein Haupt und Danke an @condeas - er schrieb:
Die !invest_vote - accounts voten auch auf Kommentare, @cervisia benötigt mehr delegierte SP und eventuell mehr Trailaccounts. Das geht aber leider nur über rewarding.com. Ein HowTo findest Du hier
Mehr Steempower und mehr Accounts, würden auch für Kommentare gut sein ;)

Der aktuelle Post zu diesem Projekt:
Depotstand Woche 2 Wert des VOIN und weitere Infos von @investinthefutur
Wie macht ihr das mit dem Voten von Kommentaren? Gibt es noch mehr Wissenswertes für uns alle?
Die größeren Accounts können ja mit ihrer Power weiterhin auch Kommentare voten. Aber für uns andere ist es sinnlos. Ich werde also keine nehr voten - oder gibt es andere Wege?
Wie handhabt ihr das? Gibt es weitere Möglichkeiten? Gibt es mehr Delegatoren für eines der Projekte?


Pixabay Foto