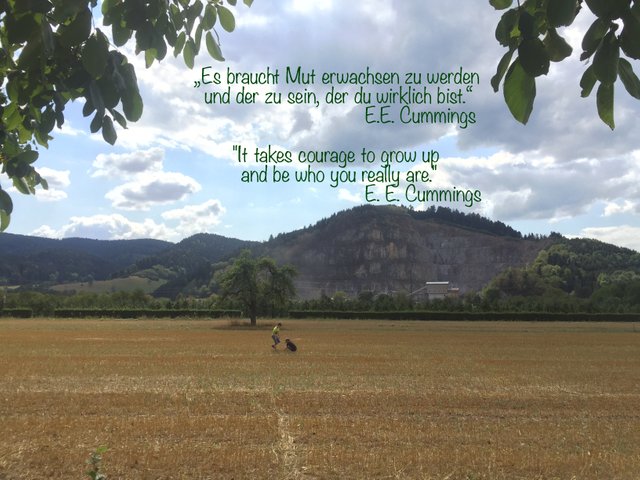 Ein Kind das nicht spielt, ist kein Kind. Aber ein Erwachsener der nicht spielt, hat für immer das Kind in ihm verloren und wird es furchtbar vermissen. Zitat von Palo Neruda wenn mich nicht alles täuscht...

Warum nehmen wir es als Erwachsene immer so GENAU? Regeln sind dafür da die Gemeinschaft zu stützen und ein Zusammenleben zu ermöglichen, aber wenn diese betrachtet gibt es auch immer eine schmalen Grad diese auszulegen und auch Seinen Spaß zu haben ohne Anderen zu schaden.

Sehen wir die Welt doch öfter mal durch Kinderaugen, so sehen wir viele bunten und schöne Details die uns im erwachsenen Leben oft entgehen, da wir Sorgen und Ängste haben die uns auffressen.

Gut das ich zwei liebevolle Kinder habe die mich jeden Tag daran erinnern nicht immer alles Bierernst zu nehmen und mir zeigen das meine Sorgen und Ängste nicht alles sind in dieser doch recht wunderbaren Welt.

---
A child who does not play is not a child. But an adult who does not play has forever lost the child in him and will miss it terribly.
Quote from Palo Neruda if I'm not mistaken ...
Why do we always take it as EXACTLY as adults? Rules are there to support the community and to enable coexistence, but when viewed, there is always a narrow degree of interpretation and enjoyment without harming others.
If we see the world more often through children's eyes, we see many colorful and beautiful details that often escape us in adult life, because we have worries and fears that devour us.
Good that I have two lovely children who remind me every day not always to take everything seriously and show me that my worries and fears are not everything in this quite wonderful world.