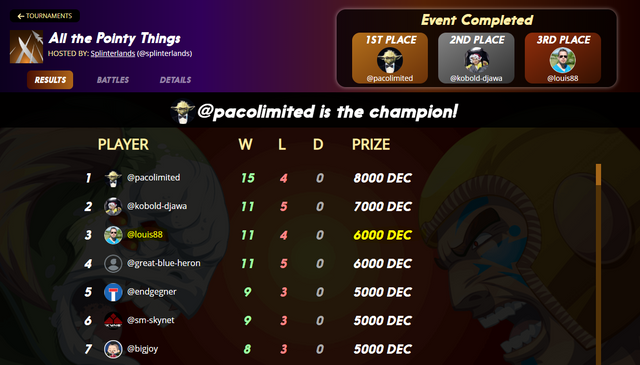 Heute um 16 Uhr gab es einmal wieder ein interessantes Turnier. Das von @splinterlands gesponsorte Turnier "Sl the Pointy Things" - Ein Turnier mit 106 Spielern auf Gold-Level. Alle Karten waren erlaubt. Bei meinem Turnierspiel konnte ich 11 Gewinne einfahren und musste mich nur 4 mal geschlagen geben. Als Preisgeld wurde DEC ausgelobt. Davon hab ich 6000 bekommen, dafür, das ich den 3.ten Platz erreicht habe.
Den Turnierverlauf könnt ihr hier sehen:
https://steemmonsters.com/?p=tournament&id=56b55f9c28bcfa9aee1c201429c6181028e5bc0e
Ein schönes entspanntest Turnier mit spannenden Gegnern.
Herzlichen Glückwunsch / Congratulations to @pacolimited and @kobold-djawa
Bis zum nächsten Turnier!
Wir sehn uns!