Der Steem erreicht Heute am 06.02.2020 gegen 04:00 Uhr (MEZ) die 0,20 US $ und steigt noch weiter. Der Aufwärtstrend der letzten Wochen geht weiter und ich bin sehr gespannt ob der Steem diese Marke halten kann und weiter steigt.
The steem reaches the 0.20 US $ today on 06.02.2020 around 04:00 (CET) and continues to rise. The upward trend of the last weeks continues and I am very curious if the steem can hold this level and continues to rise.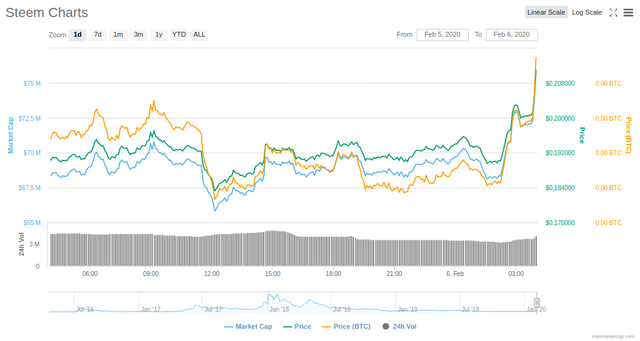 Den grössten Widerstand hatte der Steem bei 2000 Satoshi erfahren. Da sind wir jetzt um 200 Satoshi drüber was mich glauben lässt das wir diesen Widerstand halten werden.
The steem experienced the greatest resistance at 2000 Satoshi. We are now 200 Satoshi above that which makes me believe that we will hold this resistance.
LG Michael
Greetings Michael
Translated with www.DeepL.com/Translator
Quelle/Source: coinmarketcap.com